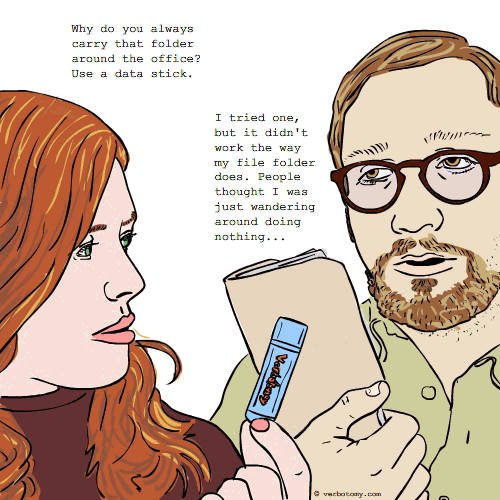 DEFINITION: n. A prop (e.g. papers, files or any non-functional equipment) used to create the illusion of busyness. v. To use office supplies to create the illusion that you are working.
Already Voted
Vote not counted. We have already counted two anonymous votes from your network. If you haven't voted yet, you can login and then we will count your vote.
---
Shirkprop
You still have one vote left...
Created by: Jabberwocky
Pronunciation: mask/ur/aid
Sentence: No one knew which department he worked in but with his maskqueraid of blackbery and wireless headset he easily passed his day wandering and betting on horses.
Etymology: masquerade + mask + aid
----------------------------
COMMENTS:
great word and welcome back! - Nosila, 2008-08-06: 21:53:00
----------------------------
Created by: LunaC
Pronunciation: sham-o-flaw-ge
Sentence: The new employee furiously types an email to his friend as shamoflauge in case his boss walks by.
Etymology: sham + camoflauge
Created by: TJayzz
Pronunciation: Fy-el-o-foe
Sentence: Tarquin never went anywhere without his fileofaux, he wanted everyone to think he was extremely busy doing a very important job, when really he was just loafing around doing as little as possible.
Etymology: File(a folder for keeping loose papers in order) + Faux(artificial,imitation) ORIGIN French false = Fileofaux. See also filofax(a loose-leaf notebook for recording notes) ORIGIN representing a colloquial pronunciation of file of facts
----------------------------
COMMENTS:
Fawny collision of meanings there TJ. Good word! - scrabbelicious, 2008-08-06: 06:48:00
File a foe under fiendish! - metrohumanx, 2008-08-06: 16:25:00
Great minds think alike...I had toyed with that word as well...isn't that fauxbulous! - Nosila, 2008-08-06: 21:52:00
----------------------------
Created by: giveaphuk
Pronunciation: Fib De Jet
Sentence: she fibdjeted with pieces of paper while looking @ the clock waiting from home time.
Etymology: Fib = to like & djet - ending of word fidget - meaning to behave or move nervously or restlessly.
Created by: rjk31
Pronunciation:
Sentence:
Etymology:
Created by: libertybelle
Pronunciation: man-ILL-uh-raj
Sentence: Under the cloaking of a perfectly executed malinarage, Jeff buried his head into the folder labeled "Hudson Acct." as he wandered through the cubicle forest and down to the nearby Starbucks for the 3rd time that morning.
Etymology: manila - as in type of folder typically found in an office setting + Mirage -illusion
Created by: bookwerm18
Pronunciation: Eh-vee-deh-sk
Sentence: The pile of evidesks on my table collapsed today, demonstrating how overworked I actually am.
Etymology: Evidence + Desk
Created by: ohwtepph
Pronunciation: wohrk-oh-thuh-wiz-prop
Sentence: Oh god, that Ben has been such a work-o-the-wispropper ever since he started out in the business of being the business supervisor. The work-o-the-wisprop he carried around were very convincing: papers to be signed, a neat brown folder and a clipboard with Transformers scribbles on it.
Etymology: will-o-the-wisp [illusion] + work + prop + wiz [the best at something e.g. a math wiz]
----------------------------
COMMENTS:
good one! - pguse, 2007-06-13: 10:04:00
thanks. :D - ohwtepph, 2007-06-13: 10:28:00
It's a good one and I voted for you! - Stevenson0, 2007-06-13: 17:36:00
How did you get that punctuation in there? - mplsbohemian, 2007-06-13: 19:43:00
you can work all sorts of magic if you go into 'oops i want to change the spelling' bit of the edit section.... it makes things much more verbsatile - rikboyee, 2007-06-13: 22:23:00
----------------------------
Created by: jadenguy
Pronunciation: as OOM tot
Sentence: Like a vampire hunter to the cross, he lept across his cubicle and grabbed a stack of printed material on company letterhead as his boss approached; his assumetote being just enough of a ruse to confuse his superior for perhaps another week. His smokescreen-jobsaver spreadsheet was already drawing suspicion as to exactly how much time he spent playing internet word games!
Etymology: assume + tote + asymptote assume (people assume you are working ) + tote (to carry) + asymptote (to infinitely approach something (work))
----------------------------
COMMENTS:
yeah, like people play internet word games at work! implausible. - jadenguy, 2007-06-13: 11:40:00
Can I have a copy of that spreadsheet? - purpleartichokes, 2007-06-13: 13:52:00
you come up with very creative sentences jadenguy - Jabberwocky, 2007-06-13: 14:51:00
i try. i try. - jadenguy, 2007-06-13: 17:12:00
----------------------------
Created by: Stevenson0
Pronunciation: fan/tuh/files
Sentence: John had six different coloured sets of phantofiles he alternated at various times of the day to keep 'The Man' off his case and to demonstrate his industriousness and multitasking abilities. "Damn, he's good!" thought his boss. "He's completed three different projects today and it's only noon." John's phantofiles put him in line for a raise.
Etymology: phantom + files
----------------------------
COMMENTS:
phantastic - Nosila, 2010-01-07: 18:50:00
----------------------------
Voted For! | Comments and Points