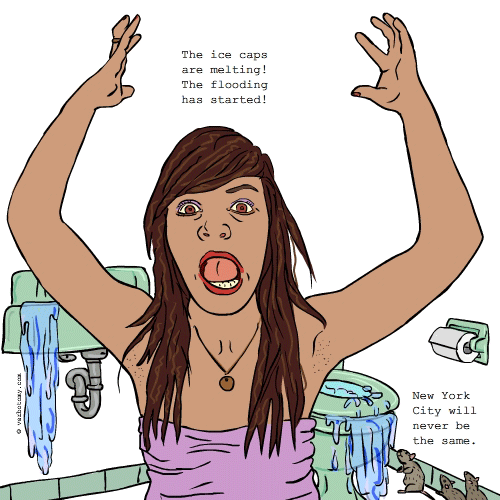 DEFINITION: v. To increase the world's liquid water supply (and dramatically raise the level of our oceans) by accidentally melting the polar ice caps. n. The rising seas and associated flooding due to melting ice caps.
Verbotomatics: Scoring
1. Voting: Each Author gets two "plus" Votes.
2. Creativity Points: You get 4 points for creating a word, 5 points for creating a sentence, plus 1 point each for the pronunciation and etymology.
3. Voting Points: Each vote counts for 3 points
VERBOTICISM:
Each Verboticism created:        +4
Each Sentence created:           +5
Each Pronunciation:              +1
Each Etymology:                  +1
Each Vote received:              +3

Total:                         Points

A the end of the week, the Author with the most points is declared the winner.
PLAYERS:
Each Verboticism created:        +4
Each Sentence created:           +5
Each Pronunciation:              +1
Each Etymology:                  +1
Each Vote cast                   +1
Each Vote received:              +3

Total:                         Points