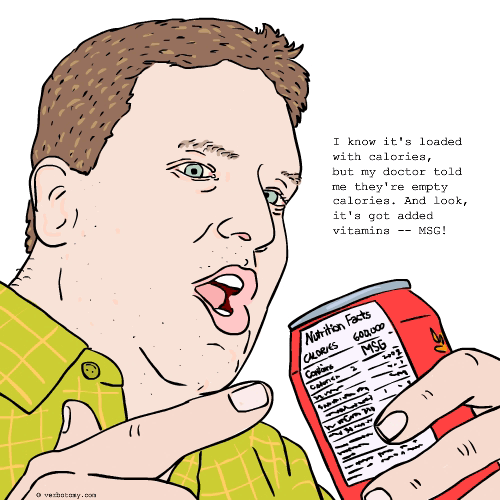 DEFINITION: n. Any highly-processed food or beverage in which the natural ingredients have been removed and replaced with artificial flavors and additives. v. To consume food products laced with synthetic sweeteners, imitation flavors, and other carcinogens.
Verbotomatics: Scoring
1. Voting: Each Author gets two "plus" Votes.
2. Creativity Points: You get 4 points for creating a word, 5 points for creating a sentence, plus 1 point each for the pronunciation and etymology.
3. Voting Points: Each vote counts for 3 points
VERBOTICISM:
Each Verboticism created:        +4
Each Sentence created:           +5
Each Pronunciation:              +1
Each Etymology:                  +1
Each Vote received:              +3

Total:                         Points

A the end of the week, the Author with the most points is declared the winner.
PLAYERS:
Each Verboticism created:        +4
Each Sentence created:           +5
Each Pronunciation:              +1
Each Etymology:                  +1
Each Vote cast                   +1
Each Vote received:              +3

Total:                         Points