Comspendsation
Top verboticism of the day created by artr
DEFINITION: v. To compensate for lack of love, attention and/or sexual favors by buying things, lots of things. n. An object purchased to compensate for sexual dawdling.
Pronunciation: kom-spend-sey-shuhn
Sentence: Ron is having trouble adjusting to the fact that his wife earns far more than he does. He is also is not happy with how much time she spends on work and not him. His comspendsation might just solve this little dilemma by sending them into bankruptcy or divorce court.
Etymology: compensation (a mechanism by which an individual attempts to make up for some real or imagined deficiency of personality or behavior by developing or stressing another aspect of the personality or by substituting a different form of behavior) + spend (to pay out, disburse, or expend; dispose of money, wealth, resources, etc.)
Created by: artr.
Today's Challenge:
See: Don't have time for a shower...
More Top Verboticisms:
(Invented words created by the Verbotomy Writers)
Mallcontent: /mall con tent/ When Cyrus found himself feeling the everydayness of marriage, he would head out for a day of retail therapy to become a true mallcontent. Etymology: Mall (shopping Mecca) & Content (Happy) & WorPlay on Malcontent (a person who is discontented) Created by: Nosila.
Vote For
Diversexion: /DIE-ver-secs-shun/ Duane's vigorous game of diversexion buying power tools, guns, weight sets, a motorcycle and other big boys toys was a thinly veiled attempt to conceal his concern over his poor performance in and waning interest for romantic activities. Etymology: Blend of 'diversion' and 'sex' Created by: Mustang.
Vote For
More...
To see more verboticisms for this definition go to: So how are you adjusting to married life?
See the current scores and Verboticism ranking at: Verbotocracy
More Winning Words:
More Verboticisms! See the winning words for: In fact, before she knew her husband...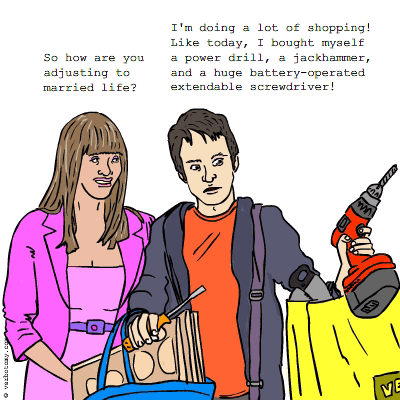 PadhraicPatton7 (Padhraic Patton)
@cmccool98 don't think I'll ever achieve that;) o aye the 'N' thing;) #newwords!
Thu, May 23rd , 01:40 PM
solitaryhome (Macky Villa)
procrastinate. onomatopoeic. #NewWords
Thu, May 23rd , 10:15 AM
ima_zuma (Nur Koimah)
Mari kesirep boy :D RT @senjaimmanuelaa: kari lama #newWords RT ima_zuma: senjaimmanuelaa opo heee..
Thu, May 23rd , 07:53 AM
senjaimmanuelaa (bawel :*)
kari lama #newWords RT @ima_zuma: senjaimmanuelaa opo heee..
Thu, May 23rd , 05:05 AM
dbeal92690 (Daniel Beal)
@simplykissme I'm the best tweetologizer around #newwords
Thu, May 23rd , 02:15 AM
anderhelms (Ander Helms)
Excuse me if I say 'bless it' after everything you say...it was @HayHall11 fault....**** #newwords
Wed, May 22nd , 09:53 PM
MollyWestfield (Molly Westfield)
That's so bromantic!!! #newwords #bromance
Wed, May 22nd , 08:15 PM
crazyMILsays (Crazy Mother-in-Law )
"Does Sophie wear that little snuzzle so she doesn't bite anybody?" #dogwhisperer #halti #newWords
Wed, May 22nd , 07:14 PM
IvyLoLBobvader (Michael Sherman)
RT @treysweeney: torunament @IvyLoLBobvader #newwords #makeithappen
Wed, May 22nd , 04:53 PM
lulu_french (Lulu French)
RT @AndSceneIrene: Meowzers! It's like wowzers but if a cat said it. #newwords #catslang #catlingo
Wed, May 22nd , 04:26 PM