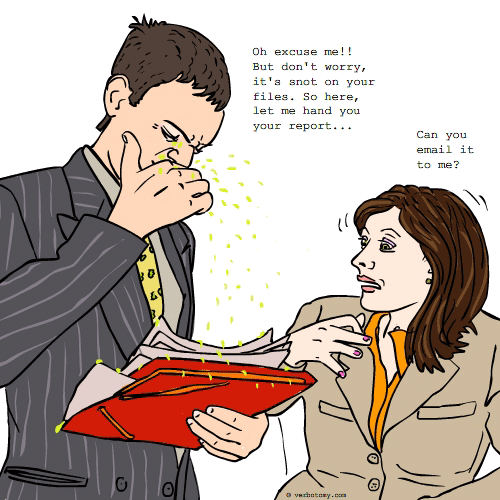 DEFINITION: v. To be so hardworking and dedicated to your job that you come to work even when you're sick and dangerously infectious. n. A person who comes to work sneezing, coughing, contagious, and sick as a dog.
Bloworker
Top verboticism of the day created by mrskellyscl
Pronunciation: blow-worker
Sentence: The bloworker sat down next to her at the meeting carrying tissues and cough drops, convinced that work would stop without his input. In spite of all her precautions, Eva knew that it was only a matter of time before she, too, would be hit by the flu because of this snotty, disgusting clod.
Etymology: blow (nose): expel nasal mucus (snot) through one's nostrils into a tissue or hankee + (co)worker: a fellow employee
Created by: mrskellyscl.
Comments:
Reminds me of some other germy creatures -- children who are sent to school sick because the parents don't have a babysitter. - mrskellyscl, 2009-06-19: 07:14:00
More Top Verboticisms:
(Invented words created by the Verbotomy Writers)
Workacolic: /work-a-coll-ick/ Bent over with abdominal spasms, Dennis the workacolic, hauled a dozen cases of beer into the back of the truck and drove off on his delivery run all the while groaning and moaning. Etymology: work + alcoholic + colic Created by: petaj.
Comments:
funny - congrats Petaj on your great words last week - Jabberwocky, 2008-05-07: 11:43:00
Contagent: /[kuhn-tey-juhnt]/ In the real estate business, there was only one man that made every client sick. Literally. Whether, rain or shine, herpes or measles, swine flu or walking pneumonia, Dan could always be relied on to show houses or man the phones as the hardest working contagent in the office. Etymology: A mash-up of 'contagion', the communication of disease by direct or indirect contact and 'agent', a person or business authorized to act on another person or business's behalf, a substance that causes a reaction, or any microorganism capable of causing disease. Created by: Ismelstar.
Comments:
great word! - Nosila, 2009-06-19: 13:07:00
terrific combo - Jabberwocky, 2009-06-19: 13:39:00
Fluvian: /floo-vi-ann/ Jake is such a fluvian. He is literally coughing his lungs up at his desk and its making me nauseous. Etymology: Derivative of influenza and the Greek 'vianoscous' which has several meanings, the most appropriate of which in this context is, the feeling you are left with when you receive an unwanted gift. Created by: didsbury.
More...
To see more verboticisms for this definition go to: Don't worry, it's snot on your files.
More Winning Words:
More Verboticisms! See the winning words for: Help! Get this thing off of me!