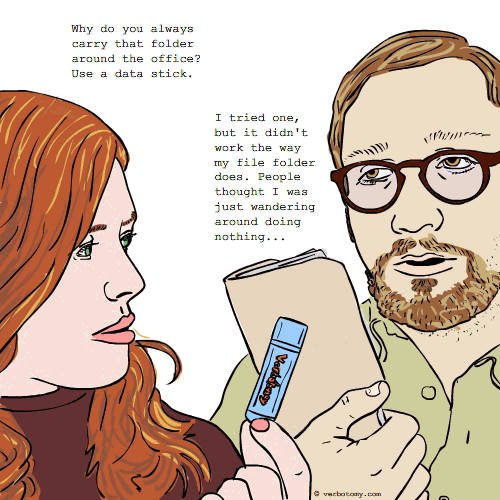 DEFINITION: n. A prop (e.g. papers, files or any non-functional equipment) used to create the illusion of busyness. v. To use office supplies to create the illusion that you are working.
Already Voted
Vote not counted. We have already counted two anonymous votes from your network. If you haven't voted yet, you can login and then we will count your vote.
---
Roboflage
You still have one vote left...
Created by: giveaphuk
Pronunciation: Fib De Jet
Sentence: she fibdjeted with pieces of paper while looking @ the clock waiting from home time.
Etymology: Fib = to like & djet - ending of word fidget - meaning to behave or move nervously or restlessly.
Created by: LunaC
Pronunciation: sham-o-flaw-ge
Sentence: The new employee furiously types an email to his friend as shamoflauge in case his boss walks by.
Etymology: sham + camoflauge
Created by: mplsbohemian
Pronunciation: BIHZ-ee-bahb-ihn
Sentence: The stack of files and papers at Alex's desk proved to be a most effective busybobbin, as no-one knew about his large Lego fort he was constructing behind it.
Etymology: busy + bobbin (trinket) + busybody
----------------------------
COMMENTS:
Grr, I meant bauble, not bobbin. Oh, well. - mplsbohemian, 2007-06-13: 22:30:00
Sounds good either way. - ErWenn, 2007-06-13: 23:54:00
----------------------------
Created by: Discoveria
Pronunciation: ess-KAY-pur-wurk
Sentence: Just before weekly staff meetings, Joe's pile of escaperwork would grow to include three reports, two manila envelopes, a stapler and a large black binder labelled 'URGENT'.
Etymology: escape (to avoid) + paperwork (documents)
Created by: Stevenson0
Pronunciation: fan/tuh/files
Sentence: John had six different coloured sets of phantofiles he alternated at various times of the day to keep 'The Man' off his case and to demonstrate his industriousness and multitasking abilities. "Damn, he's good!" thought his boss. "He's completed three different projects today and it's only noon." John's phantofiles put him in line for a raise.
Etymology: phantom + files
----------------------------
COMMENTS:
hmm - good ploy - Jabberwocky, 2007-06-13: 10:53:00
----------------------------
Created by: Nosila
Pronunciation: sha man ila
Sentence: Steve was the shamanila at the office. Most of his 8 hour shift was devoted to avoiding work. He had carried around his faithful manila folder daily trying to look busy. For 8 years he had fooled everyone. Until the day he got his new manager, Liz. She asked him to write out his job description. How in the world was he going to turn his one sentence actual duties (Carries around a file folder.) into a whole page or two of action verbs and activities?
Etymology: Sham (a person who makes deceitful pretenses;something that is a counterfeit; not what it seems to be) & Manila (a strong paper or thin cardboard with a smooth light brown finish made from e.g. Manila hemp & Shaman (one who practices sorcery)
Created by: jesster
Pronunciation: Ass-id-you-plicity
Sentence: While Neville's constant assiduplicity never fooled the people that actually accomplished things, management was completely taken in. He was promoted so frequently that his failures never caught up to him, and soon was in charge of the entire department.
Etymology: assiduous (involved in often constant activity )+ duplicity (the inclination or practice of misleading others through lies or trickery)
Created by: sanssouci
Pronunciation: pen doop
Sentence: "I think I am going to pendupe for a while, I can't be botherd to do anymore work today but don't want Mr Stone to think I'm not pulling my weight in the office."
Etymology: pen - any of various instruments for writing or drawing with ink or a similar substance. A pen is a writing implement," c.1300, from O.Fr. penne "quill pen, feather," dupe - to make a dupe of; deceive; delude; trick. Dupe orriginates from 1680s, from Fr. dupe "deceived person," from M.Fr. duppe (early 15c.), thieves' jargon, probably from phrase de huppe "of the hoopoe," an extravagantly crested and reputedly stupid bird.
Created by: scrabbelicious
Pronunciation: Mock-pet-eet
Sentence: Mike liked the comfort of a mockpetit, I suppose it satisfied his amateur-actor workplace persona.
Etymology: Noun, a hybrid of the noun Mock (fake) and petite meaning small and toy-like.
----------------------------
COMMENTS:
OOh- double word score! very good. - metrohumanx, 2008-08-06: 16:35:00
----------------------------
Created by: Jabberwocky
Pronunciation: mask/ur/ade
Sentence: No one knew which department he worked in but with his maskqueraid of blackbery and wireless headset he easily passed his day wandering and betting on horses
Etymology: masquerade + mask + aid