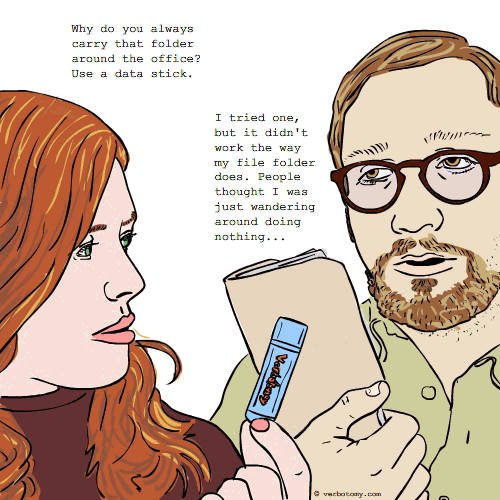 DEFINITION: n. A prop (e.g. papers, files or any non-functional equipment) used to create the illusion of busyness. v. To use office supplies to create the illusion that you are working.
Already Voted
Vote not counted. We have already counted two anonymous votes from your network. If you haven't voted yet, you can login and then we will count your vote.
---
Fauxsimile
You still have one vote left...
Created by: giveaphuk
Pronunciation: Fib De Jet
Sentence: she fibdjeted with pieces of paper while looking @ the clock waiting from home time.
Etymology: Fib = to like & djet - ending of word fidget - meaning to behave or move nervously or restlessly.
Created by: ziggy41
Pronunciation: Prop-kyu-pide
Sentence: To avoid obtaining any more work from her boss that day, she used her clever wit to propccupy herself with a dead beatle and a piece of bagel.
Etymology: Prop (an object) + occupied (busy)
Created by: readerwriter
Pronunciation: mal-o-prop
Sentence: Eric is so retro, Petra thought. Everytime she saw him cross the office floor on his way from the men's room to his desk, she had to laugh. Oh yeah, he just had to carry those maloprops to show everyone he knew what it was like in the 20th century. It was ludicrous. And, then if you said something, he had such excuses...like he didn't understand there were better ways of doing things.
Etymology: From mal, Latin/Romance languages, for bad or sick + prop for a property used for show. Also a play on the word malapropism, the ludicrous misuse of a word. In this case, the ludicrous misuse of a prop.
Created by: Osomatic
Pronunciation: Rhymes with "paperwork."
Sentence: With enough important-looking documents, I can wander around for hours papershirking.
Etymology: Rhymes with "paperwork."
Created by: OZZIEBOB
Pronunciation: SHURK-prop
Sentence: Bob was a fauxbullient gizbo, but most of all he was a scheming skirkprop.
Etymology: SHIRK: One who lives by shifts and tricks; one who avoids the performance of duty or labor& PROP: any movable articles, item or objects used on the set of a play or movie;
----------------------------
COMMENTS:
Bob sounds like a complete fauxny. Shirkbait? Good word! - Mustang, 2008-08-06: 05:35:00
----------------------------
Created by: Rhyme79
Pronunciation: fob-jekt
Sentence: Shuffling papers whilst wearing my glasses on the end of my nose is the most effective combination of fobjects I have found. It creates the illusion that I'm actually doing what I'm paid to do.
Etymology: Fob -(as in 'fob off', deceive or dupe) + object = fobject
----------------------------
COMMENTS:
Short and snappy - I could use this. :) - Discoveria, 2012-09-26: 12:14:00
----------------------------
Created by: bigdog
Pronunciation: slawth-o-flazhe
Sentence: The piles of paper on my desk are all just slothouflage to stop the boss from seeing my pillow and scotch bottle.
Etymology: sloth (indolence) + camouflage (disguise)
Created by: abrakadeborah
Pronunciation: boss-a-coy
Sentence: In order for Bob to fool his boss...he would often walk around with his trusty bossacoy to look busy.
Etymology: Boss-Manager. Part of "Decoy" - Someone or something used to draw attention away from another.
Created by: jesster
Pronunciation: Ass-id-you-plicity
Sentence: While Neville's constant assiduplicity never fooled the people that actually accomplished things, management was completely taken in. He was promoted so frequently that his failures never caught up to him, and soon was in charge of the entire department.
Etymology: assiduous (involved in often constant activity )+ duplicity (the inclination or practice of misleading others through lies or trickery)
Created by: Discoveria
Pronunciation: ess-KAY-pur-wurk
Sentence: Just before weekly staff meetings, Joe's pile of escaperwork would grow to include three reports, two manila envelopes, a stapler and a large black binder labelled 'URGENT'.
Etymology: escape (to avoid) + paperwork (documents)