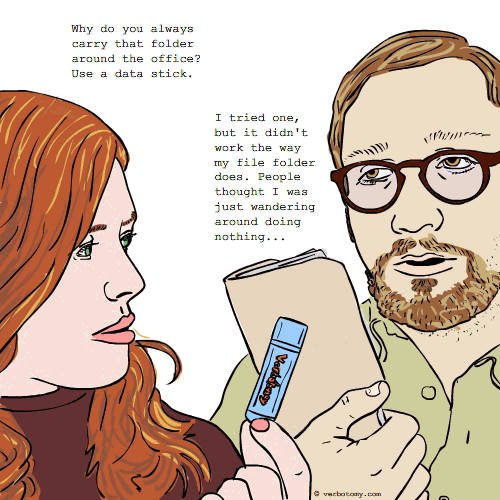 DEFINITION: n. A prop (e.g. papers, files or any non-functional equipment) used to create the illusion of busyness. v. To use office supplies to create the illusion that you are working.
Already Voted
Vote not counted. We have already counted two anonymous votes from your network. If you haven't voted yet, you can login and then we will count your vote.
---
Fileusion
You still have one vote left...
Created by: ohwtepph
Pronunciation: wohrk-oh-thuh-wiz-prop
Sentence: Oh god, that Ben has been such a work-o-the-wispropper ever since he started out in the business of being the business supervisor. The work-o-the-wisprop he carried around were very convincing: papers to be signed, a neat brown folder and a clipboard with Transformers scribbles on it.
Etymology: will-o-the-wisp [illusion] + work + prop + wiz [the best at something e.g. a math wiz]
----------------------------
COMMENTS:
good one! - pguse, 2007-06-13: 10:04:00
thanks. :D - ohwtepph, 2007-06-13: 10:28:00
It's a good one and I voted for you! - Stevenson0, 2007-06-13: 17:36:00
How did you get that punctuation in there? - mplsbohemian, 2007-06-13: 19:43:00
you can work all sorts of magic if you go into 'oops i want to change the spelling' bit of the edit section.... it makes things much more verbsatile - rikboyee, 2007-06-13: 22:23:00
----------------------------
Created by: abrakadeborah
Pronunciation: boss-a-coy
Sentence: In order for Bob to fool his boss...he would often walk around with his trusty bossacoy to look busy.
Etymology: Boss-Manager. Part of "Decoy" - Someone or something used to draw attention away from another.
Created by: Nosila
Pronunciation: fig men day shun
Sentence: As a long time civil servant in the federal Department of the Obscure and Forgotten Files, Roger was the King of the Toadies. He spent his entire workday carrying around a file folder which was labelled S.M.A.R.T. It looked very official and proved to the innocent bystander or visitor that Roger was a man with a special mission and purpose in his work. In fact the S.M.A.R.T. File was a figmendation. It usually contained a crossword puzzle or scratch & win cards, which Roger would spend his days at work playing. His co-workers thought that the S.M.A.R.T. stood for Segregated Modules Actualizing Relative Theory. In fact, the S.M.A.R.T. acronym actually stood for See Me Avoiding Real Toil. Yes, Roger was also known by his more popular nickname: The SmartFile Dodger!
Etymology: figment (a contrived or fantastic idea, i.e: a figment of the imagination) & mendacious (intentionally untrue;lying)
----------------------------
COMMENTS:
Did Riger work at the Texas Blog Suppository? Ya crack me up, Nose! - metrohumanx, 2008-08-06: 16:37:00
----------------------------
Created by: Jabberwocky
Pronunciation: mask/ur/aid
Sentence: No one knew which department he worked in but with his maskqueraid of blackbery and wireless headset he easily passed his day wandering and betting on horses.
Etymology: masquerade + mask + aid
----------------------------
COMMENTS:
great word and welcome back! - Nosila, 2008-08-06: 21:53:00
----------------------------
Created by: petaj
Pronunciation: in-DUST-ri-caters
Sentence: Memo To: WOT Team..... From: WOT Team Leader %%%%%%%%%%%% Hi Team, The big boss is coming to visit on Friday. Please make sure that you have a good selection of industricators and suggestoilibles on hand to ensure that she leaves with 'right' impression. We don't want her to think that WOT stands for Waste of Time. ta, oh and please eat this memo before Friday.
Etymology: industry + indicator + extricate (could get the lazy staffer an allayoffment, and out of a sticky situation)
----------------------------
COMMENTS:
LOVE the sentence! - purpleartichokes, 2007-06-13: 10:39:00
if the definition was having too many awesome words and not being able to choose, my word would be petajalot. - jadenguy, 2007-06-13: 12:15:00
if the definition was having too many awesome words and not being able to choose, my word would be petajalot. - jadenguy, 2007-06-13: 12:26:00
...dont' refresh AND send post data or whatever. - jadenguy, 2007-06-13: 12:27:00
The other one I had that I discarded was apparaphertoilia. Paraphernalia to create an appearance of toil. - petaj, 2007-06-13: 18:33:00
----------------------------
Created by: Nosila
Pronunciation: dok u men tal it ee
Sentence: Pierre's ruse was to use his documentality to elude real work. He would carry any official-looking folder or paper to make it look like he was on his way to a very important meeting. In fact, he remembered the trick his English classes used about the different words "stationary & stationery". The "ar" one stood for At Rest, as in stationary machinery and the other "er" one stood for the last 2 letters in paper...or in his case "Eternally Roving".
Etymology: Document (writing that provides information (especially information of an official nature); anything serving as a representation of a person's thinking by means of symbolic marks) & Mentality (a habitual or characteristic mental attitude that determines how you will interpret and respond to situations; mental ability)
Created by: Mrgoodtimes
Pronunciation: prahp- cue - pie
Sentence: Looking over his desk, John wondered which of his propcupies to bring with him on his daily walk to the vending machine. He knew he had to walk with pace and urgency to develop the right volume of sweat on his brow, but also the right iPad, laptop, red binder, 90's beeper, bluetooth, box labeled "Fragile" combo was key to success.
Etymology: Prop - occupy
Created by: weareallbeautiful
Pronunciation: ah-n-tee-w-urk-ay-d
Sentence: Bill always carried his antiwork aid in order to avoid having to actually work at the office.
Etymology: anti+work+aid
Created by: bookwerm18
Pronunciation: Eh-vee-deh-sk
Sentence: The pile of evidesks on my table collapsed today, demonstrating how overworked I actually am.
Etymology: Evidence + Desk
Created by: mplsbohemian
Pronunciation: BIHZ-ee-bahb-ihn
Sentence: The stack of files and papers at Alex's desk proved to be a most effective busybobbin, as no-one knew about his large Lego fort he was constructing behind it.
Etymology: busy + bobbin (trinket) + busybody
----------------------------
COMMENTS:
Grr, I meant bauble, not bobbin. Oh, well. - mplsbohemian, 2007-06-13: 22:30:00
Sounds good either way. - ErWenn, 2007-06-13: 23:54:00
----------------------------