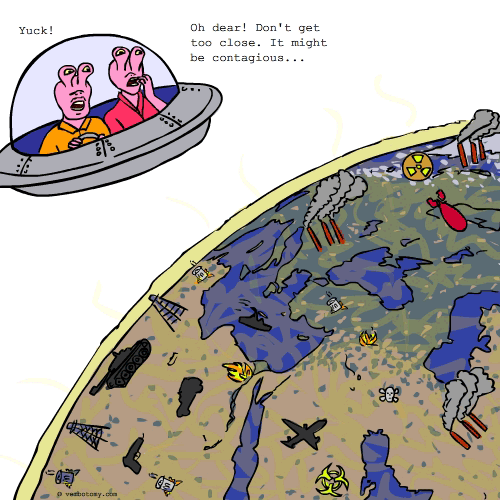 DEFINITION: n. A sick planet which has a cold, a fever, and some kind of weird infection. v. To be worried sick about the health of the planet, because you know the problem is really the people.
Influmenza
Top verboticism of the day created by silveryaspen
Pronunciation: in flu men zah
Sentence: The total world population, per the 2008 estimate by the United States Census International Programs Center is 6,679,493,900. As of February 2009, the world's population is estimated to be about 6.76 billion. Overcrowding and people pollutions are wreakening our planet. Terra caught a influmenza and is in a dangerous state of flux.
Etymology: INFLUENZA, MEN. Men - in the broader sense of the word, is often used to mean all people. Influenza - a widespread illness. Ergo: If the world has caught a wide spread illness from too many men, it suffers influmenza. /// Wreakening is a verbotomy of wreak and weakening. /// The last word flux, means not only a state of constant change, but archaically was a term for severe diarrhea ... something mankind needs to stop inflicting on our planet.
Created by: silveryaspen.
Comments:
Excellent verbot Silvery, stating both cause and problem! Neat facts too! - Biscotti, 2009-04-22: 10:56:00
So can we get a vaccine against influmenza,silvery...sign me up! - Nosila, 2009-04-22: 22:34:00
Yes so true! Great word. - splendiction, 2009-04-22: 22:46:00
Best of the day! - Mustang, 2009-04-22: 22:56:00
Influmenza! Wonderful word and great info! :) - abrakadeborah, 2009-04-22: 22:58:00
More Top Verboticisms:
(Invented words created by the Verbotomy Writers)
Terrafied: /TAIR ah fide/ After all the gloom-and-doom forecasts (both true and hyped) about the state of the Earth, most of us are now terrafied. What is the AlGore-ithm for solving the problem of ecoterrorism and replacing it with ecoterraism? If we don't get a tranfusion of hemoglobe-in and gammaglobe-ulin, we're going to end up with the globetrots. Etymology: terra (earth) + terrified Created by: karenanne.
Algoritis: /ahl gow rye tiss/ the only know cure for Algoritis is a globotomy Etymology: Al Gore itis Created by: galwaywegian.
Comments:
For overpopulation about going natural and using the Al Gore Rhythm Method? - readerwriter, 2009-04-22: 08:31:00
Both verbotomies are so timely and very witty! :-) - silveryaspen, 2009-04-22: 11:12:00
Owl Gore is a real hoot. Good word. - Mustang, 2009-04-22: 22:55:00
Geodorous: /gee-oh-dohr-us/ The planet below had always looked so peaceful from their own planet. They had been studying it for eons. They hoped it was hollow and contained the crystals they needed for energy. If an Earthperson had been able to see them, they would have thought the bulbous protubrances on the heads of Dork and Fork were eyes, but they were not: they were nostrils. And, oh, what a stench Dork and Fork inhaled as they drew closer to Earth's atmosphere. It was negatively geodorous! They would have to turn around. What had happened since the last time they had visited in 6,000BC when there were very few Earthpeople to be seen? Dork and Fork were convinced it was the Earthpeople's heads that were really hollow. But, perhaps, the stench was only a geocentrick by Earth people? As soon as they arrived home they would have geophysickals to make sure they were fine. Etymology: using GEODE, meaning a hollow spheroidal rock filled with crystals + ODOROUS, meaning the quality of stimulating the sense of smell Created by: readerwriter.
Comments:
Exsmellent! - silveryaspen, 2009-04-22: 11:23:00
More...
To see more verboticisms for this definition go to: Don't get too close. It might be contagious...
More Winning Words:
More Verboticisms! See the winning words for: I wish this tree was dead.