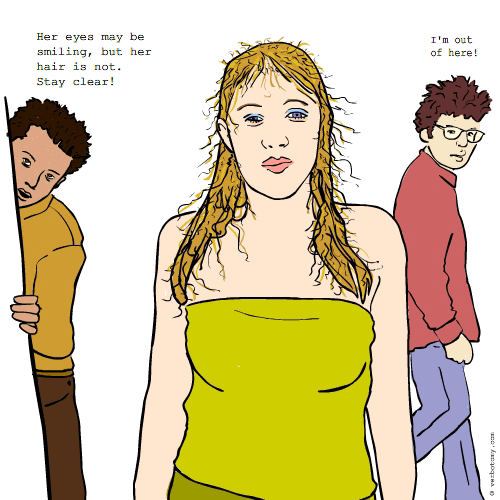 DEFINITION: v. To assess an individual's current mental state, or identify hidden personality traits, through careful analysis of their hairstyle. n. A method of psychoanalysis based hairdos and don'ts.
Already Voted
Vote not counted. We have already counted two anonymous votes from your network. If you haven't voted yet, you can login and then we will count your vote.
---
Tresstology
You still have one vote left...
Created by: msokoloffster
Pronunciation: Frik - Triz - uhl
Sentence: Sarah slapped anyone who fricktrizzled her; she thought it was bogus.
Etymology: Unknown...
Created by: torgo
Pronunciation: pilly-div-in-ate.
Sentence: I have mastered the art of pilidivination. see that girl over there? Total nutter.
Etymology:
Created by: jannn
Pronunciation:
Sentence:
Etymology:
Created by: splendiction
Pronunciation: thair a pea
Sentence: They should have realized all she needed was the correct thairapy.
Etymology: From: therapy and hair.
Created by: rikboyee
Pronunciation: tress-te-mayt
Sentence: as she walked in the room it was clear that 90% of the people there had already started tresstimating her abilities
Etymology: tress, estimate
Created by: mike6426
Pronunciation:
Sentence:
Etymology:
Created by: mrskellyscl
Pronunciation: hair-pin-yun
Sentence: It was everyone's hairpinion that Martha's constant hairstyle changes reflected her moods. If she was having a good day her hair looked well groomed, but if she had a fight with her boyfriend she looked pretty ratty.
Etymology: hair + hairpin: a little metal thing which is used to keep hair out of one's face + opinion: a conclusion that was based on belief instead of concrete facts.
----------------------------
COMMENTS:
A neat and stylish word. I bet your hair looks good today! - jrogan, 2009-07-30: 09:06:00
----------------------------
Created by: erasmus
Pronunciation: bar net olo gist
Sentence: he was a true barnetologist, able to read right through the hair line.
Etymology: barnet, an English colloquialism of a hair do.
Created by: Coolfool
Pronunciation: Doo + defy
Sentence: After one look at Janey this morning, I doodified that she probably didn't even make it home last night, and she wasn't the one to ask favors from today.
Etymology: Doo, from her (hair)do, dify from identify.
Created by: artr
Pronunciation: poh-nee-el-teyl
Sentence: Anne is usually quite meticulous with her appearance. She spends a fair amount of time in the morning getting her hair just right. It doesn't require tips from Sigmund Freud to pick out her bad-mood days. The ponytelltale sends co-workers scurrying in every direction but in her path. If all she has done is cram her locks into a scrunchie the world better look out.
Etymology: ponytail (an arrangement of the hair in a long lock drawn tightly against the back of the head and cinched so as to hang loosely) + telltale (a thing serving to reveal or disclose something)