Vote for the best verboticism.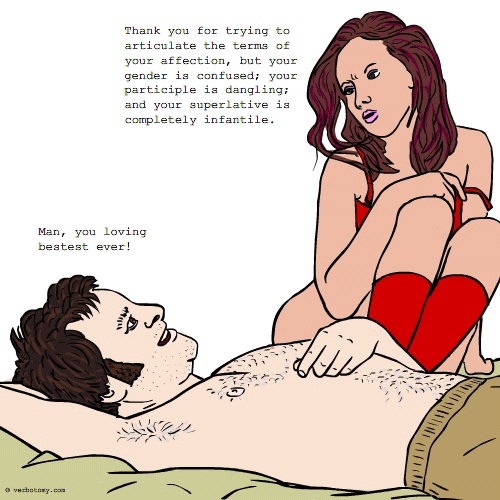 DEFINITION: n. A person who constantly corrects other people's grammar. v. To habitually correct the grammar of everyone with whom you speak regardless of the social context or the minuteness the perceived error.
Verboticisms
Click on each verboticism to read the sentences created by the Verbotomy writers, and to see your voting options...
You have two votes. Click on the words to read the details, then vote your favorite.
Created by: silveryaspen
Pronunciation: Rek ti fy
Sentence: Killsay was excellent at morphemes and constituents. He was born a Grammar. Killsay was very in tense, and always in the accusative. He was overly generous in sharing his grammar. Killsay would restruckture the speecch of any one. No was was safe from his guydance (guidance) ... shuffling his feet, waving his finger, tweaking your verbose, nitpicking through one's words ... he would wrectify everything said.
Etymology: RECTIFY, WRECK. RECTIFY - correct, amend, revise. WRECK - to damage and destroy with too much revision. --- (Morphemes are basic word-building units. Constituents are sentence-building units. They are true grammatical words, not verbotomies.) Killsay Grammar is a pun on actor Kelsey Grammer, star of the tv show Frasier.
----------------------------
COMMENTS:
Bet she had a bad rectutation.... - Mustang, 2009-01-16: 04:17:00
After she irritates enough people, she might turn a wreckluse. - mweinmann, 2009-01-16: 08:12:00
Thank you for the clever comments. But Killsay is a he ... not a she! Men are guilty of doing this, too! - silveryaspen, 2009-01-16: 10:03:00
nice - Jabberwocky, 2009-01-16: 16:16:00
Killsay Grammar...love it! - Nosila, 2009-01-16: 20:43:00
----------------------------
Created by: kateinkorea
Pronunciation: lin GWIS bitch
Sentence: I am sick and tired of her linguisbitch, annoying behaviour.
Etymology: LINGUISTICS: connected with language BITCH: complain
Created by: galwaywegian
Pronunciation: pedd ant
Sentence: Hilary , a complete pedaunt, had driven all of her nephews to totally reject education with her "little chats"
Etymology: pedant, aunt
----------------------------
COMMENTS:
pedant - how nicely arcane... :) - otherguy, 2009-01-16: 04:50:00
Exceptional. Perfectly fits the definition. - silveryaspen, 2009-01-16: 09:34:00
----------------------------
Created by: Jabberwocky
Pronunciation: the/good/gram/air/i/tan
Sentence: Thegoodgrammaritan is a selfless individual who will stop to correct bad grammar no matter what the consequences to himself might be.
Etymology: good + grammar + the good samartitan
----------------------------
COMMENTS:
Nice word. Montaigne said: " The basis of most of the world's troubles are matters of grammar" - OZZIEBOB, 2008-03-26: 17:07:00
Clever entry! - Tigger, 2008-03-26: 23:17:00
----------------------------
Created by: artr
Pronunciation: gramerkraker
Sentence: James hates e-mail, not for its intrusive nature but the way most people use it. Worse yet is text messaging. (He refuses to call it texting) When someone sends him a message, he replies with a corrected edition of the original message with commas, hyphens, spelling and proper verb tense. He won't respond to the content until the originator sends it back in its corrected form. His friends have started calling him a grammarcracker. He is amused by the term but won't actually type it because it isn't in the dictionary.
Etymology: grammar (the whole system and structure of a language) + cracker (a fine example of something)
----------------------------
COMMENTS:
I h8 txtn 2. - wayoffcenter, 2009-01-16: 04:46:00
And a very nice play on graham crackers! - silveryaspen, 2009-01-16: 10:12:00
Show them no Grammercy! - Nosila, 2009-01-16: 20:44:00
Those purists can really contaminate our ebonics. - metrohumanx, 2009-01-21: 15:35:00
----------------------------
Created by: badsnudge
Pronunciation: lin-truss-tee
Sentence: When I told her it was 'an' elephant and not 'uh' elephant, she told me that I was a nal. "Certainly not. I am merely a humble lynnetrustee." I replied.
Etymology: Lynne Truss (author of Eats, Shoots, and Leaves) + trustee
Created by: mercury258
Pronunciation: gram-you-scribe
Sentence: Jenna: Where'd you go to? My water broke and I need a ride to the hospital! Sarah: I think you mean to say, "To where did you go?" Jenna: Quit grammuscribing me and give me a ride!
Etymology: From Grammar and to Prescribe
Created by: Biscotti
Pronunciation: in-glish-may-jor
Sentence: Alex really took his englishmajorism over the top when he tried to convince people they were speaking with the wrong form of the word (too, two, to).
Etymology: english (a language many people speak) + major (the main course of study at a 4 year university or college)
Created by: verbherder
Pronunciation: gram-ahrs-hohl
Sentence: I don't mind someone pointing out an error in speech every now and then, but that grammarsehole did it throughout the entire meeting and we couldn't get anything accomplished.
Etymology:
----------------------------
COMMENTS:
I like it! Too bad I already used my votes... - readerwriter, 2009-01-16: 12:24:00
----------------------------
Created by: DaddiezGyrl
Pronunciation: cun-ing-LEEN-gwest, n. cun-ing-LEEN-gus, v. intr.
Sentence: The unmistakable voice was none other than that of the town's Cunninglinguist; there to interrupt, correct and embarrass her.
Etymology: Blend of Cunnilingus+Cunning+Linguist Cunning: showing inventiveness and skill Linguist: a specialist in linguistics and or languages Also deriving from Cunnilingus: oral stimulation; usually involving the vulva or clitoris