Verboticism: Hoovermanuever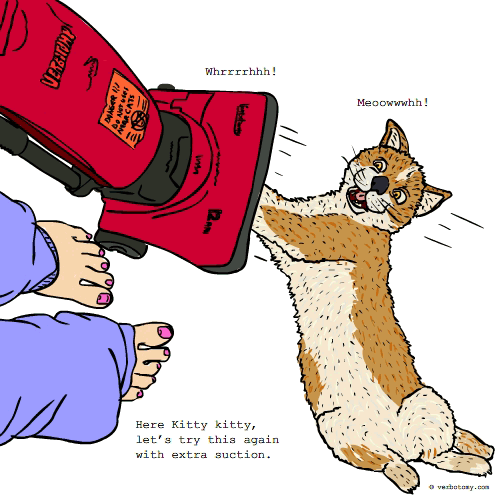 DEFINITION: v. To pick up a piece of lint from the floor that your vacuum missed, and then drop it in front of the vacuum again, to give the vacuum another chance to suck it up. n. A piece of lint that a vacuum will not pick up.
Voted For: Hoovermanuever
Successfully added your vote for "Hoovermanuever".
Thanks for voting! You have now used both of your votes today.
Created by: galwaywegian
Pronunciation: iff aht furst ewe dohnt suk seeeeeed
Sentence: ifatfirstyoudontsuckseed, purrsevere
Etymology: if at first you don'r succeed, suck
Created by: toadstool57
Pronunciation: mal-ev-o-lant
Sentence: Jill and her super sucker are no match for the malevolint fiber clinging to the carpet. She tries sucking it, pulling it, and picking it. She finally decides it's easier to call the local store to change the carpet in the room.
Etymology: malevolent,(evil,harmful)/lint(fiber)
----------------------------
COMMENTS:
nice - bookowl, 2008-04-04: 15:55:00
----------------------------
Created by: Mustang
Pronunciation: mag-NET-eh-lint
Sentence: Valerie loved her new carpeting but hated the way lint would often cling to the shag and defy even her most diligent efforts to vacuum it up and in a moment of angry frustration she labeld the offending fuzz balls as magnetalint for the way they seemed magnetically stuck to the carpet.
Etymology: Blend of magnet and lint
Created by: milorush
Pronunciation: (tr.v.)vāk'yōōm-yə-lāt'; (n.) vāk'yōōm-yə-lā'shən
Sentence: Due to the poor quality of her ancient Eureka, it has become necessary for mom to repeatedly vacuumulate extraneous bits of fluff left behind by her cats.
Etymology: vacuum + [accum]ulation
Created by: Softbagel14
Pronunciation: Re-suh-sert is the proper way, however Re-suh-kert is also acceptable
Sentence: Behind her old vaccum was a stubborn 'resucirt', sitting in the exact spot she had just cleaned. -ed can be added to the end of the word to form 'Resucirted'. Mary 'resucirted' the lint that would not pick up the first time.
Etymology: Re- meaning 'again' -suc- from the word 'suck' -irt from the word 'dirt'
Created by: artr
Pronunciation: duhst-kuhs-er
Sentence: Denise is an animal lover but she has absolutely no sympathy for dust bunnies. She likes nothing better than the whoomp sound of a clump of lint going up the hose of her vacuum. Nothing turns her into a dustcusser faster than a clump of fuzz that clings to the floor, refusing to succumb to the Hoover.
Etymology: dustbuster (a handheld cordless vacuum cleaner) + cusser (someone who swears; curses)
Created by: arrrteest
Pronunciation: soo-per-fluff-floo-ent
Sentence: Desmond liked clean floors. He was constantly sweeping and vacuuming his apartment to an obsession. You would be hard pressed to find any dust bunnies under any furniture or his bed. That is, until his girlfriend recently moved in with her long-haired torti, Fluffhead. Now Fluffhead is a sociable cat who likes to rub up against you or jump up and nestle in your lap, leaving patches of fur that drives Desmond bonkers. Fluffy left a trail of her superfluffluent everywhere, which seemed not to be affected by the vacuum cleaner. Any guesses as to how long this relationship will last?
Etymology: super, from superfluous + fluff + effluent, as in waste
----------------------------
COMMENTS:
Great word! It's fun to say...over and over. LOL - Mustang, 2008-04-04: 04:57:00
----------------------------
Created by: purpleartichokes
Pronunciation: ree-vak-you-ee
Sentence: She would have been done vacuuming 10 minutes ago, but she got fuzztrated with a five-time revacuee.
Etymology: re-vacuum, evacuee
----------------------------
COMMENTS:
excellent purple - I thought you'd go with another one of your wonderful verbots 'carpettunnelsyndrome' - Jabberwocky, 2008-04-04: 08:36:00
Wow, I don't even remember making that word. Guess I have forgotomy. - purpleartichokes, 2008-04-04: 10:59:00
Great word. - OZZIEBOB, 2008-04-07: 05:04:00
----------------------------
Created by: Tigger
Pronunciation: /ree-LIN-truh-doos/
Sentence: Wanda had run the vacuum cleaner back and forth over the same bit of blue fluff five times now, and she was beginning to get annoyed — both at the lint, for clinging so stubbornly, and at the vacuum, which kept failing to pick it up. For the third time, she bent down and plucked the lint from the carpet. Feeling a little sarcastic this time though, she showed the lint to the vacuum and relintroduced them, saying "Vacuum, meet lint; lint, meet vacuum." As she placed the lint in front of the vacuum, Wanda told it, "Mr. Vaccum's going to take you someplace where lots of other bits of fluff and lint hang out. You go with him, okay?" and tried it once more.
Etymology: Blend of: Reintroduce - to acquaint with, or bring into notice again (from Latin, re- "again" & intrōdūcere "to lead inside") + Lint - clinging bits of fiber and fluff; fuzz (from Middle French, linette "grain of flax")
----------------------------
COMMENTS:
didn't see this yesterday - great word - bookowl, 2008-04-05: 12:16:00
----------------------------
Created by: stache
Pronunciation: rē'kə-pĭch'ə-lĭnt'
Sentence: Herb couldn't tell what the stubborn little piece of greenish fluff on the carpet in the cargo bay of his Land Rover was, but it refused to be taken after several passes with the ShopVac(tm). Finally he recapitulinted by picking it up and dropping it into the nozzle.
Etymology: 'recap,' to summarize or go over; 'itu,' Bantu translation of 'It's You,' from the song from 'Music Man' ( It's you in the sunrise, it's you in my cup. It's you all the way into town. It's your sweet "Hello, dear" that sets me up And it's your "Got to go, dear" that gets me down, etc.); 'lint,' miscellaneous microscopic mercurial matter.
----------------------------
COMMENTS:
BTW, "It's You" is quite moving in the Bantu performance of "Music "Man." - stache, 2008-04-04: 07:08:00
another great etymology - Jabberwocky, 2008-04-04: 08:49:00
----------------------------