Vote for the best verboticism.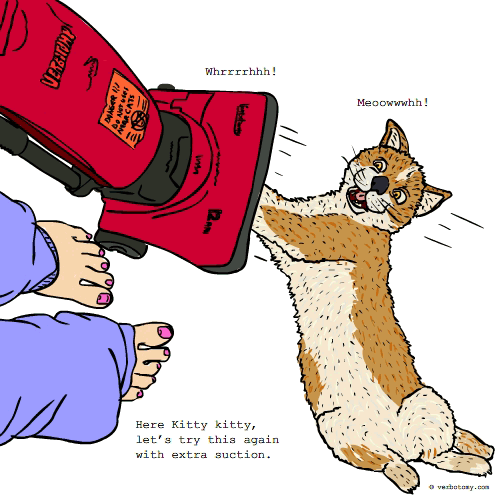 DEFINITION: v. To pick up a piece of lint from the floor that your vacuum missed, and then drop it in front of the vacuum again, to give the vacuum another chance to suck it up. n. A piece of lint that a vacuum will not pick up.
Verboticisms
Click on each verboticism to read the sentences created by the Verbotomy writers, and to see your voting options...
You have two votes. Click on the words to read the details, then vote your favorite.
Created by: galwaywegian
Pronunciation: iff aht furst ewe dohnt suk seeeeeed
Sentence: ifatfirstyoudontsuckseed, purrsevere
Etymology: if at first you don'r succeed, suck
Created by: purpleartichokes
Pronunciation: ree-vak-you-ee
Sentence: She would have been done vacuuming 10 minutes ago, but she got fuzztrated with a five-time revacuee.
Etymology: re-vacuum, evacuee
----------------------------
COMMENTS:
excellent purple - I thought you'd go with another one of your wonderful verbots 'carpettunnelsyndrome' - Jabberwocky, 2008-04-04: 08:36:00
Wow, I don't even remember making that word. Guess I have forgotomy. - purpleartichokes, 2008-04-04: 10:59:00
Great word. - OZZIEBOB, 2008-04-07: 05:04:00
----------------------------
Created by: Jamagra
Pronunciation: vaks'/i/late
Sentence: Dylan Dyson, Danbarry Cinema employee, had a difficult time dealing with the dirt and debris on the theater's Dalton carpet. The lint in the lobby had latched on like a limpet to limestone. The threads in the theater had thoroughly thwarted him. In the vestibule the vexed vacuumer decided that hand-feeding the sweeper had lost all its charm, and somebody else could vaccillate all that lint. He assigned the task to a junior associate.
Etymology: vacuum + vacillate
Created by: bookowl
Pronunciation: mal/int/gur/ur
Sentence: A malintgerer is a stubborn piece of lint which pretends to be ill to prevent being vacuumed up.
Etymology: malingerer + lint
----------------------------
COMMENTS:
Ha! - purpleartichokes, 2008-04-04: 19:33:00
Ha! Good word. - purpleartichokes, 2008-04-04: 20:08:00
----------------------------
Created by: hyperborean
Pronunciation: cruhm-uh-jihn
Sentence: She didn't spend $400.00 on a vacum cleaner and expect to have to bend over and feed it every crumbudgeon.
Etymology: crumb (a small fragment [esp. of bread]) + curmudgeon (a crusty, ill-tempered and usu. old man)
Created by: Nosila
Pronunciation: wirld kup sokkor
Sentence: It was already a year away, but still the agencies vied to carry the games leading up to the big match. World Cup Soccer was like the world's biggest vacuum match or in this case, worldcupsuccor...try your hardest, with all your great equipment and sponsorship, but your chances of winning were split out against each small nation who dared have a team who came back, again and again.
Etymology: World Cup Soccer (The biggest sporting event on the planet, televised every four years.) & Succor (assistance in time of difficulty;help in a difficult situation)& Sucker (a person who is gullible and easy to take advantage of; a machine with a big sucker on it, to remove debris)
----------------------------
COMMENTS:
A new kind of fuzz....err....football. - Mustang, 2009-05-25: 21:03:00
----------------------------
Created by: Jabberwocky
Pronunciation: fluff/ur/hug/ur
Sentence: I gave up vacuuming and threw out all the carpets just to be free of the flufferhuggers. Now I have a warren of dust bunnies to contend with.
Etymology: fluff + hug + fluffernutter ( a peanut butter marshmallow combination)
----------------------------
COMMENTS:
Cute! - purpleartichokes, 2008-04-04: 06:41:00
----------------------------
Created by: Stevenson0
Pronunciation: ob/stuh/lint
Sentence: Bits of wool, small strands of thread and other pieces of tiny clothing fuzz on the carpet are just too obstilint for my Hoover vacuum to pick up on the first run so I have to manually assist their trip to the dirt bag.
Etymology: obstinate + lint
----------------------------
COMMENTS:
excellint! - Jabberwocky, 2008-04-04: 08:37:00
Nice word! - Banky, 2008-04-04: 10:02:00
Great word! - purpleartichokes, 2008-04-04: 20:09:00
Great word, StevO - OZZIEBOB, 2008-04-07: 05:03:00
----------------------------
Created by: Kennecticut
Pronunciation: lint~assesment
Sentence: With her thumb and forefinger lintassesment tool, it was confirmed that this filament could be removed. She turned to page 32 of the manual on ' The right tool for the job' and found she needed the enticement tool, stored adjacent to the crevice tool. Noting the enticement tool has a row of brushes to if not actually vacuum the lint then at least entrap it for later cleaning of the enticement tool itself. The thumb and forefinger lintassesment tool also works well for this specialized task. She might have done just as well utilizing the black slack lint magnet tool. Maybe next time, then she can leave the work up to the professionals and the dry cleaners.
Etymology:
Created by: Nosila
Pronunciation: hoo ver man oov er
Sentence: It was a catatonic experience when Miranda did her hoovermaneuver and sucked up half the cat.
Etymology: Hoover (brand of vacuum) & Maneuver (an action aimed at evading an opponent)