Verboticism: Testosterampage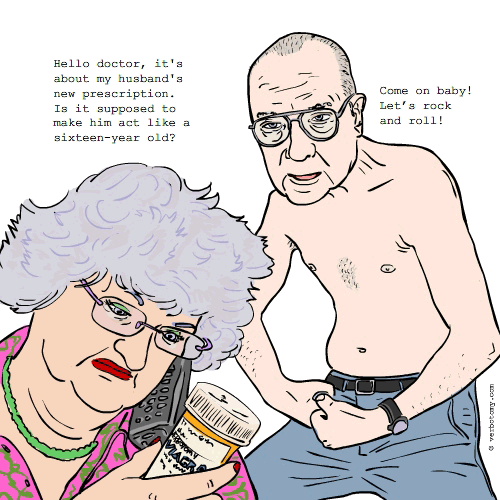 DEFINITION: n. An unintended consequence of medical or psychological therapy, especially if the therapy is supposed to make you feel "young again". v. To feel young and stupid again.
Already Voted
Vote not counted. We have already counted two anonymous votes from your network. If you haven't voted yet, you can login and then we will count your vote.
---
Testosterampage
Thanks for voting! You have now used both of your votes today.
Created by: sanssouci
Pronunciation: Ree Flick Sir Lies
Sentence: I hesitated outside the brightly decorated shop and peered through the window. The shop was called Medimagic, it had only been trading for a month but already the business had got quiet a good reputation here in our little village of Greenwood, especially amongst the older community. Just the other day, while I was sitting on my wooden bench, relaxing in the afternoon sun outside my old little cottage. I was flabergasted to observe an energetic figure running towards me, my old mate Harold, 85 years old and there he was full of life like a sixteen year old lad! "They sell this herbal remedy George! They call it Relixerlize, I don't know what they put in it. It must be magic, look at me! I'm on fire" he loudly proclaimed, dancing around on my daffadils. Now here I was, curiosity got the better of me and I wanted a bit of what Harold had got. I stepped inside, I was getting myself some Relixerlize.
Etymology: reflex + elixer + revitalize = relixerlize reflex 1. noting or pertaining to an involuntary response to a stimulus 2. occurring in reaction; responsive. elixir 2.A substance believed to maintain life indefinitely. Also called elixir of life. 3. A substance or medicine believed to have the power to cure all ills. revitalize 1. to give new life to. 2. to give new vitality or vigor to.
Created by: marinus
Pronunciation: geri-pee-di-o-morph-ism
Sentence: Grandpa said the pills made him feel twenty years younger, but after he broke his hip mountain biking we began to suspect that it was that geripediomophism the new commercials warned about.
Etymology: geriatric (old). pediatric (young). ideo- greek prefix "image" morph- form
Created by: artr
Pronunciation: medidātng
Sentence: Since Edith passed Richard has had little interest in re-kindling his love life but his doctor has introduced him to a new sport; medidating. A couple of little pills give him the redumb to seek out the company of women with confidunce.
Etymology: medicate (administer medicine or a drug to someone) + dating (a social or romantic appointment or engagement)
----------------------------
COMMENTS:
clever... - mweinmann, 2010-01-12: 07:41:00
----------------------------
Created by: Nosila
Pronunciation: rep tyle dis funk shun
Sentence: "Doctor, Doctor" said Maude into the phone, "Those pills you gave Ed are making him act like a horny toad and an iguana who wanna...what's wrong with him?" The Doctor calmly replied, "He's just suffering from reptiledysfunction. He will go through stages where he will become a lounge lizard, play "Karma Chameleon"; vote for Newt Gingrich and redo your home in Art Gecko style. Just Monitor him and call me in the morning".
Etymology: Reptile (cold-blooded vertebrate) Dysfunction (any disturbance in the function of an organ or body part) & Wordplay on Erectile Dysfunction (impotence resulting from a man's inability to have or maintain an erection of his penis)
----------------------------
COMMENTS:
Lol, how many reptile puns can you fit in?! You are clearly talented! ;) Made me smile. - Rhyme79, 2012-10-11: 10:23:00
----------------------------
Created by: Discoveria
Pronunciation: ree-PEW-burr-tyze
Sentence: Gerald repubertised on Viagra, regaining the physical competence (and mental incompetence) of a teenager.
Etymology: re- (prefix) + puberty (physiological process of sexual maturation) + -ise (suffix)
----------------------------
COMMENTS:
Haha! :) Voted! - Rhyme79, 2012-10-11: 10:18:00
----------------------------
Created by: texmom
Pronunciation: re-vivi-sect-shun
Sentence: By having the revivisection done, Mr. Jones felt like climbing rocks again.
Etymology: re- do again vivi - live section - procedure
Created by: artr
Pronunciation: rijoōvəninē
Sentence: Walter was having issues with his circulation. A side effect of his new prescription is increased blood flow to certain underused parts of his anatomy. His wife amused and bemused by his rejuveninny behavior.
Etymology: rejuvenate (make someone or something look or feel younger) + ninny (a foolish person)
Created by: ajcor
Pronunciation: as it sounds
Sentence: Cyril suffered delightedly from PhonyPubePoints after taking his herbal remedy for hair loss and ingrowing toe nails.
Etymology: Phony - as in fake Pube as in pubescent = youth Points as in an unexpected hardening of personal protubing muscle = tent pegs
Voted For! | Comments and Points
Created by: ziggy41
Pronunciation: Add-oce-les-sent
Sentence: After two hours of a spoonful of the medicine, I could clearly see the adoselescents of it. She was whining in a feeble position on the floor, and all functions of "going" in the toilet became null and void.
Etymology: Adolescent (a young person) + dose (a prescribed amount of medicine)
Created by: porsche
Pronunciation: re/act/ten
Sentence: Istead of giving him Reactin the pharmacist gave him Reacten. His wife couldn't figure out why he was dressing like Denis the Menace
Etymology: reactin + ten