Verboticism: Confectionism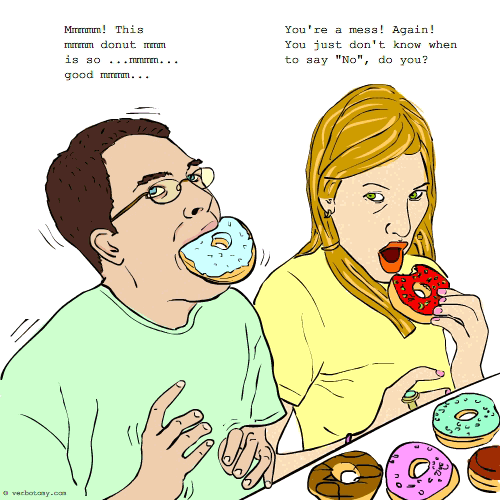 DEFINITION: v. To enjoy, or derive physical pleasure from, the eating of sweets and other sugared substances -- often leads to over-consumption. n. Pleasure derived from the consumption of sweets.
Already Voted
Vote not counted. We have already counted two anonymous votes from your network. If you haven't voted yet, you can login and then we will count your vote.
---
Confectionism
Thanks for voting! You have now used both of your votes today.
Created by: jedijawa
Pronunciation: shu-gar-joh-key
Sentence: Bill was sugarjockeying the danish tray at the conference yesterday.
Etymology: riding a sugar binge = sugarjockey
Created by: mdschermer
Pronunciation: su-cro-mi-NAC-i-ty
Sentence: I know my sucrominacity is clogging up my arteries, but this dessert is just too good to pass up.
Etymology: sucrose: sugar + minacity: disposition to threaten.
Created by: dragonprincess
Pronunciation: candy-omp-sion
Sentence:
Etymology:
Created by: tpm01
Pronunciation: sack-a-rido-fila
Sentence:
Etymology: saccharide meanining a basic carbohydrate such as a sugar and phila meaning love
Created by: Relee
Pronunciation: Sak-a-rif-ik
Sentence: I'm feeling sacchariffic while gobbling these doughnuts.
Etymology:
Created by: kokorin
Pronunciation:
Sentence: I was sick of my boss's orders today. I'm gonna monsugare tonight and wanna forget about it.
Etymology: monster+sugar: the sound 'mon' is similer to that of 'man' in 'manger', which means eat in French.
----------------------------
COMMENTS:
- kokorin, 2006-12-17: 05:20:00
This is my first try. Although English is not my mother tongue, I enjoy to create new words in English. I image a monster who is grinning with pleasure after eating lots of sweets. So I want to call the guy on the illustration 'Monsugar'. - kokorin, 2006-12-17: 09:50:00
----------------------------
Created by: bertie242
Pronunciation:
Sentence: Harold had to go to rehab because of his compulsive oversweeting.
Etymology: Sweet + Overeating
Created by: Vircsi
Pronunciation:
Sentence:
Etymology:
Created by: Tealeaf
Pronunciation: gloo'-ka-gulp
Sentence: "I'm about to glucogulp my way out of these size 6 shorts."
Etymology: glucose and gulping a glutton does make
Created by: mrskellyscl
Pronunciation: ex-ta-sweet
Sentence: Mel was in ecstasweet whenever he overindulged at the local bakery with his favorite sweety-eaties. Unfortunately, Mel's overcomsumption led to a sugar rush that eventually put him in a diabetic coma.
Etymology: ecstasy: a state of emotion that leads one beyond rational thought or self-control + sweet: having a high sugar content
----------------------------
COMMENTS:
Ecstallent word! - Nosila, 2009-08-05: 15:55:00
sounds addictive! - mweinmann, 2009-08-06: 08:24:00
----------------------------