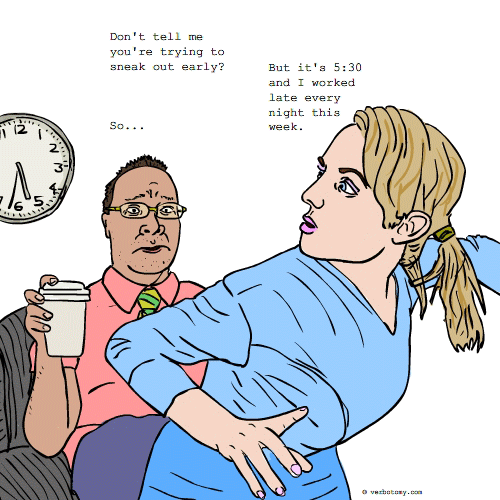 DEFINITION: n. A type of frustration created by a manager who never notices when you work late, but always nags you for leaving early whenever you leave on time. v. To carefully monitor your subordinates to ensure that they never leave work a minute early.
Bostard
Top verboticism of the day created by wordmeister
Pronunciation: bos tard
Sentence: He was a real bostard and would sit by the door watching the clock just in case some one tried to sneak out before 5:00pm
Etymology: boss + tard
Created by: wordmeister.
More Top Verboticisms:
(Invented words created by the Verbotomy Writers)
Nitticker: /-ˈnɪtˌtɪkɚ- / I don't mean to be a nitticker, but when you say that my pizza will be here in 30 minutes or less, do you mean from now, or from the time I called? Etymology: from nitpicker + tick (as in a clock) Created by: ErWenn.
Comments:
great word ErWenn - Jabberwocky, 2008-04-23: 14:46:00
Very good word. - OZZIEBOB, 2008-04-23: 17:48:00
Whorology: /whore-ol'-uh-gee/ Daphne felt that Phillip, the new manager in the Department of Silly Clocks (afternoon watch), was a bit... alarming. She frequently heard him tocking to himself outside her office door. His imprecise movements infuriated her: only yesterday he had slopped quartz and quartz of water all over her timesheet and she'd had to redo it! Lately he'd taken to fobbing his unfinished work off on her just when things should have been winding down for the day. Quite often she had to wrist-le with the urge to clock Phillip upside the head. So far she'd proven resistant, but who knew how long that would last. Sometimes she fantasized about setting her hands around his windpipe... The man never seemed to notice all the nights she stayed back, but if she left work before 6pm, he would spring forward and reprimand her. She simply had to face facts: time had changed him from a horologist to a whorologist. Etymology: whore + horology (the art or science of making timepieces or of measuring time) Created by: Jamagra.
Comments:
Face it, it's crystal clear that's my kind of story...Philip obviously has not had a good movement for some time, which is bound to wind him up and make him cuckoo! You'd be ticked, too. Oh well, even a broken clock is right twice a day...Cheers - Nosila, 2008-04-23: 01:28:00
dialightful! - galwaywegian, 2008-04-23: 06:10:00
Can the hands of a clock ever clap? great sentence - ticked all the boxes - Jabberwocky, 2008-04-23: 09:01:00
Don't forget the "Ho" in horology! Luv the sentence - OZZIEBOB, 2008-04-23: 17:54:00
Streptoclockus: /streptəkläkəs/ As a new manager Tom has a bad case of streptoclockus. He watches every minute of his new subordinates workdays as if each second was being pulled from his soul. Etymology: streptococcus (a bacterium of a genus that includes the agents of souring of milk and dental decay, and hemolytic pathogens causing various infections such as scarlet fever and pneumonia) + clock (a mechanical or electrical device for measuring time) Created by: artr.
More...
To see more verboticisms for this definition go to: Don't tell me your trying to sneak out early?
More Winning Words:
More Verboticisms! See the winning words for: Hurry up we need to get in line!