Verboticism: Lunatickalltherightboxes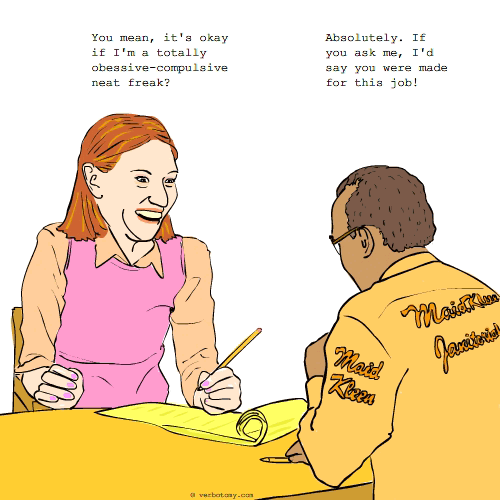 DEFINITION: v. To suddenly discover that your most troublesome personality defect, for which you have been taking medication and/or therapy, is actually your greatest asset. n. A perceived weakness which is actually a strength.
Voted For: Lunatickalltherightboxes
Successfully added your vote for "Lunatickalltherightboxes".
You still have one vote left...
Created by: jadenguy
Pronunciation: luk jaa
Sentence: His inability to talk made him a great grief counciler. His success rate was nearly 87%, with comment cards lauding his ability to listen.
Etymology: lockjaw + luck
Created by: artr
Pronunciation: nänˈpləspləs
Sentence: The fact that Jerry was unsure what to do and accomplished little made him perfect for his government job. It turned out to be a nonplusplus. He even developed a theory and an entire unofficial training program entitled DYNAMIC INACTION in which you look very busy working in one direction only to reverse course before you get to any measurable goal. The net result; status quo. Not only do you NOT rock the boat, you confine all your activity to the dock.
Etymology: nonplus (surprise and confuse (someone) so much that they are unsure how to react) + plus (an advantage)
----------------------------
COMMENTS:
"DYNAMIC INACTION" - hilarious! Good word - splendiction, 2009-07-31: 18:01:00
----------------------------
Created by: galwaywegian
Pronunciation: loo na tik awl the rite bok ses
Sentence: She managed to lunatickalltherightboxes despite the rather stained resumé
Etymology: lunatic tick all the right boxes
Voted For! | Comments and Points
Created by: mweinmann
Pronunciation: flaw - po - tent
Sentence: Sally felt flawpotent when her relentless jabbering and wild hair got her a spot on the popular gameshow "Everyone's Talking but Nobody's Listening"....
Etymology: flaw, compenent, potent
----------------------------
COMMENTS:
That gameshow is Twitter - jrogan, 2009-07-31: 10:41:00
----------------------------
Created by: ErWenn
Pronunciation: /ˈɹɛdˌnoʊz/
Sentence: Sadly, while the fact that his face and voice were incapable of expressing emotion was an impressive rednose during the poker tournament, he still couldn't get a date.
Etymology: As in Rudolph the reindeer's shiny red nose
Created by: weyrlady
Pronunciation: e-fo-ban-e
Sentence: It was such an ephobany to realize he actually loved me for my friggatriskaidekaphobia.
Etymology: A combination of "epiphany" and "phobia".
Created by: fadedeidolon
Pronunciation:
Sentence:
Etymology: flair, failure
Created by: purpleartichokes
Pronunciation: em-foy-bull
Sentence: "Eureklutz!" Ted exclaimed, as he landed that nifty job as a baggage handler. He had become emfoible.
Etymology: employable, foible
Created by: rikboyee
Pronunciation: han-dee-capp
Sentence:
Etymology: handy, handicap
----------------------------
COMMENTS:
Very apt and capped a good day's verboting. - scrabbelicious, 2009-07-31: 15:22:00
Nice Flo to it! - scrabbelicious, 2009-07-31: 15:24:00
----------------------------
Created by: Clayton
Pronunciation: fawl-TIL-i-tee
Sentence: Madeline's faultility was her incessant nose-blowing. Her husband thought of divorcing her, but she was such an amazing duck call.
Etymology: fault + utility