Vote for the best verboticism.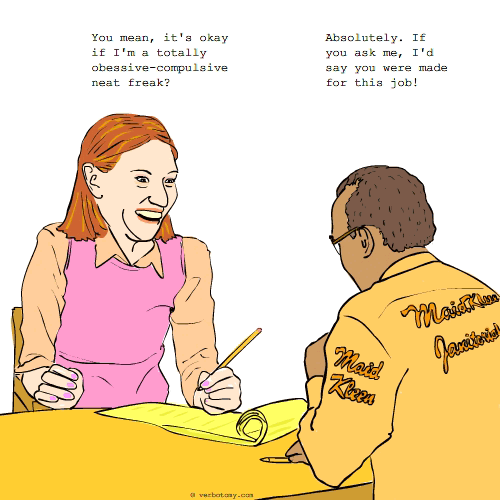 DEFINITION: v. To suddenly discover that your most troublesome personality defect, for which you have been taking medication and/or therapy, is actually your greatest asset. n. A perceived weakness which is actually a strength.
Verboticisms
Click on each verboticism to read the sentences created by the Verbotomy writers, and to see your voting options...
You have two votes. Click on the words to read the details, then vote your favorite.
Created by: weyrlady
Pronunciation: e-fo-ban-e
Sentence: It was such an ephobany to realize he actually loved me for my friggatriskaidekaphobia.
Etymology: A combination of "epiphany" and "phobia".
Created by: Nosila
Pronunciation: on suk ses shun
Sentence: Little did Hugh Hefner's parents know that their son's obsession with pet rabbits would make him rich. His compulsion for bunnies turned into an obsuccession. He ended up with bunnies galore (one for each month of the year) a Bunny Club in every city, a Bunny TV Channel, a Bunny Mansion, a Bunny Magazine and a Bunny Jet. They were happy that his success was just based upon his love of bunnies, because as a little boy, he was also obsessed with naked girls...
Etymology: Obsession (an unhealthy and compulsive preoccupation with something or someone;an irrational motive for performing trivial or repetitive actions against your will)& Success (an event that accomplishes its intended purpose;a state of prosperity or fame)
Created by: Clayton
Pronunciation: fawl-TIL-i-tee
Sentence: Madeline's faultility was her incessant nose-blowing. Her husband thought of divorcing her, but she was such an amazing duck call.
Etymology: fault + utility
Created by: Lapper
Pronunciation: pro-FEKT-ihv
Sentence: John was found to be quite profective when his lack of heart permitted him to be one of the country's top assassins.
Etymology: The prefix "pro-" and "defective".
Created by: hamburgerman
Pronunciation: flaw sum
Sentence: OMG! dude, thats totally flawsome!
Etymology: flaw + awesome = flawsome
----------------------------
COMMENTS:
no comment - hamburgerman, 2009-08-20: 21:34:00
----------------------------
Created by: kirkaw
Pronunciation: traw-maze
Sentence: When Michael's obnoxious outburst at the Marsha resulted in her quiting the next day, to the delighted of the rest of the office staff, he was simply traumazed at himself.
Etymology: trauma - amazed
Created by: petaj
Pronunciation: flawnt-it
Sentence: Cherie really started marketing herself when she realised her flawntit gave her an oddvantage over the other candidates.
Etymology: flaw + If you've got it flaunt it.
Created by: SethelMerman
Pronunciation: uh-Kill-ease-Hayl
Sentence: Who knew that the fluctuting voice would be just what they were looking for in casting the commercial. Thank God for my Achilleshail.
Etymology: Achilles Heel-a (fatal) weakness in spite of overall strength + Hail-to acclaim
Created by: purpleartichokes
Pronunciation: em-foy-bull
Sentence: "Eureklutz!" Ted exclaimed, as he landed that nifty job as a baggage handler. He had become emfoible.
Etymology: employable, foible
Created by: andrewa121
Pronunciation: "that's it insane"
Sentence: After interviewing candidate after candidate for our unique position, we finally found one who was thatsitinsane. Her quirks were perfect in every way.
Etymology: from "that's it", an epiphanic phrase, and insane, denoting a tenuous relationship with the rational. cf. "bat shit insane".