Verboticism: Reflixerlize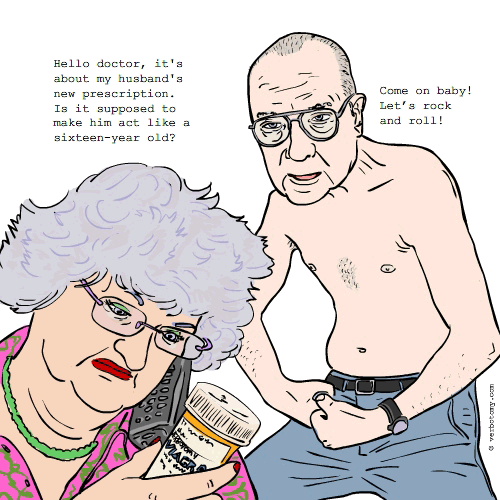 DEFINITION: n. An unintended consequence of medical or psychological therapy, especially if the therapy is supposed to make you feel "young again". v. To feel young and stupid again.
Already Voted
Vote not counted. We have already counted two anonymous votes from your network. If you haven't voted yet, you can login and then we will count your vote.
---
Reflixerlize
You still have one vote left...
Created by: sanssouci
Pronunciation: Ree Flick Sir Lies
Sentence: I hesitated outside the brightly decorated shop and peered through the window. The shop was called Medimagic, it had only been trading for a month but already the business had got quiet a good reputation here in our little village of Greenwood, especially amongst the older community. Just the other day, while I was sitting on my wooden bench, relaxing in the afternoon sun outside my old little cottage. I was flabergasted to observe an energetic figure running towards me, my old mate Harold, 85 years old and there he was full of life like a sixteen year old lad! "They sell this herbal remedy George! They call it Relixerlize, I don't know what they put in it. It must be magic, look at me! I'm on fire" he loudly proclaimed, dancing around on my daffadils. Now here I was, curiosity got the better of me and I wanted a bit of what Harold had got. I stepped inside, I was getting myself some Relixerlize.
Etymology: reflex + elixer + revitalize = relixerlize reflex 1. noting or pertaining to an involuntary response to a stimulus 2. occurring in reaction; responsive. elixir 2.A substance believed to maintain life indefinitely. Also called elixir of life. 3. A substance or medicine believed to have the power to cure all ills. revitalize 1. to give new life to. 2. to give new vitality or vigor to.
Created by: bubbos
Pronunciation: You-ther-apy
Sentence: A heavy dose of youtherapy has made John realize what he's been missing all these years.
Etymology: Youth + therapy
Created by: karenanne
Pronunciation: ree JOO ven ay teez
Sentence: Randy has entered his rejuveneighties - that time of life with renewed vigor and the feeling that he should finish all those items on his "Bucket List" before it's too late. He also notices that many women eye him, and therefore says magnanimously that he should "make the rounds" and "give them what they want." But the main reason they pay attention to him is that he's one of the few available men remaining.
Etymology: rejuvenate + eighties (age)
Created by: rephil
Pronunciation: pawnse
Sentence: Dr. A: "How did the procedure work out for Mrs. Hyde?" Nurse B: "The face lift turned out great -- got her a new boy toy. But he left over the stretch marks from the lipo -- so that was a bit of a ponce.
Etymology: Colloquial -- after Juan Ponce De Leon, first Spanish governor of Puerto Rico and legendary seeker of the Fountain of Youth.
Created by: remistram
Pronunciation: there-ap-oops
Sentence: Dr. Evil didn't warn Albert & Lena about possible side effects or that therapoops is known to occur in older people.
Etymology: therapy + oops!
----------------------------
COMMENTS:
I think that this word also describes that "cleansing" diet. - purpleartichokes, 2007-06-18: 12:53:00
like the liver detox thingy? - remistram, 2007-06-18: 14:36:00
Yep, the dietrhea. - purpleartichokes, 2007-06-18: 14:39:00
but of course...is dietrhea yours? - remistram, 2007-06-18: 15:11:00
If you mean have I ever tried that dietrhea - no. I'd likely gag on the tonic shitzer. - purpleartichokes, 2007-06-18: 15:23:00
I think that's a runs-on sentence. - Clayton, 2007-06-18: 19:55:00
you guys areeeebbjbbb....sorry i slipped...its hard to type at the moment because i'm sitting on a loose stool - rikboyee, 2007-06-18: 21:21:00
ok enough verbal diarrhea! (my apologies...) - remistram, 2007-06-19: 09:47:00
----------------------------
Created by: Nosila
Pronunciation: joo ven eyl de lin kon se kwens
Sentence: Mabel was on the phone to her husband Walter's doctor about his most recent prescription and it's bizarre side effects. She asked him if was supposed to make him act young and immature again. "No", said, Dr. Gerry N. Tologist, "it's just supposed to revive his libido". "Well", said Mabel, "It has not done that because he is too busy listening to rap music, wearing his pants too low and acting like a punk. In fact, he's been arrested for driving his power chair too fast and spraying graffiti all over the neighbours' fences. I am throwing out these pills, because I cannot live with the juveniledelinconsequence of his actions!"
Etymology: Juvenile Deliquent (a young offender) & Consequence (aftermath;result;outcome of an action)
----------------------------
COMMENTS:
wow what long word, it works too - sanssouci, 2010-01-13: 14:59:00
----------------------------
Created by: mrskellyscl
Pronunciation: vi-ag-gra-vate
Sentence: Herb was feeling like a young buck again; however, Martha was becoming viaggravated because he kept following her around the house, making lewd comments and showing off what was left of his scrawny body. Exasperated, she dumped his prescription down the garbage disposal, tossed ice water in his lap and left to play bingo.
Etymology: viagra: prescription for a certain male dysfunctional condition + aggravate: to rouse to exasperation; annoy
----------------------------
COMMENTS:
viagreat word! - Nosila, 2010-01-12: 07:08:00
----------------------------
Created by: Stevenson0
Pronunciation: yoo/thuh/ney/zee/ast
Sentence: Viagra and some other new miracle drugs are a form of youthanasia. With these drugs, young ideas, images and urgings are brought about in an old, incapable body.
Etymology: youth + euthanasia
Created by: mplsbohemian
Pronunciation: reh-troh-KUHSH-uhn
Sentence: When Alex's father purchased a Maserati for his fiftieth birthday, the retrocussions were embarrassing, especially when Alex would introduce girlfriends to his gold-laden, shades-wearing, slang-misusing dad.
Etymology: retro- + repercussion
----------------------------
COMMENTS:
Came alive when read in the sentence -- nice! - rephil, 2007-06-18: 10:15:00
----------------------------
Created by: ErWenn
Pronunciation: /ˈbækˌlæps/
Sentence: Since I no longer owned any Quicksilver t-shirts or jams, the effects of the backlapse were mild, and I merely spent the day playing Prince of Persia.
Etymology: From backlash + relapse