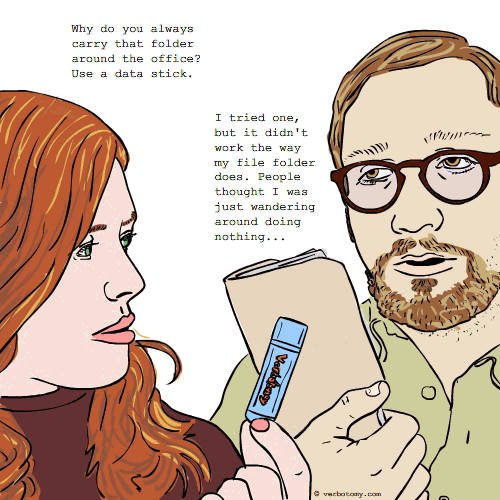 DEFINITION: n. A prop (e.g. papers, files or any non-functional equipment) used to create the illusion of busyness. v. To use office supplies to create the illusion that you are working.
Voted For: Phantofiles
Successfully added your vote for "Phantofiles".
You still have one vote left...
Created by: rjk31
Pronunciation:
Sentence:
Etymology:
Created by: remistram
Pronunciation: ill-uge-ee-busy-un
Sentence: Stan was an expert at utilizing effective illusibusions - so much so that he was promoted to senior clerk.
Etymology: illusion + busy
Created by: ryanpetie
Pronunciation: foh-sim-ill-lay
Sentence: Darren gathered his fauxsimiles and strode around the office like a man possessed. 'A few more laps,' he thought, 'and I could be managing partner.'
Etymology: faux/facsimile
Created by: kendriveset
Pronunciation: bo-ga-strive
Sentence: Jim took more effort to bogustrive around the office than it would\'ve taken to actually do some work.
Etymology: bogus + strive
----------------------------
COMMENTS:
good one - Nosila, 2010-01-07: 18:50:00
thanks so much - kendriveset, 2010-01-08: 15:48:00
----------------------------
Created by: weareallbeautiful
Pronunciation: ah-n-tee-w-urk-ay-d
Sentence: Bill always carried his antiwork aid in order to avoid having to actually work at the office.
Etymology: anti+work+aid
Created by: protothor
Pronunciation: fillusion
Sentence: This fillusion is working very well; no one even expects I'm not doing anything.
Etymology: From 'file' and 'illusion', anything that gives an observer the idea that you're preoccupied.
Created by: Osomatic
Pronunciation: Rhymes with "paperwork."
Sentence: With enough important-looking documents, I can wander around for hours papershirking.
Etymology: Rhymes with "paperwork."
Created by: cpeterc
Pronunciation: Fo - Port
Sentence: "Wait - I'll never make it past Mr. Big's office without a Fauxport, This folder will do."
Etymology: Faux = faxe or simulated Port from Passport a document that allows you to travel freely.
----------------------------
COMMENTS:
Your papers, please.... - metrohumanx, 2008-08-06: 16:48:00
----------------------------
Created by: Clayton
Pronunciation: di-STAK-shuhn
Sentence: Luckily, the Greenly account provided Clarence with a momentary disstacktion as he fumbled to exit GTA: San Andreas. If Mrs. Worthington realized he'd beaten her insane stunt bonus, he could kiss that nickel-an-hour raise goodbye.
Etymology: distraction + stack
----------------------------
COMMENTS:
I must confess I sometimes build a little fortress of files. It makes playing verbotomy much simpler - Jabberwocky, 2007-06-13: 10:51:00
I'm really glad that I don't work in an office, but a file fortress does sound like fun. - Clayton, 2007-06-13: 14:37:00
you get a vote for being such a fun verbotomist - Jabberwocky, 2007-06-13: 14:49:00
Thanks... I didn't put much thought into today's word, as I'm nursing a wounded shoulder. There have been a lot of great words this week, though. - Clayton, 2007-06-13: 20:34:00
----------------------------
Created by: Jabberwocky
Pronunciation: mask/ur/aid
Sentence: No one knew which department he worked in but with his maskqueraid of blackbery and wireless headset he easily passed his day wandering and betting on horses.
Etymology: masquerade + mask + aid
----------------------------
COMMENTS:
great word and welcome back! - Nosila, 2008-08-06: 21:53:00
----------------------------