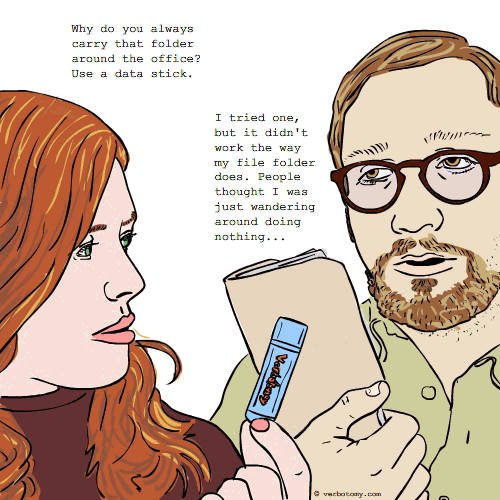 DEFINITION: n. A prop (e.g. papers, files or any non-functional equipment) used to create the illusion of busyness. v. To use office supplies to create the illusion that you are working.
Voted For: Phantofiles
Successfully added your vote for "Phantofiles".
You still have one vote left...
Created by: keeno82uk
Pronunciation: dis-work-illusion-ment
Sentence: "that guy is so practicing disworkillusionment, as he always carries around that file"
Etymology: Meaning the illusion of work by cloaking your lack of said work using props, i.e folder, laptop
Created by: mrskellyscl
Pronunciation: sup-plies-guys
Sentence: Herb was office supply guy and had charge of the stock room; however, we knew him as the "suppliesguise" because he'd spend the entire day running back and forth with paper, folders and what not just to make himself look busier than he really was. That wasn't so bad, but when anyone asked him to get supplies for them his response was, "I'm sorry, I'm too busy. You'll have to get it yourself!"
Etymology: supplies: provisions; furnish or equip + guise: an artful or simulated pretense
Created by: artr
Pronunciation: aw-fuh-sahd
Sentence: Stanley likes to make everybody think he is the most productive member of his team. He creates a smokescreen by creating an officade of papers and folders that practically obscure his window and keep prying eyes from seeing how little actual work he does.
Etymology: office (a room, set of rooms, or building where the business of a commercial or industrial organization or of a professional person is conducted) + facade (a superficial appearance or illusion of something)
Created by: artr
Pronunciation: pôrtˈfōnēˌō
Sentence: Gerry has all the correct business props, the pinstripe suit, the proper tie, the Blackberry. He is never seen without his portfolio. The truth; the suit is a cheap knock-off; the tie, a clip-on; Blackberry, a much too expensive cell phone and the portfolio, a portfonio that holds nothing more than his lunch.
Etymology: portfolio (a large, thin, flat case for loose sheets of paper such as drawings or maps) + phony (not genuine; fraudulent)
Created by: TJayzz
Pronunciation: Fy-el-o-foe
Sentence: Tarquin never went anywhere without his fileofaux, he wanted everyone to think he was extremely busy doing a very important job, when really he was just loafing around doing as little as possible.
Etymology: File(a folder for keeping loose papers in order) + Faux(artificial,imitation) ORIGIN French false = Fileofaux. See also filofax(a loose-leaf notebook for recording notes) ORIGIN representing a colloquial pronunciation of file of facts
----------------------------
COMMENTS:
Fawny collision of meanings there TJ. Good word! - scrabbelicious, 2008-08-06: 06:48:00
File a foe under fiendish! - metrohumanx, 2008-08-06: 16:25:00
Great minds think alike...I had toyed with that word as well...isn't that fauxbulous! - Nosila, 2008-08-06: 21:52:00
----------------------------
Created by: jesster
Pronunciation: Ass-id-you-plicity
Sentence: While Neville's constant assiduplicity never fooled the people that actually accomplished things, management was completely taken in. He was promoted so frequently that his failures never caught up to him, and soon was in charge of the entire department.
Etymology: assiduous (involved in often constant activity )+ duplicity (the inclination or practice of misleading others through lies or trickery)
Created by: Nosila
Pronunciation: fyl loo zhun
Sentence: He was the Great Pretender in our office. Sadly, because he was a male, he got away with it for way longer than any female would even dare try. Yes, Seymour Dolittle, was a fileusion. He would stalk the halls carrying a file folder and pretend to "do his rounds" with nothing more than what turned out to be a pizza place menu and and a bus schedule in his file folder. He fooled the senior management for over 5 years (the ladies in the company twigged on after a year or two, but had nowhere to lodge their concerns). When the cuts came, no one could salvage Seymour, as he worked for no one, did not report to anyone and could never successfully explain his presence in the hallowed halls. Luckily for him, he worked long enough to collect a great pension, unemployment insurance and a tasty severance for all his hard-worked time. Nice work if you can get it...and he wasn't even a CEO of anything!
Etymology: File (a set of related records (either written or electronic) kept together) & Illusion (an erroneous mental representation; the act of deluding; deception by creating illusory ideas; an illusory feat; considered magical by naive observers)
Created by: administraitor
Pronunciation: row-bow-flaj
Sentence: Howard found that measuring floors desks and windows allowed him to prowl the office at will, his roboflage consisting of a tape and clipboard.
Etymology: robot (worker) + camouflage
Created by: weareallbeautiful
Pronunciation: ah-n-tee-w-urk-ay-d
Sentence: Bill always carried his antiwork aid in order to avoid having to actually work at the office.
Etymology: anti+work+aid
Created by: sanssouci
Pronunciation: pen doop
Sentence: "I think I am going to pendupe for a while, I can't be botherd to do anymore work today but don't want Mr Stone to think I'm not pulling my weight in the office."
Etymology: pen - any of various instruments for writing or drawing with ink or a similar substance. A pen is a writing implement," c.1300, from O.Fr. penne "quill pen, feather," dupe - to make a dupe of; deceive; delude; trick. Dupe orriginates from 1680s, from Fr. dupe "deceived person," from M.Fr. duppe (early 15c.), thieves' jargon, probably from phrase de huppe "of the hoopoe," an extravagantly crested and reputedly stupid bird.