Vote for the best verboticism.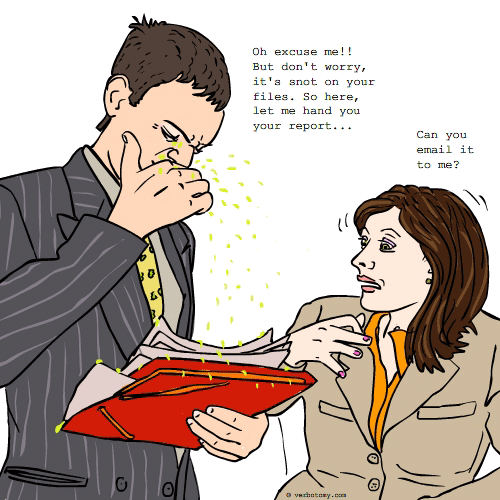 DEFINITION: v. To be so hardworking and dedicated to your job that you come to work even when you're sick and dangerously infectious. n. A person who comes to work sneezing, coughing, contagious, and sick as a dog.
Verboticisms
Click on each verboticism to read the sentences created by the Verbotomy writers, and to see your voting options...
You have two votes. Click on the words to read the details, then vote your favorite.
Created by: Stevenson0
Pronunciation: job/sick/sess
Sentence: John comes to work no matter his illness. To his co-workers, John's jobsicksess means they'll probably catch some contagious cold, or disease from him.
Etymology: job + sick + obsess; j + obsess = jobsess + sick = jobsicksess
----------------------------
COMMENTS:
not to mention job success - petaj, 2008-05-08: 05:33:00
----------------------------
Created by: tmcg5625
Pronunciation: by-row-haz-ard
Sentence: "The guy who sits next to me must have Ebola or something. He's oozing out of everywhere and he's still showing up every day! Sooner or later i'm gonna get whatever he's got. He's a total birohazard so i gotta resign dude."
Etymology: Biro- ball point pen. common office utensil Hazard- general threat to one's general well-being Biohazard- Biological iteration of aforementioned threat.
----------------------------
COMMENTS:
Love your word, tmcg! - Nosila, 2008-05-07: 01:56:00
----------------------------
Created by: artr
Pronunciation: wurk-il-haw-lik
Sentence: His skin is a pale green with an overlay of a purple rash. His hair is falling out and he can't keep any food in his stomach. What does Clyde, the workillholic say? "It's just a head cold, nothing to worry about."
Etymology: workaholic (a person who works compulsively at the expense of other pursuits) + ill (of unsound physical or mental health; unwell; sick)
Created by: gilgrist
Pronunciation:
Sentence:
Etymology:
----------------------------
COMMENTS:
Gad...floating snot. lol Good word. - Mustang, 2008-05-07: 06:39:00
----------------------------
Created by: diyan627
Pronunciation: sik-mish-in
Sentence: John is under complete sickmission... His rationalization is that he's working at the hospital, what does it matter anyway?
Etymology: sick (ill) + mission (ambition-an inner calling to pursue an activity or perform a service) + submission (surrendering to the power of wanting to be the top dog)
Created by: didsbury
Pronunciation: floo-vi-ann
Sentence: Jake is such a fluvian. He is literally coughing his lungs up at his desk and its making me nauseous.
Etymology: Derivative of influenza and the Greek 'vianoscous' which has several meanings, the most appropriate of which in this context is, the feeling you are left with when you receive an unwanted gift.
Created by: Mustang
Pronunciation: in - FEKT - uh - side
Sentence: Germond seemed to care little for the fact that he committed infecticide among his clients and coworkers when he insisted on showing up at work even when extremely ill.
Etymology: Infect with satirical use of suffix -cide, to kill.
----------------------------
COMMENTS:
Good one! - TJayzz, 2008-05-07: 18:27:00
----------------------------
Created by: Tigger
Pronunciation: /staf-luh-KOK-ee/ (like 'staphylococci')
Sentence: George really believed that the office couldn't function without him, so he came into work every day, even with a raging respiratory infection. He was so stafflococky that he infected everyone else in the office, and then he had to try to manage when they all called in sick. After several days of that, he threatened to resign because, he claimed, his co-workers were just a bunch of wimps. Also, he suspected that they were conspiring against him by using their sick days all at the same time, because they were jealous of his superior work ethic.
Etymology: Blend of: Staff (as in 'office staff') & Staphylococci - plural of staphylococcus, a variety of infectious bacteria (from Greek, staphyle "bunch of grapes" & modified Latin, coccus "spherical bacterium") & Cocky - overly self-assertive or arrogant (from Old English, cocc; nickname for "one who strutted like a cock")
----------------------------
COMMENTS:
Great one! - pieceof314, 2008-05-07: 08:44:00
excellent - Jabberwocky, 2008-05-07: 11:38:00
----------------------------
Created by: Nosila
Pronunciation: a choor nee man
Sentence: Rex Hale was a skilled carpenter. When he was on a project, nothing kept him from working, not even illness. His co-workers hated the fact that he was more achoorneyman than journeyman on those occasions.
Etymology: Achoo (sneeze noise) & Journeyman (a skilled worker who practices some trade or handicraft)
Created by: rebelvin
Pronunciation: employ+malady
Sentence: His frequent coughing and sneezing qualified as an employmalady, which is strictly forbidden by company policy.
Etymology: employ+malady