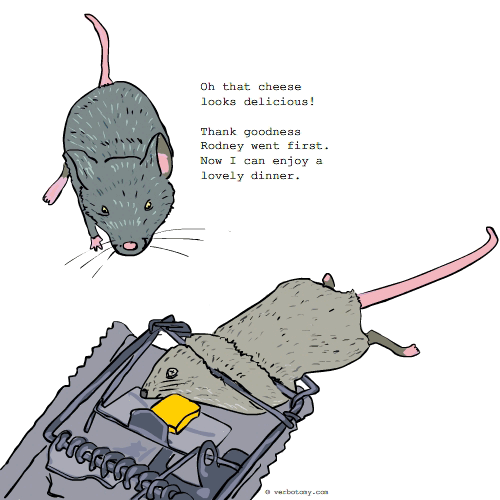 DEFINITION: v. To generously allow others to precede you in hopes that they will identify, reduce, and perhaps be eliminated by, the potential hazards. n. A gesture of courtesy which is really the lead-in to a trap.
Voted For: Protocull
Successfully added your vote for "Protocull".
You still have one vote left...
Created by: rikboyee
Pronunciation: arf-tah-you-be-trap
Sentence: i make it a point to afteryoobytrap before i go into any new room.
Etymology: after you, booby trap
----------------------------
COMMENTS:
good enough for my vote! hehehe - galwaywegian, 2007-06-26: 06:18:00
----------------------------
Created by: terpette
Pronunciation: hostile-TAL-ity
Sentence: Letting me jump off the cliff first when we go to the quarry to swim is just another example of my ex-boyfriend\'s hostiletality!
Etymology: Conjunction of \"hostile\" and \"hospitality\".
Created by: weareallbeautiful
Pronunciation: s-ah-k-ruh-s-ee-d
Sentence: Frank, although he knew that by allowing Rodney to try to get the cheese he was cruely sacriceding him beacause Rodney would be taken out by the trap, allowed Rodney to try to get the cheese first and to his delight Rodney was captured by the trap before he could take a bite of the cheese. Therefore Frank had all the cheese for himself.
Etymology: sacrifice+precede
Created by: petaj
Pronunciation: curt-ee-erst-while
Sentence: Galahad succeeded to the court by deploying a courtierstwhile strategy. He always allowed others to go before him in a show of courtesy, but they often fell into bear traps, dragon's lairs or other medieval dangers only to become his bygone friends.
Etymology: courteous + courtier + erstwhile (bygone, former)
Created by: remistram
Pronunciation: shiv-trick-all-ree
Sentence: She fell for his chivtrickalry yet again. The meal he prepared for her was his best yet save for the rat poison aftertaste to the steak. Then she slowly passed out.
Etymology: chivalry (courteous behaviour, generous) + trick (as in trap, snare, lure)
Created by: Nosila
Pronunciation: trap eez
Sentence: Mickey would trapease himself some free cheese by courteously allowing Rodney to go first and snap the mousecatcher.
Etymology: Trap (hold or catch as if in a trap) & Ease (freedom from difficulty or hardship or effort) plus WordPlay on Trapeze (a swing used by circus acrobats)
Created by: ErWenn
Pronunciation: /ˈjɛləˌgeɪt/
Sentence: Any situation in which you willingly put someone else in the danger that you could have faced yourself is an example of yellegation.
Etymology: Yellow (as in afraid) + delegate
Created by: mweinmann
Pronunciation: snair - giv - ur
Sentence: Marty was the ultimate snaregiver. Under the pretense of being kind and loving, he let Arty take the first bite....
Etymology: snare (trap: something (often something deceptively attractive) that catches you unawares), giver (someone who devotes himself completely), play on the word "caregiver" ( person who is responsible for attending to the needs of a child or dependent adult )
----------------------------
COMMENTS:
Excellent word! One I will use! - splendiction, 2009-07-29: 20:05:00
----------------------------
Created by: Clayton
Pronunciation: MAL-troo-iz-uhm
Sentence: Don Vito's maltruism was most evident near revolving doors.
Etymology: mal- + altruism
----------------------------
COMMENTS:
I suppose he often let his friends try the dodgy brew first so that he could avoice malt ruism. - petaj, 2007-06-26: 03:15:00
sigh. Hit the c and the e, but couldn't seem to hit the d! Avoid, avoid, avoid, avoid (100 times) - petaj, 2007-06-26: 03:16:00
Finally, avoice of reason. - Clayton, 2007-06-26: 07:06:00
Avoice and ruism are actually examples of my intellexicon. - petaj, 2007-06-26: 07:46:00
----------------------------
Created by: texmom
Pronunciation: po light a bahm
Sentence: Letting her precede him in the interviews was a blatant politeabomb move to advance himself
Etymology: polite - niceness bomb- explosive device