Vote for the best verboticism.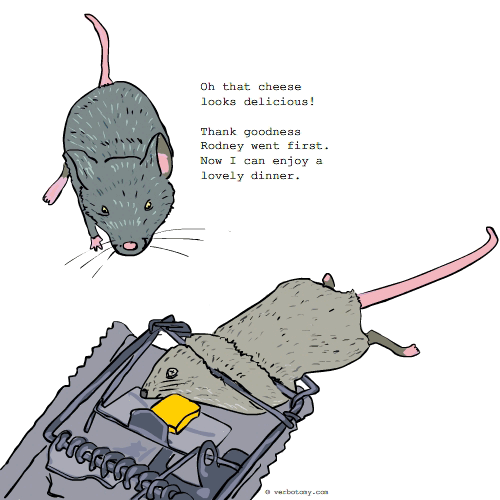 DEFINITION: v. To generously allow others to precede you in hopes that they will identify, reduce, and perhaps be eliminated by, the potential hazards. n. A gesture of courtesy which is really the lead-in to a trap.
Verboticisms
Click on each verboticism to read the sentences created by the Verbotomy writers, and to see your voting options...
You have two votes. Click on the words to read the details, then vote your favorite.
Created by: rikboyee
Pronunciation: arf-tah-you-be-trap
Sentence: i make it a point to afteryoobytrap before i go into any new room.
Etymology: after you, booby trap
----------------------------
COMMENTS:
good enough for my vote! hehehe - galwaywegian, 2007-06-26: 06:18:00
----------------------------
Created by: artr
Pronunciation: hamboŏsh
Sentence: Aunt Edy invited Rodney over for Thanksgiving. She promised not just turkey but pork products. He accepted knowing full well that this was a hambush. Edy is the designated family inquisitor. Rodney's new girlfriend was to be the topic of discussion for the evening. What's her name? How old is she? Has she been married? Does she have kids? Where does she work? How did you meet? Is it serious? Rodney thought to himself, "Why am I putting up with this?". "That's right, HAM!!!"
Etymology: ham (meat from the upper part of a pig's leg salted and dried or smoked) + ambush (a surprise attack by people lying in wait in a concealed position)
Created by: texmom
Pronunciation: po light a bahm
Sentence: Letting her precede him in the interviews was a blatant politeabomb move to advance himself
Etymology: polite - niceness bomb- explosive device
Created by: Rheelax246
Pronunciation:
Sentence: Jacob's idea to allow the cat to frolic into the trap was a puzzlekill.
Etymology: new
Created by: jesster
Pronunciation: Snar + sis + sis + tic
Sentence: I saw the Jehovah's Witnesses lurking in the lobby, and quickly formed a snarcissistic plan. I stepped back and held the door open for a pleasant looking woman approaching from behind me. Perhaps the smile I returned was a bit too broad, as the odd look she gave me was replaced by an expression of horror and betrayal as they closed in on her waving copies of The Watchtower.
Etymology: Snare (to trap or entangle) + narcissist (one who is consumed by self interest)
----------------------------
COMMENTS:
Really funny sentence! - purpleartichokes, 2007-06-26: 13:52:00
----------------------------
Created by: fabdiva
Pronunciation: yoo-go-furst
Sentence: Mavis was a clever lamb indeed. Day after day she avoided the slaughter by stunning the crowd with her impeccable manners. Ewegofurst was the last thing they heard...
Etymology: Ewe - a female sheep. Go - to move from one place or point to another. First - coming before all others.
Created by: splendiction
Pronunciation: go ahhhh head
Sentence: The benefit of telling guests goahhhhead was that if the canapes tasted bad, they would find out first. There was no need to try all those fattening foods! The guests would determine the palatability!
Etymology: From: GO A HEAD and AHHHH.
Created by: artr
Pronunciation: sakrəfrend
Sentence: Like Mikey in the old Life cereal commercial, Jimmy discovered that his buds saw him as the sacrifriend. They would always \"let\" him go first when the situation was at all sketchy. When they allowed him to go first at jumping into the mountain-stream-fed lake, me had to use every ounce of self-control he could muster to smile and call out, \"Come on in, the water\'s fine\".
Etymology: sacrificial (an act of giving up something valued for the sake of something else regarded as more important or worthy) + friend (a person whom one knows and with whom one has a bond of mutual affection)
Created by: purpleartichokes
Pronunciation: sek-und-ware-ee
Sentence: It was a good thing that Bob became secondwary and let his friend sign up first for the all-expenses paid vacation to... Once the line cleared, the word "Afghanistan" was revealed.
Etymology: secondary, wary
Created by: Nosila
Pronunciation: kur te snair
Sentence: Mojo the Mouse had learned how to avoid the mousetrap. When he saw the tasty cheese awaiting him, he always did a courtesnare, by letting his pal, Rodney spring the trap and leave him the tasty morsel. This way, Mojo wan't one of those mice, who thrice get a splice in a vise and heed no advice!
Etymology: Courtesy (a courteous or respectful or considerate remark or act) & Snare (entrap)