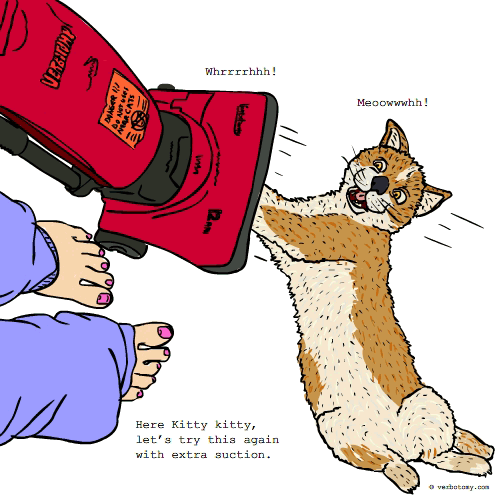 DEFINITION: v. To pick up a piece of lint from the floor that your vacuum missed, and then drop it in front of the vacuum again, to give the vacuum another chance to suck it up. n. A piece of lint that a vacuum will not pick up.
Already Voted
Vote not counted. We have already counted two anonymous votes from your network. If you haven't voted yet, you can login and then we will count your vote.
---
Succrelint
You still have one vote left...
Created by: galwaywegian
Pronunciation: iff aht furst ewe dohnt suk seeeeeed
Sentence: ifatfirstyoudontsuckseed, purrsevere
Etymology: if at first you don'r succeed, suck
Created by: stache
Pronunciation: rē'kə-pĭch'ə-lĭnt'
Sentence: Herb couldn't tell what the stubborn little piece of greenish fluff on the carpet in the cargo bay of his Land Rover was, but it refused to be taken after several passes with the ShopVac(tm). Finally he recapitulinted by picking it up and dropping it into the nozzle.
Etymology: 'recap,' to summarize or go over; 'itu,' Bantu translation of 'It's You,' from the song from 'Music Man' ( It's you in the sunrise, it's you in my cup. It's you all the way into town. It's your sweet "Hello, dear" that sets me up And it's your "Got to go, dear" that gets me down, etc.); 'lint,' miscellaneous microscopic mercurial matter.
----------------------------
COMMENTS:
BTW, "It's You" is quite moving in the Bantu performance of "Music "Man." - stache, 2008-04-04: 07:08:00
another great etymology - Jabberwocky, 2008-04-04: 08:49:00
----------------------------
Created by: milorush
Pronunciation: (tr.v.)vāk'yōōm-yə-lāt'; (n.) vāk'yōōm-yə-lā'shən
Sentence: Due to the poor quality of her ancient Eureka, it has become necessary for mom to repeatedly vacuumulate extraneous bits of fluff left behind by her cats.
Etymology: vacuum + [accum]ulation
Created by: Softbagel14
Pronunciation: Re-suh-sert is the proper way, however Re-suh-kert is also acceptable
Sentence: Behind her old vaccum was a stubborn 'resucirt', sitting in the exact spot she had just cleaned. -ed can be added to the end of the word to form 'Resucirted'. Mary 'resucirted' the lint that would not pick up the first time.
Etymology: Re- meaning 'again' -suc- from the word 'suck' -irt from the word 'dirt'
Created by: hyperborean
Pronunciation: cruhm-uh-jihn
Sentence: She didn't spend $400.00 on a vacum cleaner and expect to have to bend over and feed it every crumbudgeon.
Etymology: crumb (a small fragment [esp. of bread]) + curmudgeon (a crusty, ill-tempered and usu. old man)
Created by: bookowl
Pronunciation: mal/int/gur/ur
Sentence: A malintgerer is a stubborn piece of lint which pretends to be ill to prevent being vacuumed up.
Etymology: malingerer + lint
----------------------------
COMMENTS:
Ha! - purpleartichokes, 2008-04-04: 19:33:00
Ha! Good word. - purpleartichokes, 2008-04-04: 20:08:00
----------------------------
Created by: artr
Pronunciation: duhst-kuhs-er
Sentence: Denise is an animal lover but she has absolutely no sympathy for dust bunnies. She likes nothing better than the whoomp sound of a clump of lint going up the hose of her vacuum. Nothing turns her into a dustcusser faster than a clump of fuzz that clings to the floor, refusing to succumb to the Hoover.
Etymology: dustbuster (a handheld cordless vacuum cleaner) + cusser (someone who swears; curses)
Created by: Mustang
Pronunciation: Mag - NET - uh - lint
Sentence: Having made repeated passes with the vacuum over the ball of lint only to have it remain attached to the carpet as if by some unseen force, Genevieve gave it the title of magnetalint.
Etymology: Blend of magnetic and lint
Created by: dochanne
Pronunciation: Suck-ree-lint
Sentence: Dana was a neat-freak and couldn't stand her house-mate's cat leaving ginger hairs on the white carpet. She vacuumed and vacuumed but there'd always be one no matter how much she tried, so she bought a new uber-vaccum with industrial power. Now she wouldn't have to succrelint the carpet six times to satisfy her neurosis, in fact.. where was that cat?
Etymology: Succulent - desert plant which sucks water and hold its efficiently, also used by indigenous peoples to suck water from. Suck - what vaccum cleaners do. Succor - assistance, as when you have to run the vacuum over twice.. Relent - give in, yield, get sucked in.. Lint - miscellaneous fluff that's always out of place. Sacrement - rite, ceremony or ritual which is repeated. Some people are quite ritualistic about their lint removal.. Sacrilegious - the disrespectful assault of cats with vacuum cleaners.
Created by: toadstool57
Pronunciation: mal-ev-o-lant
Sentence: Jill and her super sucker are no match for the malevolint fiber clinging to the carpet. She tries sucking it, pulling it, and picking it. She finally decides it's easier to call the local store to change the carpet in the room.
Etymology: malevolent,(evil,harmful)/lint(fiber)
----------------------------
COMMENTS:
nice - bookowl, 2008-04-04: 15:55:00
----------------------------