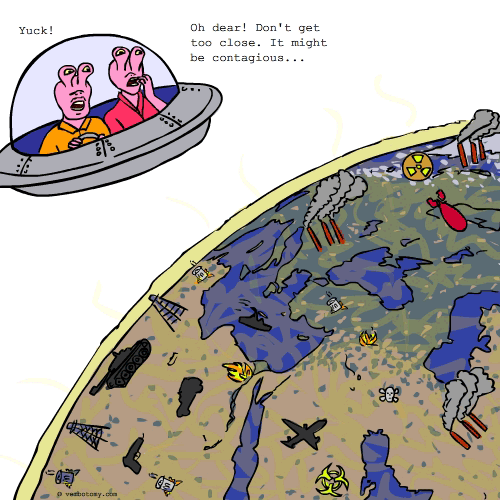 DEFINITION: n. A sick planet which has a cold, a fever, and some kind of weird infection. v. To be worried sick about the health of the planet, because you know the problem is really the people.
Already Voted
Vote not counted. We have already counted two anonymous votes from your network. If you haven't voted yet, you can login and then we will count your vote.
---
Terrorfirma
You still have one vote left...
Created by: metrohumanx
Pronunciation: pan-ORB-oh-ZOO-vecks
Sentence: A plague of greed's upon Our Sphere- It can be seen; it smells like fear. Plunder, harvest, strip her bare- Hurry now don't miss your share! A malady some thought inspired… The Struggle now must NOT grow tired. No catalogue or even index- Defines the word..... PANORBOZOOVEX !!!
Etymology: PAN+ORB+(bozo)+ZOO+VEX= PANORBOZOOVEX.....PAN: (prefix)comes from Greek and means "all." It is similar to the prefix omni- only omni- comes from Latin.....ORB: a spherical body, especially Earth, a spherical celestial object; Middle English, from Middle French orbe, from Latin orbis circle, disk, orb.....BOZO: a foolish or incompetent person, a famous 20th century clown; origin unknown [ 1916 ].....ZOO: a place, situation, or group marked by crowding, confusion, or unrestrained behavior, a collection of living animals usually for public display; short for zoological garden [1847].....VEX: to bring trouble, distress, or agitation to; Middle English, from Anglo-French vexer, from Latin vexare to agitate, harry; probably akin to Latin vehere to convey [15th century]
----------------------------
COMMENTS:
To the planetary barricades! Decentralize solar power! Revolution is NOT a dirty word! Ars Longa Vita Brevis! - metrohumanx, 2009-04-22: 01:30:00
The worsening world ... in versening unfurled ... and yet your last line and verbotomix ... evoke a smile ... for your fourplex! - silveryaspen, 2009-04-22: 11:31:00
You make it go from bad to verse, metro...like turning lemons into limoncello! - Nosila, 2009-04-22: 22:36:00
----------------------------
Created by: galwaywegian
Pronunciation: ahl gow rye tiss
Sentence: the only know cure for Algoritis is a globotomy
Etymology: Al Gore itis
----------------------------
COMMENTS:
For overpopulation about going natural and using the Al Gore Rhythm Method? - readerwriter, 2009-04-22: 08:31:00
Both verbotomies are so timely and very witty! :-) - silveryaspen, 2009-04-22: 11:12:00
Owl Gore is a real hoot. Good word. - Mustang, 2009-04-22: 22:55:00
----------------------------
Created by: mweinmann
Pronunciation: flu + moon
Sentence: Man has walked on the moon but he has walked on the earth for more years and has taken many more steps there. If we were to inhabit the moon, our blue moon, our paper moon, our man in the moon, our moonglow, our new moon would all become just a flumoon....we would probably manage to infect it with the same maladies with which we have infected the planet we inhabit....
Etymology: flu (short for influenza;Influenza, commonly known as the flu, is an infectious disease) and moon (one of the seven major bodies which move relative to the fixed stars in the night sky—the Moon, Mercury, Venus, the Sun, Mars, Jupiter and Saturn.
----------------------------
COMMENTS:
Flu...ooo...moon, I saw you standing alone...without a dream in your heart...without a love of your own." Song of the Day, dedicated to Silveryaspen! - readerwriter, 2009-04-22: 10:47:00
Enjoyed your sentence, mweinmann - well crafted. - silveryaspen, 2009-04-22: 11:18:00
Silvery Moon is more fitting as a song for me, readerwriter. 'Sail along silvery moon, sail along lovers' lane, sail along silvery moon, to my love again!" There's another old verse about the moon I like "Oh, the moon shines east and the moon shines west, but I like the moonshine they make next door best!" - silveryaspen, 2009-04-22: 11:22:00
----------------------------
Created by: splendiction
Pronunciation: grave new world
Sentence: Capitalizing on their own freedoms, the earth's inhabitants forgot to take care of their earth: her ground, air and water. The Graveneworld, as she came to be, suffered an imbalance which made her earth feverishly warm in areas and in other areas, cruelly cold or stormy. Oceans of earth were infected with their oil spills, chemicals, nuclear stubs. Earth's inhabitants needed to take better care of her.
Etymology: GRAVE (destructive) NEW World: gets its meaning from some ideas in A. Huxley's Brave New World, such as the destructive effects of some "progress" like industrialization on nature.
----------------------------
COMMENTS:
Greetings, Earthlings...take heed from splendiction's good advice! - Nosila, 2009-04-22: 22:30:00
(oops! your word isn't in your sentence) Nevertheless, it is a Great Word Play! - silveryaspen, 2009-04-22: 22:33:00
powerful image and such a great word it sticks in the memory ... will use your word! - silveryaspen, 2009-04-22: 22:37:00
thanks a. I fixed the sentence so that it contains the word. - splendiction, 2009-04-22: 22:44:00
----------------------------
Created by: Nosila
Pronunciation: gal ax a tiv
Sentence: Old Mother Earth had been long been in a constipative state when it came to ridding her heavenly body of toxins. Some Earthlings feared that it was getting too late to give her a galaxative to rid herself of the cosmic damage inflicted by her inhabitants.
Etymology: Galaxy ((astronomy) a collection of star systems; any of the billions of systems each having many stars and nebulae and dust) & Laxative (a mild cathartic;stimulating evacuation)
----------------------------
COMMENTS:
stellar! - galwaywegian, 2010-11-04: 04:29:00
----------------------------
Created by: remistram
Pronunciation: dee-globe-kay
Sentence: The rotting stench of Earth's deglobecay could be detected by foreign beings high up in the stratosphere. So much so that they created a Febreeze spray bottle the size of Pluto.
Etymology: decay (sick & rotting) + globe (planet)
Created by: sclarr14
Pronunciation: En-Fer-Ter-Ra
Sentence: *In an airplane* Hey! Look out the window! I can see the entire enferterra from up here!
Etymology: From the spanish root words enferma (sick) ans terra (planet)
Created by: artr
Pronunciation: yoōnəvərsilnis
Sentence: The citizens of Mars have voted to study the science of moving their planet to another solar system to get away from the universillness called Earth.
Etymology: universe/universal (all existing matter and space considered as a whole; the cosmos) + illness (a disease or period of sickness affecting the body or mind)
Created by: abrakadeborah
Pronunciation: con-tage-urth-d
Sentence: George and Jane Jetson were out in the aerocar for their usual Sunday planet fly around...as Rosie kept a watchful eye on Elroy and Judy back home in Mars. The Jetson's got closer to planet earth as George and Jane gasped and became "contagearthed" at the terrible shape the earth had turned into! George quickly pressed the red reverse zoom button on the aerocar to head back to Mars, in fear that the "contagearthed" particles may attach to the transparent top of the aerocar and make them all sick! Jane screamed," HURRY George, I think we just got hit by asteroid that chipped the transparent top and we might be breathing that stuff in!" The family dog Astro in the back seat looked up quickly then laid back down barking,"Ruh-roh-Ruh-roh!" George and Jane were relieved they had been forced to relocate to Mars by George's grouchy ol' boss Mr. Cosmo Spacely (owner of the company Spacely Space Sprockets) Maybe, he wasn't so mean after all...seeing the terrible mess that the earth had been turned into by the humanoids!
Etymology: Contag:Taken from first part of contagion;meaning:Disease transmission by direct or indirect contact. Earth:The land surface of the world...added ED to Earth to show also the meaning of Earthed> Earthed:To cover or heap.
----------------------------
COMMENTS:
Cute Sci-Fi sentence! Good Word! - silveryaspen, 2009-04-22: 11:15:00
Thanks Silvery, I Used the names from "The Jetson's" cartoon from way back when I was child to create my sentence/story ;) - abrakadeborah, 2009-04-22: 22:56:00
----------------------------
Created by: rikboyee
Pronunciation: tair-ah-fir-mah
Sentence: it was clear that this planet was in an advanced state of terrorfirma
Etymology: terror, terra firma
----------------------------
COMMENTS:
Welcome Back! - silveryaspen, 2009-04-23: 01:38:00
nice to be back! - rikboyee, 2009-04-23: 18:30:00
Great word! - Nosila, 2009-04-25: 10:01:00
----------------------------