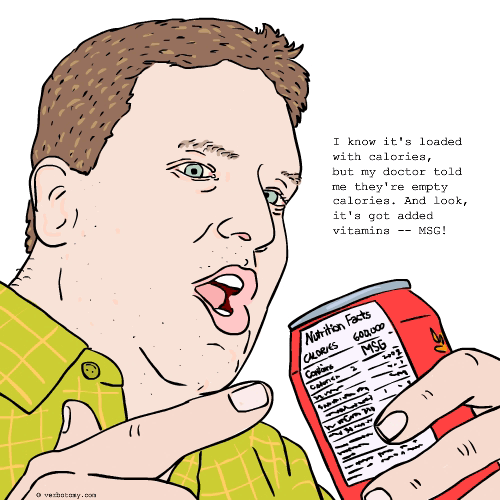 DEFINITION: n. Any highly-processed food or beverage in which the natural ingredients have been removed and replaced with artificial flavors and additives. v. To consume food products laced with synthetic sweeteners, imitation flavors, and other carcinogens.
Already Voted
Vote not counted. We have already counted two anonymous votes from your network. If you haven't voted yet, you can login and then we will count your vote.
---
Pseudapop
You still have one vote left...
Created by: Jabberwocky
Pronunciation: haul/oh/gram/crak/urs
Sentence: Whenever Sally got the urge to binge she would reach for the hollowgramcrackers which promised great taste and if you turned in just the right direction any extra weight would magically disappear.
Etymology: hollow + hologram + graham crackers
----------------------------
COMMENTS:
Classic! LOL - GlobalGallery, 2009-01-29: 06:52:00
Distortion in 3D....doesn't get any easier than that! - Mustang, 2009-01-29: 07:45:00
great choices for your etymology - silveryaspen, 2009-01-29: 08:27:00
And then there are the hallowedgramcrackers which you can eat and receive forgiveness for eating... - readerwriter, 2009-01-29: 11:27:00
holy **** reader - never thought of that - enlightening - Jabberwocky, 2009-01-29: 11:52:00
And if you tried to stop eating them, you'd have to hallowed wean them! - Nosila, 2009-01-29: 19:45:00
----------------------------
Created by: splendiction
Pronunciation: junkfeed
Sentence: Jim began junkfeeding as a child. As a young adult he consumed his favourite, seriously overprocessed, junkfeed in quantities disproportionate to his energy needs so that he became unhealthy. His doctors warned him to avoid the common, easy to reach, junkfeed and return to a simpler diet rich in real food. Jim learned what real food is but unfortunately couldn't find real foods around him...
Etymology: junkfeed v and n. from junk or useless stuff/what has no purpose and the verb feed, for an organism's tendency to eat for necessity and not the enjoyment of food
Voted For! | Comments and Points
Created by: Xanman12321
Pronunciation: Uhn-heff-dait
Sentence: Wow, those potato chips were unhefdites, you know? Oops, I unhefdited! Uh oh...
Etymology: Unhealthy diet -> Unhefdite
Created by: artr
Pronunciation: sinθīəns
Sentence: Some people are drawn to labels like "All Natural" or "No Artificial Ingredients". Not Tim. He just loves his beverages created by synthience.
Etymology: synthetic (made by chemical synthesis) + science (systematic study of the structure and behavior of the physical and natural world through observation and experiment)
Created by: silveryaspen
Pronunciation: taint fits
Sentence: The more that is stripped from any natural food, while badditives of artifical flavors, manufactured chemicals and preservatives, appetite enhancers disguised as other spices, and less costly, fatty substitutes and fillers are added, the more dangerously unhealthy it becomes. Even though it means more work, and time in the kitchen, Cookie decided to prepare and cook unadulterated fruits, grains, vegetables, meats, nuts, and herbs, for herself, and forgo the taintfits for human consumption.
Etymology: TAINT, FIT /// TAINT - has a double meaning. TAINT - slang/bad grammar for 'it ain't' as in 'it ain't good food.' TAINT - to contaminate, pollute, stain, spoil, infect, soil, dirty, foul, ruin, corrupt, defile, poison, blemish. FIT - has three meanings. FIT - suitable, appropriate (which it aint/'taint). FIT - convulsions (which it might cause). FIT - outburst (including an outburst of your clothes).
----------------------------
COMMENTS:
good for Cookie - Jabberwocky, 2009-01-29: 09:45:00
Love it and and really love badditives! - Nosila, 2009-01-29: 19:48:00
----------------------------
Created by: petaj
Pronunciation: rice - boo - buls
Sentence: When it comes to a bit of flavour instead of nutrition there's nothing like a bowl of cornfakes and riceboobles.
Etymology: rice bubbles + boob (mistake)
Created by: Nosila
Pronunciation: sin ma tay shun
Sentence: John's kitchen was a chemist's nightmare. His prepared and processed foods were full of ingredients with very long, complex and foreign sounding components. His fridge and freezer were filled with modified products like near-beer, fake-a-cola, meatcheat, shamham, narydairy, stiltedcheese, designwine, oughterwater, yolkjoke, pearsatz and artifishfingers. John had traded away nutrition and healthy sustenance for convenience and sinmatation. His pantry contained replicas of foods, like synammon, appeteasers, fakemixes, bastardpasta, forgeporridge, macaphoni, wannabeans, dupesoup,inbreads, fauxjoe, cornterfeits and other appetite simulants. Yes, John, would learn later in life that trading off cooking time and a few calories and possible tooth decay for mysterious, unpronounceable carcinogenic substances was a short-sighted exchange.
Etymology: Sin (an act that is regarded by theologians as a transgression of God's will) & Synthetic (a compound made artificially by chemical reactions;not of natural origin; prepared or made artificially) & Imitation ( copying (or trying to copy) the actions of someone/something else)
----------------------------
COMMENTS:
You crack me up every time, Nosie. Those new "lite" pierogies just don't do it for me, though. - metrohumanx, 2009-01-29: 01:39:00
They go with cabbage droles and cubelsa! - Nosila, 2009-01-29: 01:50:00
Super sentence. Super Word! - silveryaspen, 2009-01-29: 22:20:00
----------------------------
Created by: metrohumanx
Pronunciation: PICK-one-TOCKS-ih-fodder
Sentence: Chuck planted his corpulent posterior in the orange naugahide chair and settled down to his first day at the new job. Thankful to be employed, he relished his new assignment at Universal Test Kitchens...sampling and rating new food products before they were foisted upon the unsuspecting public.Being a true foodlum, he had quaffed, chomped, swigged and munched through an array of buyprodux, each containing an ersatz nutritute carefully engineered from corn syrup and cheap tropical fat. Some dishes were trendylicious and pungent, others had all the appeal of a used bovine salt lick. It wasn't until the late afternoon when Chuck found his favorite concoction. It was real PIQUANTOXIFODDER - stripped of any wasteful vitamins, yet replete with satisfying textures that reminded him of that strangest of foods- tapioca. After secretly cramming down his third helping, Chuck succumbed to a case of megacramps that a gallon of peptodismall wouldn't cure. On the way home, he had to pull over discreetly near an irrigation ditch and make a contribution.Plop Plop Fizz Fizz. Sweating like a cut of rancid pork, Chuck knew that the product he ingested was sure to be a great seller. It was....ambrosia!
Etymology: PIQUANt+TOXIc+FODDER=PIQUANTOXIFODDER.....PIQUANT:agreeably stimulating to the palate,engagingly provocative taste;Middle French, from present participle of piquer.....TOXIC:containing or being poisonous material especially when capable of causing death or serious debilitation,extremely harsh, malicious, or harmful;Late Latin toxicus, from Latin toxicum poison, from Greek toxikon arrow poison, from neuter of toxikos of a bow, from toxon bow, arrow.....FODDER:something fed to domestic animals ; especially : coarse food for cattle, horses, or sheep,-inferior or readily available material used to supply a heavy demand;Middle English, from Old English fōdor; akin to Old High German fuotar food.....AMBROSIA:the food of the Greek and Roman gods;Latin, from Greek, literally, immortality, from ambrotos immortal.(bonus word)
----------------------------
COMMENTS:
Amusing OLD advertisements: http://www.lileks.com/oldads/index.html - metrohumanx, 2009-01-29: 01:56:00
This space intentionally left blank. - metrohumanx, 2009-01-29: 21:27:00
----------------------------
Created by: galwaywegian
Pronunciation: sin theh seye dur
Sentence: After fourteen pints of synthecider he was peckish when he got home, so he fired up the microwave and added one of the new meals with food flavouring, before settling down for a video and a cuddle with inflatable Isabelle.
Etymology: synthesizer cider
----------------------------
COMMENTS:
Great sentence! Will long remember "food flavoring" - silveryaspen, 2009-01-29: 08:25:00
fun to say - Jabberwocky, 2009-01-29: 09:44:00
Sintheresting word!! - Nosila, 2009-01-29: 19:41:00
----------------------------
Created by: Mustang
Pronunciation: noo-treh-de-FISH-unt
Sentence: Cameron was in complete denial about the 'power drink' he consumed daily, thinking it was packed with added vitamins, minerals and nutriments but it was in fact, totally nutrideficient.
Etymology: Blend of nutrition and deficient
----------------------------
COMMENTS:
One summer I ran into a deli to get a Yoo-Hoo and was amazed by the daunting display of "sports drinks" and other things of dubious origins. - metrohumanx, 2009-01-29: 01:41:00
Excellent word! - silveryaspen, 2009-01-29: 08:39:00
----------------------------