Verboticism: Phlegmbankment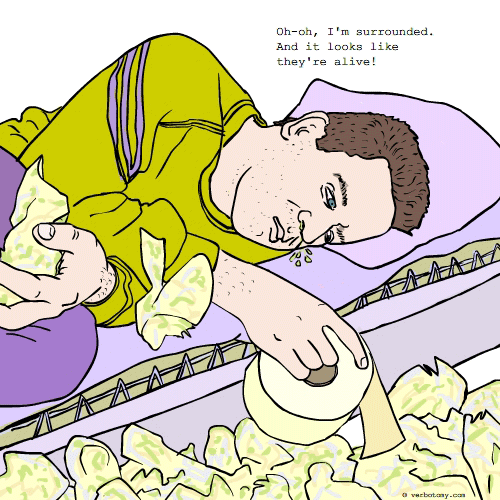 DEFINITION: n. A pile of used and discarded tissues; may constitute a bio-hazard. v. To drop a used tissue on to the floor beside your bed or chair, because you are so sick you can barely move.
Already Voted
Vote not counted. We have already counted two anonymous votes from your network. If you haven't voted yet, you can login and then we will count your vote.
---
Phlegmbankment
You still have one vote left...
Created by: twocent
Pronunciation: flem-bank-mint
Sentence: Judging from the phlegmbankment surrounding the couch, it was a safe bet that Nigel was out of commission for the day.
Etymology: Phlegmbankment -n. Compound of phlegm + embankment.
Created by: Mustang
Pronunciation: TISS-yew-iss-yew
Sentence: Lyndon was feeling rotten all over from the bug he was fighting and though he realized he had a potentially dangerous tissuissue with the growing pile of infectious kleenex he felt too lousy to make the necessary effort to deal with it.
Etymology: Blend of tissue and issue
Created by: arrrteest
Pronunciation: moun-dus-myoo-coh-see
Sentence: Ellen couldn't get to Bob's bedside without kicking asside the moundusmucosi that had accumulated from mass of used tissues.
Etymology: moundus, mound + mucosi, mucus
Created by: idavecook
Pronunciation: MASS-TER-GRAY-SHUN
Sentence: Steve was so sick he couldn't believe the enormity of the masturgration that had occurred when he came to.
Etymology: Those dirty little tissues that seem pile up when you're feeling really sick.
Created by: purpleartichokes
Pronunciation: snot-zone
Sentence: Seeing Bob lying there with a cesspool of snot rags beside him, Sue knew what she had to do. She quickly donned her self-contained breathing apparatus and fully encapsulated Level A suit, entered the snotzone, and began to gingerly pluck the mucousy mess from the floor.
Etymology: hot zone (in HAZMAT response, the area of contamination), snot
----------------------------
COMMENTS:
hee hee - you beat me to it! - libertybelle, 2008-03-10: 09:30:00
gross, but funny - Jabberwocky, 2008-03-10: 13:26:00
----------------------------
Created by: Tigger
Pronunciation: /SNAWRT-tuh-fi-key-shun/
Sentence: After hacking, sneezing and snorting his way through four boxes of Kleenex over the last day and a half, Harry looked around to find himself surrounded by a snortification of used tissues. 'Typhoid Harry' was going to have to look for a weakness in the structure and find a way to break through the wall of Unkleenex rather quickly — another wave of nausea was coming on and he suspected he'd need a clear path to run to the toilet again.
Etymology: Snort - to breathe noisily and forcefully through the nostrils (from Middle English, snorten; probably related to "snore") + Fortification - defensive structure built around a stronghold (from Latin, fortis "strong")
----------------------------
COMMENTS:
Perhaps he used the snortification to keep well wishers and do-gooders from cnstantly bothering him! - arrrteest, 2008-03-10: 22:01:00
----------------------------
Created by: Mustang
Pronunciation: tiss - yew - iss - yew
Sentence: Darrell realized he had a major somewhat dangerous tissuissue with the growing pile of soiled kleenex but he felt too lousy to make the necessary effort to rectify it.
Etymology: combination of tissue and issue
----------------------------
COMMENTS:
Nice! - purpleartichokes, 2008-03-10: 18:35:00
Rhymes are fun, fits the definition, it's a great one! - silveryaspen, 2008-03-10: 23:02:00
----------------------------
Created by: DevynAlexanderSkyeHarris
Pronunciation: Bleh-Thar-Gee
Sentence: Slpatch. The sound of hazmat level tissues colliding to floor was louder than he expected. "I'm sick." Duviidu cooed disfigured. "That is no reason to be lazy now." Snapped back Loran. Duviidu glanced over to her. "Uh, Its just bleghthargy you know? Like the name for the physical weakness accompanied with feeling sick?" She looked puzzled like a caterpillar on its turn during the weekly Shakespeare trivia night. "You're Bleghthargic? No You're just lazy."
Etymology: 1. Blegh: Indicating lack of motivation or used to describe that something is sickening. 2. Lethargy: Being lazy, sluggish or indifferent.
Created by: silveryaspen
Pronunciation: Tish you bay shun
Sentence: With red eyes, and an ever-flowing nose, Colter stumbled into work despite his head cold. He blew the day, and he blew work he needed to do, because he was too busy blowing his nose. His desk was covered with used tissues. Weak and unsteady, leaving his pile of tishubations, and weaving a trail of tishubations, he stumbled home.
Etymology: TITUBATION, TISSUE. TITUBATION - an unsteady or stumbling gait or a head tremor, often caused by a disorder in the cerebellum, a head disorder ... in this case a head disorder caused by the infected, mucous-filled sinuses from a cold. TISSUE - paper hankie, a square of absorbent paper used mainly to wipe areas of the face, especially the mucus flowing from the nose.
----------------------------
COMMENTS:
Been there...done that - Nosila, 2009-01-02: 18:07:00
----------------------------
Created by: pilar1347
Pronunciation: FLEG-ord
Sentence: n: John is so sick the phelghoard on his night-stand is taller than the lamp! v: I know Mary has a cold, but she's been phelghoarding all over our shared workspace.
Etymology: A combination of phelgm and hoard.