Verboticism: Deletearious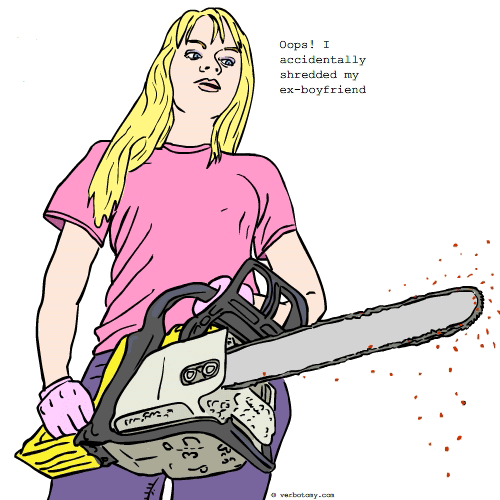 DEFINITION: v. To fret and worry after the accidental trashing of an important document, file or friend. n. The state of anxiety caused by an accidental deletion.
Already Voted
Vote not counted. We have already counted two anonymous votes from your network. If you haven't voted yet, you can login and then we will count your vote.
---
Deletearious
You still have one vote left...
Created by: Biscotti
Pronunciation: freek-zhure
Sentence: I had a bad case of freakzure when I accidentally deleted that 20 page paper about nothing.
Etymology: freakout + seizure
----------------------------
COMMENTS:
Unique choice of words to blend. - silveryaspen, 2008-03-05: 13:18:00
----------------------------
Created by: mweinmann
Pronunciation: miss - shred - dread
Sentence: Mona didn't mean to destroy everything in sight. In fact, she often felt mishredread after she went on one of her "rampages". When she was upset, she destroyed things that she would later regret or need. She was known to use shredders, knives, chainsaws, graters, swords or any other shred-capable object within reach. "I need help" she thought after she inflicted shred on her beloved Beanie Baby collection. Tobasco, Ruff and Mew now lay in a big pile of fluff and Mona sat down to cry.
Etymology: Miss (fail to perceive or to catch with the senses or the mind;be without) + Shred (tear into shreds or pieces) + Dread (apprehension: fearful expectation or anticipation)
Created by: galwaywegian
Pronunciation: kohn frett eeeeeeeeeeeeee!
Sentence: her confretti gave way to shreddread
Etymology: confetti, fret
----------------------------
COMMENTS:
Exceptional - silveryaspen, 2008-12-30: 16:31:00
Handy for weddings... - Nosila, 2008-12-30: 18:52:00
Excellent. The good news is that you can use the confretti for parades and parties. - Mustang, 2008-12-30: 23:34:00
Sounds like an Italian conspiracy. Great word. - metrohumanx, 2008-12-31: 01:08:00
excellent - Jabberwocky, 2008-12-31: 09:40:00
----------------------------
Created by: gelsomina17
Pronunciation: oh-bli-tuh-bummer
Sentence: Marion had a bad case of oblitabummer after she deleted the guest list for her 21st birthday party.
Etymology: obliterate + bummer
----------------------------
COMMENTS:
Viva La Strada! - metrohumanx, 2008-12-31: 01:02:00
----------------------------
Created by: Nosila
Pronunciation: ree mors node
Sentence: Lucy had not worked for the New Jersey Waste Management Company for very long. She had been hired to make the books read more creatively for the tax man. She had been warned to be careful or else... Her one teeny tiny error had been in accidentally deleting all the year's pay records for the 200 goombas who were 'employed' by the company. Lucy's feeling of remorsenode had grown over the day and intensified when her boss, Big Tony, had called a meeting of the family to decide who was gonna delete Lucy, permanently. Who knew being an accountant could be so dangerous???
Etymology: Remorse - a feeling of deep regret (usually for some misdeed) & Node-(computer science) any computer that is hooked up to a computer network & Morse Code -telegraph code in dots & dashes...this word is for rhyming effect
----------------------------
COMMENTS:
The dirty business, the mistake, the unvelied threat ... another good drama! Original etymology and word! Grandly done! - silveryaspen, 2008-03-05: 14:03:00
----------------------------
Created by: Nosila
Pronunciation: shred jit ate
Sentence: Nathalie had found her new boyfriend in a compromising position with his teenage lover. Of course, she lost no time in revving up her chain saw and dispensing of the guilty parties. She did shredgitate a bit because, in hindsight, on such short notice, where else would she find another date for the New Year's Eve bash she had booked and a babysitter for her 6 kids? It was inshredulous that she might spend such a special day in jail!!!
Etymology: Shred(a tiny or scarcely detectable amount; tear into shreds) & Agitate (a mental state of extreme emotional disturbance;the feeling of being agitated; not calm)
----------------------------
COMMENTS:
Was surprised there was no reference to the most famous shredding incident of all time, Watergate. Luv shredigate! Do you ever wonder how much shredding is part of office politics, too? - silveryaspen, 2008-12-30: 16:40:00
----------------------------
Created by: petaj
Pronunciation: afraid
Sentence: Ben was completely frazzled and kept pulling at his necktie. His boss rushed in and asked, "Are you able to present the report at this afternoon's general meeting?" No, I'm afrayed knot." said Ben. "It was just here near the shredder when i last saw it."
Etymology: afraid + frayed (tattered)
----------------------------
COMMENTS:
funny - Jabberwocky, 2008-03-05: 11:06:00
Sentences with a truly great pun, are always amazingly good fun! Excellent choice of words, excellently blended. Exceptional! - silveryaspen, 2008-03-05: 14:08:00
thanks muchly, i should have included affray in the etymology too. - petaj, 2008-03-06: 03:47:00
----------------------------
Created by: Nosila
Pronunciation: in ad vert ent ekt omee angst
Sentence: Although it bothered her a lot, Hilary Hack had no choice but to do it. Her Hockey Star cheating boyfriend, Randy Gote had been caught with his pants down, again. She had warned him of the consequences the last time, but apparently he did not take her seriously. When she had caught him, she revved up the old Black & Decker in a fit of jealous rage and told him afterwords that the only Hockey Team he could try out for now was the Castor Raiders. Still, she was overcome with a feeling of inadvertentectomyangst...because his days of body-checking and stick-handling were over.
Etymology: Inadvertent (accidental;by chance) & -ectomy (suffix for surgical removal/incision of something to eliminate it) & Angst (an acute but unspecific feeling of anxiety)
----------------------------
COMMENTS:
....aaaaggghhhhh..... I wanted to use "ectomy"! :-) - XMbIPb, 2010-05-14: 10:33:00
after listening to the word for 3 minutes straight, it surely does sound like "in every tent tom yanks". sublime messages you are delivering? - freiflug, 2010-05-14: 13:18:00
----------------------------
Created by: kalisnowflake
Pronunciation:
Sentence: I was overwhelmed with ohcrappage when I closed my essay without saving.
Etymology:
Created by: kashman
Pronunciation: lacr-e-molish
Sentence: After finding that his girlfriend is cheating on him, Adam shredded all her letters and pictures, but suffered from lacrimolish pangs later on.
Etymology: Lacrimal (relating to tears of sorrow) + Demolish (raze; strip to pieces)