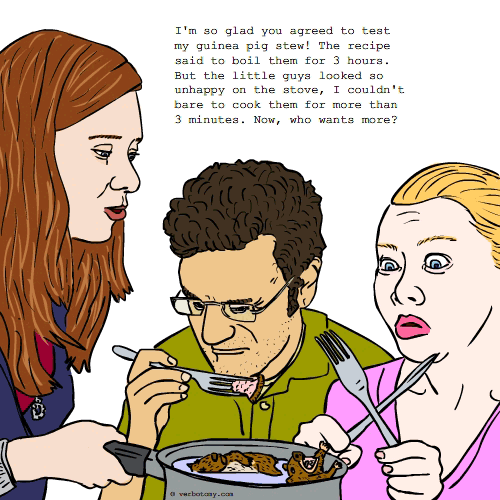 DEFINITION: v. To prepare or process food in a manner that renders it unpalatable, indigestible and completely inedible. n., Food which has been prepared in such a way that it is unfit for human, or even non-human, consumption.
Already Voted
Vote not counted. We have already counted two anonymous votes from your network. If you haven't voted yet, you can login and then we will count your vote.
---
Barbecrude
You still have one vote left...
Created by: yellowbird
Pronunciation: swill-if-eye
Sentence: Joan swillified her bouillabaisse to such a degree that she won an award from the James 'soup-in-Beard' Foundation. When she proudly placed the award next to her Gold Medal Horrible Haggis trophy, her husband simply sighed and put another frozen dinner in the microwave.
Etymology: swill + petrify
----------------------------
COMMENTS:
I love SWILLIFY! - metrohumanx, 2008-11-14: 02:45:00
----------------------------
Created by: Biscotti
Pronunciation: ch uuk soo ee
Sentence: Everyone at the party agreed to order pizza after they tried the chucksuey Martha made and 3 people ended up in the restroom immediately with vomiting and other problems.
Etymology: Chuck - as in up-chuck or vomit. Suey - as in chop suey.
----------------------------
COMMENTS:
Love it! - Nosila, 2011-08-19: 11:45:00
----------------------------
Voted For! | Comments and Points
Created by: chaiandallthatjazz
Pronunciation: res-i-pust
Sentence: n. There weren't enough napkins at the table to hide the recipust when Jenine wasn't looking. v. To my complete and utter shock, my new neighbor recipusted something that was once food (or at least certain parts of it were food to certain species in the food chain) and brought it over to my house. I had her try my cobbler last week..so I had to oblige and try her recipust. Actually, I lied and said I tried it that night with my husband, when in fact we couldn't even feed it to the dogs. We flushed it down the toilet.
Etymology: recipe + pus + disgust
Created by: bananabender
Pronunciation: RECH - i - pee
Sentence: After Marla mixed and drank her healthy earth worm shake, Ron inquired which retchipe book she got her inspiration from.
Etymology: retch - to make an effort to vomit + recipe - list of ingredients and instructions for preparing a concoction of food or drink
----------------------------
COMMENTS:
I like it!! - Mustang, 2008-01-14: 07:00:00
Retchipes for the wretched wreck of a cook gone bad! Great Creation! - silveryaspen, 2008-01-14: 11:20:00
very appropriate - Jabberwocky, 2008-01-14: 15:29:00
Some recipes are so bad, they sound almost ready to retch for! Nice word! - OZZIEBOB, 2008-01-14: 19:13:00
Its a retchtipe for disaster. Great word! - Tigger, 2008-01-15: 00:04:00
----------------------------
Created by: mweinmann
Pronunciation: Un - hap - pee - me - ul
Sentence: Joseph and David wanted to go for fast food to celebrate their vectory over the stompin eagles. It had been 4 to 2 in the bottom of the ninth and David had hit a flyer out of the park. Boy would a Big Mac and Fries taste good right now!! But nooooo, mom said she was cooking up a real celebration instead. Mom was notorious for her inability to make even the easiest meals palatable. Joseph began to gird his insides in preparation for the assault. "Hey Davie, can you find me the beano, rolaids and pepcid? It looks like we're in for another unhappy meal tonight".
Etymology: Unhappy (general feeling of distress, unsuitable) + meal (food that is prepared and eaten, food served and eaten at a set time) + happy meal (special fast food meal for kids that they look forward to and enjoy)
----------------------------
COMMENTS:
That's just McSad! - Nosila, 2008-11-11: 20:55:00
----------------------------
Created by: artr
Pronunciation: paləterəbəl
Sentence: Joan hates to waste anything. This includes food that she has kept a bit too long. Just last week she tried to pass off on her boy friend a palaterrible sandwich, made with sticky coldcuts that were making their own mayonnaise. He thought better of it and went out for lunch.
Etymology: palatable (pleasant to taste) + terrible (extremely and shockingly or distressingly bad or serious)
Created by: Nosila
Pronunciation: bree ders dijest
Sentence: When her guests fail to rave at her new recipes from her Breedersdigest Cookbook, Maisy figured she should stop cooking rodents and move further up the food chain.
Etymology: breeders (ie:guinea pigs, bacteria,) & digest (to consume a meal)
Created by: Nosila
Pronunciation: blote kwee zeen
Sentence: When Sam & Ella invited friends over for a gourmet meal, the guests never returned or reciprocated. The hosts use of unusual ingredients and bizarre preparation methods of their bloatcuisine made the food unpalatable. At their last epicurious banquet, Sam & Ella served newtritious newts; e-coliflour, with a green cheese sauce; bacon,lettuce & ptomaine-to paininis and scream of botulism soup. For dessert, an elaborate chocolate moose and I scream served on offal waffles was the crowning touch. Sam & Ella learned their craft while working as Chefs for the Addams Family. You can download the recipes from the Readers' Indigest.
Etymology: Play on Haute-Cuisine (Fr: High Cuisine...making elaborate, posh food dishes to high standards) & Bloat (swelling of the abdomen or intestinal tract of domestic animals caused by excessive gastrointeritis, over-indulgence)
Created by: Nosila
Pronunciation: gas trik
Sentence: Had she really thought about it, people only ever came to one of Meala's candlelight suppers once and never returned. Thinking that each meal was a gourmet adventure, it was actually a gastrick. Her guests(victims) labelled some of her signature dishes with names like: Smoked Salmonella, Ptomainto Soup, Ecoliflour with Cheese,Spaghetti Botulinese,DehliBelly Jelly,Beef Strokenough,Steak Torture,and Escergots.
Etymology: Gastric (relating to or involving the stomach) & Trick (an attempt to get you to do something foolish or imprudent)
Created by: logarithm
Pronunciation: mal.o.dor.ous.se.ate mal-ō'dur-us-zē-āt"
Sentence: I enjoyed a scene in the movie 'Wrong Turn' where the captured lady was forced to eat malodorouseating stew. Or was it spew?
Etymology: Malodorous - bad stinking smell Nauseate - cause to feel sick or disgusted