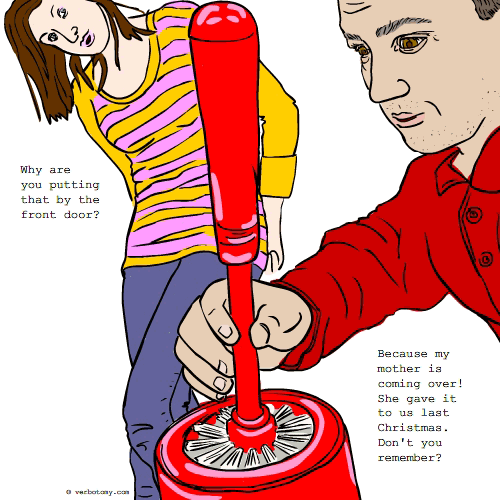 DEFINITION: n., An ugly decorative item or article of clothing received from friends or relatives, which is kept stored away but ready to be pulled out at a moment's notice in anticipation of a return visit. v., To temporarily place an old, and perhaps unattractive gift in a place of honor.
Voted For: Beautifake
Successfully added your vote for "Beautifake".
You still have one vote left...
Created by: Mustang
Pronunciation: juhnk-re-duks
Sentence: Nathan employed a sneaky program of junkredux wherein he would put trashy gifts on prominent display when the givers would visit, the ghastly dragon head lamp his mother had given him for Christmas being the most notable example.
Etymology: Blend of 'Junk'(n. something of poor quality : trash) and 'redux' (adj brought back —used postpositively)
Created by: mamamia
Pronunciation: i-on-wan-it
Sentence: Since Randy knew that he was going to a xmas dinner at his grandparents house this year, he decided to wear his ionwanit swearter that they bought him for xmas last year that he had stored away in his closet. Along with the other ionwanit items that is!
Etymology: I + don't + want + it
Created by: Tigger
Pronunciation: /stoh-men'-toh/
Sentence: Reluctantly, Carlos pulled out the box of stowmentos from the attic — including the Elvis Presley drink coasters, the Marilyn Monroe lamp, and dreaded wall-hanging singing trout — since he knew the whole family would be stopping by to visit this weekend.
Etymology: stow - to store for future use (from German, stauen "to store away") + memento - a reminder of the past; a keepsake (Latin, imperative of meminisse "to remember")
----------------------------
COMMENTS:
Hehe! - purpleartichokes, 2007-12-12: 19:05:00
Great word! - OZZIEBOB, 2007-12-12: 20:03:00
----------------------------
Created by: Maxine
Pronunciation: 'byu ti fayk
Sentence: "Uncle Simone is coming over, Samantha. Time to beautifake yourself."..."No way, Dad. That plaid sweater is such an ugly beautifakation."
Etymology: beautify + fake
Voted For! | Comments and Points
Created by: TJayzz
Pronunciation: i-store
Sentence: When Dave's Auntie Joan had given him the hideous orange and green vase for Christmas last year he smiled broadly and thanked her very much telling her it was beautiful. However as soon as she had left he wrapped up the eyestore and put it straight into the loft. Auntie Joan is due to visit again this year on christmas day, so the plan is to get in the loft on Christmas eve and put the offending object in pride of place on the mantlepiece in the hope that it fools her into thinking that it has been there all year.
Etymology: Play on Eyesore
Created by: Nosila
Pronunciation: gift hor rors
Sentence: Every Christmas, Chris and Holly looked forward to her Mother's annual Royal Visit with fear. Not because they were afraid of her, she was actually a kind and generaous person. No, they were afraid to drag out the gifthorrors she had bestowed on them for all the past holidays, to prove they liked and used them. The red rhinestone encrusted toilet brush (which looked so lovely in their purple bathroom). There was also the cross-eyed, smiling deer head to be mounted over the mantle. And the bearskin rug for the foyer...the koala bear skin rug. Add to the list, genuine ivory tusks used as coat racks;life-size gold sarcophagus of King Tut which doubled as a closeable shoe rack and their personal favourites,a five foot tall pair of the Dancing Hippos from Fantasia. Yep, next year Hawaii, not a fun old-fashioned Christmas!
Etymology: Gift (present;something acquired without compensation) & Horrors (something that inspires horror; something horrible) & Wordplay on Gift Horse (a gift (usually of inferior quality) that should be accepted uncritically)
Created by: hendrixius
Pronunciation: /in-tur-ruh-man-tull-pees/
Sentence: John reluctantly displayed the interimantlepiece over the couch in the family room, despite the fact that a singing bass did not exactly match the room's decor.
Etymology: "interim" and "mantle-piece"
Created by: abrakadeborah
Pronunciation: Fug-lee-thing
Sentence: Such a fugglything you got for Christmas...Be more specific of what you put on your wish list.
Etymology: Fuggly; Effing UGLY! :) Thing; An object that cannot be named specifically.
----------------------------
COMMENTS:
Welcome back...tried voting for you, but there was no "Vote for" prompt??? - Nosila, 2009-12-18: 01:20:00
----------------------------
Created by: Nosila
Pronunciation: gift hors
Sentence: Christmas Season means family visits and redecorating to accommodate and proudly show off the bizarre previous gifts reveived from the visitors. When Wendy & Peter redecorated, they always included the present his Mother had given him and thought was a perfect addition to their lodge-like home, Billy-The-Singing-Big-Bass-Fish-Stuck-On-A-Wall-Plaque. She would repeatedly push the button and play "YMCA" over and over, laughing all the way. Luckily so many years of abuse had almost worn out his singing voice and Billy was now a gifthoarse.
Etymology: Gift (present) & Gifthorse (a gift (usually of inferior quality) that should be accepted uncritically) & Hoarse (deep and harsh sounding as if from shouting or illness or emotion)
Created by: gemmgemms
Pronunciation: uh-ga-lif-ta
Sentence: After the party she stashed away her newest uglifts.
Etymology: ugly + gift