Verboticism: Babelolfishcate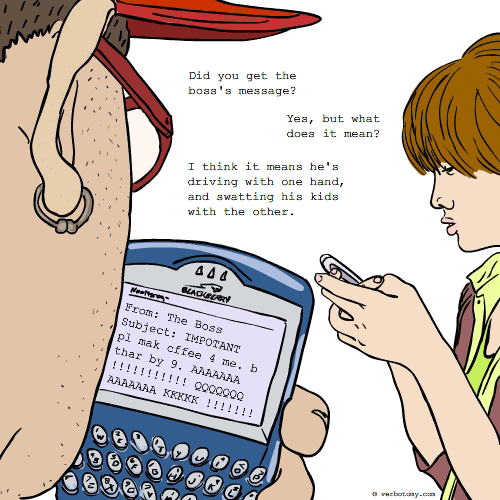 DEFINITION: v., To grasp the meaning of muddled texts like blog posts, emails and text messages where standard grammatical or spelling conventions have been ignored. n., The ability to read and understand confused or poorly written messages.
Voted For: Babelolfishcate
Successfully added your vote for "Babelolfishcate".
You still have one vote left...
Created by: artr
Pronunciation: sīfərfaðəm
Sentence: Harry spent his career breaking coded messages in his job at the NSA. Despite this he has trouble trying to cypherfathom emails and texts from his kids.
Etymology: cypher (a secret or disguised way of writing) + fathom (understand)
Created by: Amaya1961
Pronunciation:
Sentence:
Etymology:
Created by: sipsoccer
Pronunciation: (Text-a-ty-tus)
Sentence: What the heck? You got textititis or something? I can't read your texts.
Etymology: Text: what you do or see. ititis: diseased
Created by: leechdude
Pronunciation: in-text-pret
Sentence: It was difficult to intextpret what Diego was trying to say but Joe figured it meant, 'never enter the ladies' washroom.'
Etymology: interpret, text
Created by: Stevenson0
Pronunciation: tex/hume
Sentence: His job was to texhume cryptic messages that had been buried in emails.
Etymology: TEXHUME - verb from TEXT (a unit of connected writing) + EXHUME (to revive, or restore; bring to light)
----------------------------
COMMENTS:
Good word - Nosila, 2008-10-14: 20:14:00
----------------------------
Created by: perkolady
Pronunciation: sec-ra-TAL-ent
Sentence: "Hmm, forward that message to Sylvia--she's got amazing secretalent."
Etymology: From your standard secretary, nurse, or other aid-giving person's miraculous ability to read their superiors' chickenscratch.
Created by: Mustang
Pronunciation: Sie-ber-fath-um
Sentence: Mary Lou was an old hand at internet communications and could cyberfathom any and all internet shorthand
Etymology: cybernetics and comprehension
----------------------------
COMMENTS:
neat - nerdkiller, 2007-11-15: 18:34:00
----------------------------
Created by: metrohumanx
Pronunciation: dee-JIBBER-cript..........Degibbercrypt is an existing word. (Based a match found for Degibbercrypt found by TheFreeDictionary.)...I find this unlikely, and I stand by my word. -Metro
Sentence: Each dreary morning, Stubbly Stu entered the Temple of Technology where he was employed as an InfoTech specialist. Winter was approaching and the sun's piercing rays bounced off the freshly waxed hallway floors into his tender eyeballs, which had not fully recovered from a gin-soaked weekend of cyber-debauchery. Stunned and amazed, Stubbly Stu saw a cluster of his co-workers gathered in a confused knot and arguing with an intensity usually displayed at a much later, and more humane, time of day. Sookie was waving her Blackberry, Jeff had unholstered his cellfone, and poor low-tech Mark was clutching a crumpled E-mail memo he had printed out, not assigning any reality to something he could not hold in his hand. They all looked up at the same time and saw Stubbly Stu standing there agog. "Stu! Help us!" cried Sookie. "The boss sent out a memo, and we can't figure out if we're all fired or if we're to hurry down to the conference center!" The boss, newly arrived from Red China, stubbornly refused to learn more than the rudiments of Engrish, and regarded punctuation and spelling as a capitalist plot intended to make her "lose face". "Stand back, folks!" Stubbly Stu said with a flourish..." I'm going to DEGIBBERCRYPT this message RIGHT NOW!".....and so he did. They were all fired. :)
Etymology: Fusion of DECRYPT and GIBBERISH.....DECRYPT:transitive verb -to convert (as a coded message) into intelligible form; to recognize and interpret (an electronic signal).....GIBBERISH:unintelligible or meaningless language; a technical or esoteric language; pretentious or needlessly obscure language often generated by pompous or incompetent pseudotechnocrats who have attained positions of power, or think they have.
----------------------------
COMMENTS:
A mind is a terrible thing. http://www.nsa.gov/MUSEUM/ - metrohumanx, 2008-10-14: 02:40:00
Eggzellint! - Mustang, 2008-10-14: 17:21:00
Great story and word! - Nosila, 2008-10-14: 20:15:00
----------------------------
Created by: hooterbug
Pronunciation: kwûr'kē
Sentence: Fortunately I have one of the new QWERKY keypads on my Crackberry that will decipher whatever I'm texting incorrectly and change it to intelligible English before it is sent. Nothing is worse than poor KEYBONICS!!!!
Etymology: From the proper QWERTY keypad and of course..please practice correct KEYBONICS
----------------------------
COMMENTS:
Who can qwibble with a word like that? - Nosila, 2008-10-14: 20:16:00
Good one, H-bug! - metrohumanx, 2008-10-17: 12:19:00
----------------------------
Created by: xirtam
Pronunciation: krip-tuh-grahsp
Sentence: See if you can cryptograsp what I am typing. "You don't hvae to crroeclty sepll erevyhting jsut hvae all the ltteres, and hvae the fsrit and lsat lteetr in the crreoct poistoin." Pretty cool.
Etymology: crypto from cryptogram, A piece of writing in code or cipher. + grasp, mental hold or capacity; power to understand.
----------------------------
COMMENTS:
Nice! - purpleartichokes, 2007-11-15: 19:00:00
----------------------------