Vote for the best verboticism.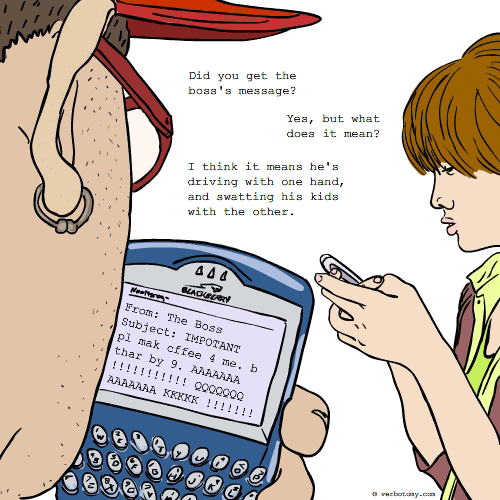 DEFINITION: v., To grasp the meaning of muddled texts like blog posts, emails and text messages where standard grammatical or spelling conventions have been ignored. n., The ability to read and understand confused or poorly written messages.
Verboticisms
Click on each verboticism to read the sentences created by the Verbotomy writers, and to see your voting options...
You have two votes. Click on the words to read the details, then vote your favorite.
Created by: zxvasdf
Pronunciation: Qwert lyze
Sentence: Because in this day and age people are wont to multitask, as showcased in the common combination of driving and texting, more and more people are becoming skilled in qwertlysis. The same mental processes are also applied to old timers trying to qwertlyze the newfangled 'net jargon floating about on the web.
Etymology: Qwerty (traditional configuration of the keyboard designed in the days of typewriters to spread apart the commonly used letters, thus preventing jamming. This configuration is not necessary in the digital age) & analyze (to examine methodically by separating into parts and studying their interrelations)
----------------------------
COMMENTS:
interesting etymology - Jabberwocky, 2008-10-14: 13:20:00
----------------------------
Created by: Mustang
Pronunciation: GOB-ehl-de-geek
Sentence: As are all his associates, Lyndon is a total gobbledegeek who can instantly decipher the garbled lingo and abbreviations used by those who textmessage and post on blogs and forums.
Etymology: Blend of 'gobbledegook' (language characterized by circumlocution and jargon, usually hard to understand) and 'geek' (one who is knowledgeable about current technology)
Created by: nerdkiller
Pronunciation: Lawl-cat-ass-tro-fee
Sentence: AYBABTU was a bigger lolcatastrophy than YTMND. A shame since it was, IMHO, the best meme in the history of ever.
Etymology: lolcat: refers to the web meme of mid 2007 catastrophy: a disaster
----------------------------
COMMENTS:
oops I jumped the gun. This has nothing to do with the challenge. I should read directions. - nerdkiller, 2007-11-15: 18:37:00
----------------------------
Created by: LotusB
Pronunciation: text-a-mess-ology
Sentence: Thank goodness Lisa's so good at textamessology, or she'd never understand her sister's messages!
Etymology: Text (words/wording) + a (a) + mess (untidy/jumble) + ology (science/branch of knowledge) = Textamessology
Created by: badsnudge
Pronunciation: ˈlēt-ə-rət
Sentence: "OMG! ure rly noobi5h. lkjlkjlkj" wrote the daughter to her father, which may have otherwise resulted in hurt feelings, but fortunatly, the father was not leeterate (also l33t3r8), and had no idea what she meant, and only figured that there must have been something wrong with her or his phone.
Etymology: l33t + literate.
Created by: gregflynn
Pronunciation:
Sentence:
Etymology:
----------------------------
COMMENTS:
Noun: Ntrprt8n - gregflynn, 2007-11-15: 00:09:00
----------------------------
Created by: astorey
Pronunciation: get-a-bite
Sentence: Tess thought she could multitask, but alas, as with so many people, she was not as good as she thought. She would send frequent getabytes to her friends, her husband and the random work contact who was unfortunately positioned at the top of her contact list. While those close to her were able to interpret her getabytes correctly, her colleague could never figure out if Tess was hitting on him or trying to turn him into her personal concierge. Either way, he wasn't into her.
Etymology: To "get" as in both to receive and to understand+ "byte" as in the increment of data, combined to sound like gigabyte or another of the many byte words they make up these days.
----------------------------
COMMENTS:
Yes, we have the technology...we just don't know how to use it correctly! - Nosila, 2008-10-14: 20:10:00
----------------------------
Created by: Tigger
Pronunciation: sĭn-těks-tə-fī'
Sentence: After only two weeks of dating, Melissa was able to syntextify Jared's messages by supplementalizing them with proper grammar and spelling. She supposed it was worth the effort -- all the other girls thought Jared was cute, and he certainly was popular.
Etymology: syntax (Greek, syntaxis "a putting together or in order") + text (Late Latin, textus "written account") + [identi]fy (Medieval Latin, identificāre "to make to resemble")
Created by: xirtam
Pronunciation: krip-tuh-grahsp
Sentence: See if you can cryptograsp what I am typing. "You don't hvae to crroeclty sepll erevyhting jsut hvae all the ltteres, and hvae the fsrit and lsat lteetr in the crreoct poistoin." Pretty cool.
Etymology: crypto from cryptogram, A piece of writing in code or cipher. + grasp, mental hold or capacity; power to understand.
----------------------------
COMMENTS:
Nice! - purpleartichokes, 2007-11-15: 19:00:00
----------------------------
Created by: Stevenson0
Pronunciation: tex/hume
Sentence: His job was to texhume cryptic messages that had been buried in emails.
Etymology: TEXHUME - verb from TEXT (a unit of connected writing) + EXHUME (to revive, or restore; bring to light)
----------------------------
COMMENTS:
Good word - Nosila, 2008-10-14: 20:14:00
----------------------------