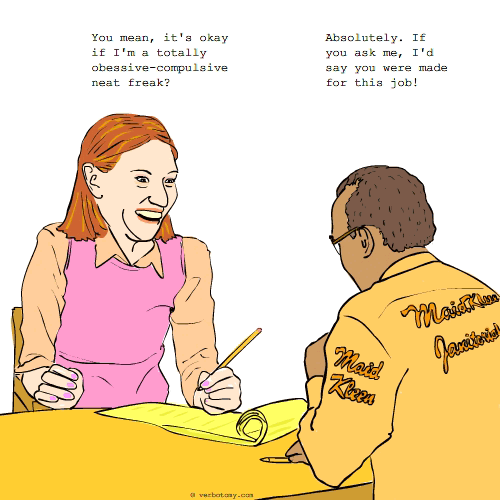 DEFINITION: v. To suddenly discover that your most troublesome personality defect, for which you have been taking medication and/or therapy, is actually your greatest asset. n. A perceived weakness which is actually a strength.
Voted For: Onusbonus
Successfully added your vote For "Onusbonus".
You still have one vote left...
Created by: jadenguy
Pronunciation: luk jaa
Sentence: His inability to talk made him a great grief counciler. His success rate was nearly 87%, with comment cards lauding his ability to listen.
Etymology: lockjaw + luck
Created by: ErWenn
Pronunciation: /ˈɹɛdˌnoʊz/
Sentence: Sadly, while the fact that his face and voice were incapable of expressing emotion was an impressive rednose during the poker tournament, he still couldn't get a date.
Etymology: As in Rudolph the reindeer's shiny red nose
Created by: ziggy41
Pronunciation: Diss-ah-ben-ah-fet
Sentence: I was surprised to realize that my "anger problem" is a disabenefit that could make me tons of money. Dressing up as made-up people for "The Jerry Springer Show" is easy!
Etymology: Disability (defect) + benefit (an asset)
Created by: galwaywegian
Pronunciation: han dee kap
Sentence: at the Outside the Box employment agency they help change a handicap to a handycap, one person's OCD sufferer is another person's cleaner/office manager/proof reader.
Etymology: handicap, handy
----------------------------
COMMENTS:
love it - remistram, 2007-06-25: 14:37:00
Voted! - Clayton, 2007-06-25: 21:15:00
----------------------------
Created by: Nosila
Pronunciation: on suk ses shun
Sentence: Little did Hugh Hefner's parents know that their son's obsession with pet rabbits would make him rich. His compulsion for bunnies turned into an obsuccession. He ended up with bunnies galore (one for each month of the year) a Bunny Club in every city, a Bunny TV Channel, a Bunny Mansion, a Bunny Magazine and a Bunny Jet. They were happy that his success was just based upon his love of bunnies, because as a little boy, he was also obsessed with naked girls...
Etymology: Obsession (an unhealthy and compulsive preoccupation with something or someone;an irrational motive for performing trivial or repetitive actions against your will)& Success (an event that accomplishes its intended purpose;a state of prosperity or fame)
Created by: rikboyee
Pronunciation: han-dee-capp
Sentence:
Etymology: handy, handicap
----------------------------
COMMENTS:
Very apt and capped a good day's verboting. - scrabbelicious, 2009-07-31: 15:22:00
Nice Flo to it! - scrabbelicious, 2009-07-31: 15:24:00
----------------------------
Created by: fadedeidolon
Pronunciation:
Sentence:
Etymology: flair, failure
Created by: SethelMerman
Pronunciation: uh-Kill-ease-Hayl
Sentence: Who knew that the fluctuting voice would be just what they were looking for in casting the commercial. Thank God for my Achilleshail.
Etymology: Achilles Heel-a (fatal) weakness in spite of overall strength + Hail-to acclaim
Created by: weareallbeautiful
Pronunciation: b-eh-n-kuh-m-puh-v-er-ee
Sentence: Julie made an astonishing bencompovery that her annoying compulsion of organizing everything had gotten her a high paying job as a secretary for the president of one of the most successful corporations in the country.
Etymology: benefit+compulsion+discovery
Created by: weyrlady
Pronunciation: e-fo-ban-e
Sentence: It was such an ephobany to realize he actually loved me for my friggatriskaidekaphobia.
Etymology: A combination of "epiphany" and "phobia".