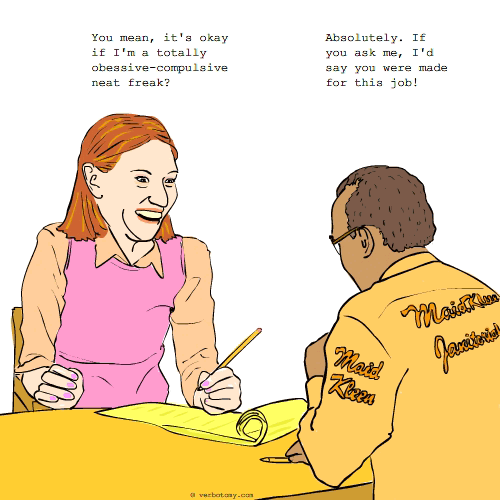 DEFINITION: v. To suddenly discover that your most troublesome personality defect, for which you have been taking medication and/or therapy, is actually your greatest asset. n. A perceived weakness which is actually a strength.
Voted For: Rednose
Successfully added your vote For "Rednose".
You still have one vote left...
Created by: jadenguy
Pronunciation: luk jaa
Sentence: His inability to talk made him a great grief counciler. His success rate was nearly 87%, with comment cards lauding his ability to listen.
Etymology: lockjaw + luck
Created by: mplsbohemian
Pronunciation: OH-nuhs-boh-nuhs
Sentence: Alex's utter lack of personality proved an onusbonus when he landed a job as an Abercrummie clerk.
Etymology: onus (burden) + bonus (benefit)
----------------------------
COMMENTS:
She's a leftie, cool. -from an ambie - mplsbohemian, 2007-06-26: 01:47:00
Oops, I meant that for the main dealie. - mplsbohemian, 2007-06-26: 01:48:00
----------------------------
Created by: Osomatic
Pronunciation: ben + ih + fit
Sentence: My epilepsy gets me a lot of work in industrial blending applications, so it's turned out to be a benifit.
Etymology: bene + fit (only I spelled it with an "i" instead of the second e, to distinguish it from the original word).
Created by: mrskellyscl
Pronunciation: foy-bil-la-tee
Sentence: Danny's big nose and squeaky voice was his greatest foibility in his career as a television clown. When he was little, all the kids teased him, but when he became a famous Bozo, all the kids loved him.
Etymology: foible: minor weakness or failing of character; an idiocyncracy + ability: a natural or acquired talent
Created by: andrewa121
Pronunciation: "that's it insane"
Sentence: After interviewing candidate after candidate for our unique position, we finally found one who was thatsitinsane. Her quirks were perfect in every way.
Etymology: from "that's it", an epiphanic phrase, and insane, denoting a tenuous relationship with the rational. cf. "bat shit insane".
Created by: remistram
Pronunciation: bo-nuss-nerr-os-iss
Sentence: Viv discovered that her bonusneurosis actually enhanced her standing in the company....numbering all the photocopy paper saved the office money, which in turn led to her promotion.
Etymology: bonus (as in free gift, or reward) + neurosis (a relatively mild personality disorder typified by excessive anxiety or indecision and a degree of social or interpersonal maladjustment)
Created by: artr
Pronunciation: nänˈpləspləs
Sentence: The fact that Jerry was unsure what to do and accomplished little made him perfect for his government job. It turned out to be a nonplusplus. He even developed a theory and an entire unofficial training program entitled DYNAMIC INACTION in which you look very busy working in one direction only to reverse course before you get to any measurable goal. The net result; status quo. Not only do you NOT rock the boat, you confine all your activity to the dock.
Etymology: nonplus (surprise and confuse (someone) so much that they are unsure how to react) + plus (an advantage)
----------------------------
COMMENTS:
"DYNAMIC INACTION" - hilarious! Good word - splendiction, 2009-07-31: 18:01:00
----------------------------
Created by: ohwtepph
Pronunciation: deh-fah-set
Sentence: I never knew she was up for the job until I realized that she had a defasset.
Etymology: defect + asset + deficit
Created by: mweinmann
Pronunciation: flaw - po - tent
Sentence: Sally felt flawpotent when her relentless jabbering and wild hair got her a spot on the popular gameshow "Everyone's Talking but Nobody's Listening"....
Etymology: flaw, compenent, potent
----------------------------
COMMENTS:
That gameshow is Twitter - jrogan, 2009-07-31: 10:41:00
----------------------------
Created by: hamburgerman
Pronunciation: flaw sum
Sentence: OMG! dude, thats totally flawsome!
Etymology: flaw + awesome = flawsome
----------------------------
COMMENTS:
no comment - hamburgerman, 2009-08-20: 21:34:00
----------------------------