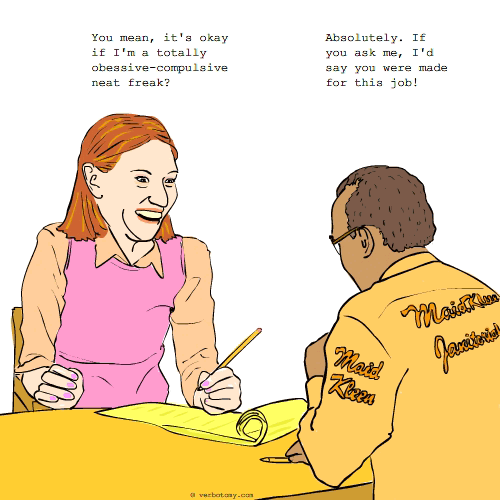 DEFINITION: v. To suddenly discover that your most troublesome personality defect, for which you have been taking medication and/or therapy, is actually your greatest asset. n. A perceived weakness which is actually a strength.
Already Voted
Vote not counted. We have already counted two anonymous votes from your network. If you haven't voted yet, you can login and then we will count your vote.
---
Faultility
You still have one vote left...
Created by: jadenguy
Pronunciation: luk jaa
Sentence: His inability to talk made him a great grief counciler. His success rate was nearly 87%, with comment cards lauding his ability to listen.
Etymology: lockjaw + luck
Created by: ohwtepph
Pronunciation: deh-fah-set
Sentence: I never knew she was up for the job until I realized that she had a defasset.
Etymology: defect + asset + deficit
Created by: Clayton
Pronunciation: fawl-TIL-i-tee
Sentence: Madeline's faultility was her incessant nose-blowing. Her husband thought of divorcing her, but she was such an amazing duck call.
Etymology: fault + utility
Created by: taejin
Pronunciation:
Sentence:
Etymology:
Created by: Nosila
Pronunciation: on suk ses shun
Sentence: Little did Hugh Hefner's parents know that their son's obsession with pet rabbits would make him rich. His compulsion for bunnies turned into an obsuccession. He ended up with bunnies galore (one for each month of the year) a Bunny Club in every city, a Bunny TV Channel, a Bunny Mansion, a Bunny Magazine and a Bunny Jet. They were happy that his success was just based upon his love of bunnies, because as a little boy, he was also obsessed with naked girls...
Etymology: Obsession (an unhealthy and compulsive preoccupation with something or someone;an irrational motive for performing trivial or repetitive actions against your will)& Success (an event that accomplishes its intended purpose;a state of prosperity or fame)
Created by: weyrlady
Pronunciation: e-fo-ban-e
Sentence: It was such an ephobany to realize he actually loved me for my friggatriskaidekaphobia.
Etymology: A combination of "epiphany" and "phobia".
Created by: mweinmann
Pronunciation: flaw - po - tent
Sentence: Sally felt flawpotent when her relentless jabbering and wild hair got her a spot on the popular gameshow "Everyone's Talking but Nobody's Listening"....
Etymology: flaw, compenent, potent
----------------------------
COMMENTS:
That gameshow is Twitter - jrogan, 2009-07-31: 10:41:00
----------------------------
Created by: texmom
Pronunciation: tick ac cent you oh tom
Sentence: She found that the freak circus appreciated her shoulder twitch and the resulting ticaccentuatom delighted her.. with a new job.
Etymology: tic - nervous muscle movement accent - highlighted atom - sounds good
Voted For! | Comments and Points
Created by: mplsbohemian
Pronunciation: OH-nuhs-boh-nuhs
Sentence: Alex's utter lack of personality proved an onusbonus when he landed a job as an Abercrummie clerk.
Etymology: onus (burden) + bonus (benefit)
----------------------------
COMMENTS:
She's a leftie, cool. -from an ambie - mplsbohemian, 2007-06-26: 01:47:00
Oops, I meant that for the main dealie. - mplsbohemian, 2007-06-26: 01:48:00
----------------------------
Created by: artr
Pronunciation: nänˈpləspləs
Sentence: The fact that Jerry was unsure what to do and accomplished little made him perfect for his government job. It turned out to be a nonplusplus. He even developed a theory and an entire unofficial training program entitled DYNAMIC INACTION in which you look very busy working in one direction only to reverse course before you get to any measurable goal. The net result; status quo. Not only do you NOT rock the boat, you confine all your activity to the dock.
Etymology: nonplus (surprise and confuse (someone) so much that they are unsure how to react) + plus (an advantage)
----------------------------
COMMENTS:
"DYNAMIC INACTION" - hilarious! Good word - splendiction, 2009-07-31: 18:01:00
----------------------------