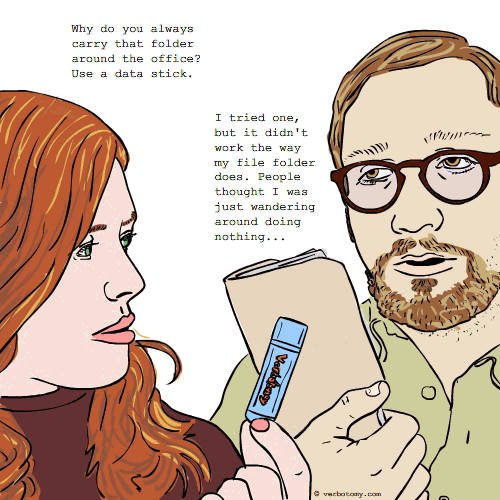 DEFINITION: n. A prop (e.g. papers, files or any non-functional equipment) used to create the illusion of busyness. v. To use office supplies to create the illusion that you are working.
Already Voted
Vote not counted. We have already counted two anonymous votes from your network. If you haven't voted yet, you can login and then we will count your vote.
---
Shamoflauge
Thanks for voting! You have now used both of your votes today.
Created by: Jabberwocky
Pronunciation: mask/ur/ade
Sentence: No one knew which department he worked in but with his maskqueraid of blackbery and wireless headset he easily passed his day wandering and betting on horses
Etymology: masquerade + mask + aid
Created by: artr
Pronunciation: aw-fuh-sahd
Sentence: Stanley likes to make everybody think he is the most productive member of his team. He creates a smokescreen by creating an officade of papers and folders that practically obscure his window and keep prying eyes from seeing how little actual work he does.
Etymology: office (a room, set of rooms, or building where the business of a commercial or industrial organization or of a professional person is conducted) + facade (a superficial appearance or illusion of something)
Created by: Mustang
Pronunciation: CAM - oh - frod
Sentence: Maurice is a complete phony, inept in his job and short of actual job knowledge so in order to deceive his employers and fellow employees he regularly committed camoufraud, carrying file folders and other work related objects in an effort to create the illusion that he was fully engaged in work efforts.
Etymology: Blend of camouflage and fraud.
----------------------------
COMMENTS:
There was abuffoon called Maurice__Who carried around a valise__He shunned so much labor__not even his neighbor__could say if he's live or deceased. - metrohumanx, 2008-08-06: 16:47:00
The best! - lumina, 2008-08-06: 23:51:00
----------------------------
Created by: rephil
Pronunciation: im-PORT-man-toh
Sentence: Gerry's importmanteau always impressed visitors, but the maintenance man's keys signified he held more true power in the building.
Etymology: import -- rank, necessity, gravity; portmanteau -- a suitcase
----------------------------
COMMENTS:
this is a great word!! - Jabberwocky, 2007-06-13: 14:48:00
Thanks -- I know I've had a few in my time! - rephil, 2007-06-13: 14:50:00
Erm -- importmanteaux, not great words! - rephil, 2007-06-13: 14:51:00
actually your words are terrific - there have just been so many good words to choose from lately - I especially like euphonia - Jabberwocky, 2007-06-13: 15:17:00
----------------------------
Created by: cpeterc
Pronunciation: Fo - Port
Sentence: "Wait - I'll never make it past Mr. Big's office without a Fauxport, This folder will do."
Etymology: Faux = faxe or simulated Port from Passport a document that allows you to travel freely.
----------------------------
COMMENTS:
Your papers, please.... - metrohumanx, 2008-08-06: 16:48:00
----------------------------
Created by: bigdog
Pronunciation: slawth-o-flazhe
Sentence: The piles of paper on my desk are all just slothouflage to stop the boss from seeing my pillow and scotch bottle.
Etymology: sloth (indolence) + camouflage (disguise)
Created by: Osomatic
Pronunciation: Rhymes with "paperwork."
Sentence: With enough important-looking documents, I can wander around for hours papershirking.
Etymology: Rhymes with "paperwork."
Created by: Discoveria
Pronunciation: ess-KAY-pur-wurk
Sentence: Just before weekly staff meetings, Joe's pile of escaperwork would grow to include three reports, two manila envelopes, a stapler and a large black binder labelled 'URGENT'.
Etymology: escape (to avoid) + paperwork (documents)
Created by: sanssouci
Pronunciation: pen doop
Sentence: "I think I am going to pendupe for a while, I can't be botherd to do anymore work today but don't want Mr Stone to think I'm not pulling my weight in the office."
Etymology: pen - any of various instruments for writing or drawing with ink or a similar substance. A pen is a writing implement," c.1300, from O.Fr. penne "quill pen, feather," dupe - to make a dupe of; deceive; delude; trick. Dupe orriginates from 1680s, from Fr. dupe "deceived person," from M.Fr. duppe (early 15c.), thieves' jargon, probably from phrase de huppe "of the hoopoe," an extravagantly crested and reputedly stupid bird.
Created by: LunaC
Pronunciation: sham-o-flaw-ge
Sentence: The new employee furiously types an email to his friend as shamoflauge in case his boss walks by.
Etymology: sham + camoflauge