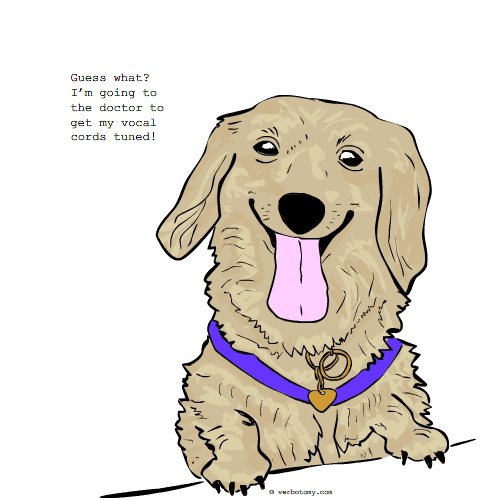 DEFINITION: n. A non-threatening term to describe the procedure of cutting vocal cords on yappy dogs, which makes it sound like a good thing -- after all, they will never bark again. v. To remove the vocal chords.
Voted For: Euphemutem
Successfully added your vote For "Euphemutem".
You still have one vote left...
Created by: Stevenson0
Pronunciation: pet/pax
Sentence: Annoying pet-speak disturbing your home life? Welcome to the 21st century puppy-love solution!! Petpax, the new non-invasive (to you the owner) surgery, guarantees to reduce pet chatter by 95%. Pets will be silently happy the way they were meant to be. (WARNING: may attract intruders and wet spots on the carpet - no assembly necessary)
Etymology: pet + pax (peace)
Created by: purpleartichokes
Pronunciation: KAY-mime
Sentence: Rover's yapping at the lint that had collected in Bob's navel was the deciding factor in him ultimately getting camimed.
Etymology: canine, mime (as in a mute actor)
----------------------------
COMMENTS:
Much smarter and more original than "shushpuppy". Good stuff! - Bulletchewer, 2007-01-30: 19:37:00
Thank you Bulletchewer! - purpleartichokes, 2007-01-31: 04:11:00
I tried and tried to think of a word with mime - good work - Jabberwocky, 2007-01-31: 09:16:00
----------------------------
Created by: CharlieB
Pronunciation: yap-o-tə-mi
Sentence: After a week of mournful looks and silence from Fido, Mrs Smythe strongly suspected her neighbour had kidnapped the poor pooch in the night and performed a yapotomy.
Etymology: yap (of a small dog – to bark constantly) + -tomy (surgical incision)
----------------------------
COMMENTS:
rough - galwaywegian, 2011-01-18: 10:14:00
----------------------------
Created by: Nosila
Pronunciation: lari nix
Sentence: Fred had a smart, but yappy dog called Larry. So when Fred wanted to talk in front of Larry, he used pig-latin (or as he called it dog-latin). Fred told his wife he was taking Larry in the ar-cay to the eterinarian-vay, to ix-nay his larynicks and to have him eutered-nay. Poor Larry, after the operation, he lost his mojo and couldn''t tell anyone about it!
Etymology: Larynx (a cartilaginous structure at the top of the trachea; contains elastic vocal cords that are the source of the vocal tone in speech) & Nicks (cuts;cut slightly, with a razor)
----------------------------
COMMENTS:
rebarkable - galwaywegian, 2011-01-18: 10:15:00
----------------------------
Created by: Buzzardbilly
Pronunciation: ˈgōl-dənd
Sentence: The vet goldend our dog, so we didn't get any warning barks when the burglars were coming.
Etymology: If silence is golden and you make something silent, wouldn't it be golden? Since the silence brings an end to the noise, wouldn't the procudure to rid the noisemaker of its noise-making abilities be a "gold end"? So, splicing "golden" and "end" makes "goldend."
----------------------------
COMMENTS:
I have to add that the vet I used to work for refused to do the "de-barking" procedure (as they do call it) because the dogs still made noise and wore themselves out trying to bark. So, while my word fits the definition given, the procedure and its outcomes are at odds with the notion. - Buzzardbilly, 2009-08-31: 10:55:00
If it's cruel to "de-bark" a tree, how do our Canine-Americans feel about the procedure? - metrohumanx, 2009-09-01: 11:10:00
----------------------------
Created by: galwaywegian
Pronunciation: diss em bou ou
Sentence: when barkley was disembowowed he felt like disembarking from the ship of life
Etymology: disembowel bow ow
Created by: rikboyee
Pronunciation: dee-bar-kul
Sentence: Ever since the debarkle he's been much quieter...but for some reason he won't stop crapping on my pillow..
Etymology: bark, debacle... and in a non-threatening way it sounds a bit like sparkle....don't ya think
----------------------------
COMMENTS:
oh yes. This works. - erasmus, 2007-01-30: 04:14:00
Just on the basis of your sentence, you get my vote today. - chofu67, 2007-01-30: 12:48:00
----------------------------
Created by: MinoriMicino
Pronunciation:
Sentence:
Etymology:
Created by: ahwinters
Pronunciation: yip - eck - toe - me
Sentence: Fido was significantly less annoying after his yipectomy.
Etymology: Yip (sound) + ectomy (to cut out)
Created by: petaj
Pronunciation: soff-n-bach
Sentence: Fideaux the puppy's awful barking would clash with his owner's piano practice. So he was off to the vet to softenbark.
Etymology: soften (make quieter) + bark (dog noise) + offenbach (musical composer)