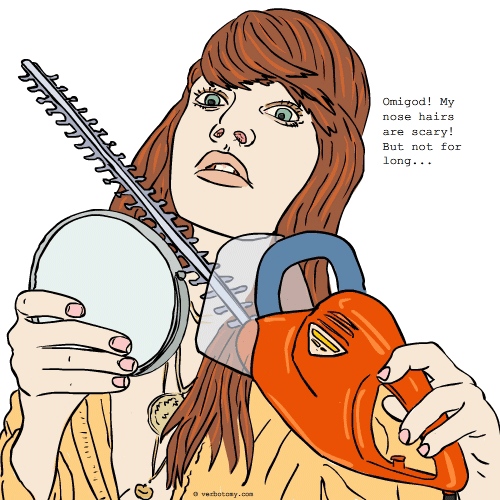 DEFINITION: n. A tool which has been re-purposed and is now being used (perhaps unsafely) to perform a completely different function. v. To use a tool for a different purpose than for which it was originally designed.
Voted For: Skimprovise
Successfully added your vote For "Skimprovise".
You still have one vote left...
Created by: QuantumMechanic
Pronunciation: FLY bom
Sentence: He could not get the school kids to stay off his lawn, so he pulled a flybomb and mowed his yard every morning at 8am, throwing grass clippings at them.
Etymology: From setting off a bomb to kill a fly, destroying the whole room in the process.
Created by: kalex
Pronunciation:
Sentence:
Etymology:
Created by: Nosila
Pronunciation: pimp lem ent
Sentence: Doris had the insane idea that if she cut down the size of her husband`s sander, it would be great for her erupting skin. It could make the surface smooth, slough off dead cells and stimulate the pores to prevent and eliminate acne. She called it her pimplement and after the first disastrous procedure, the paramedics advised her that her foolishness caused them to laugh their faces off, too.
Etymology: Pimple (acne, a zit) & Implement (equipment or tool used for a purpose)
Created by: petaj
Pronunciation: IN-sinker-juicer
Sentence: Darren, tired of cleaning the fibrous mess from his juicer, cobbled together a weird attachment for his garbage disposal unitt so that he could extract his favourite vegetable and fruit juices while the leftover bits simply disappeared down the sink. Being an ardent greenie, he also plumbed the outlet so that the watery mass of vegetable matter was washed into the compost bin.
Etymology: Insinkerator (garbage disposal) + juicer
Created by: abrakadeborah
Pronunciation: Im-ple-men-ta-shun-eye-zd
Sentence: She could not find the right tool, so she implementationized a sum of parts together to make a tool for what she needed to do.
Etymology: implement: a type of tool and then added tationized...to put together to make one useful object as a tool. :)
Created by: artr
Pronunciation: megətoōl
Sentence: Gene believes in the megatool approach to life. If a task requires the use of a tool bigger is always better. He has a military surplus flame thrower that he uses to start his charcoal grill. You have a rusty bolt? If his jaws-of-life can't loosen it, they can lop it off so you can replace it. His wife drew the line when he started talking about a pneumatic hammer fly swatter. She has 911 on speed-dial.
Etymology: mega (very large; huge) + tool (a device or implement, esp. one held in the hand, used to carry out a particular function)
----------------------------
COMMENTS:
Perhaps Gene is a megatool for Black & Decker. - otherguy, 2009-03-09: 06:43:00
----------------------------
Created by: Nosila
Pronunciation: gad jet lag
Sentence: Ever since Wilbur & Orville had sent air travel to the next plane, A.Fred O'Travel worked night and day to find something to help passengers get over the fear of flying. More specifically, he found passengers were not as much afraid of flying and as afraid of getting the dreaded jet lag, which could immobilize them upon disembarkment. So Fred made a device which helped passengers to calm down and not shout out as embarrassing statements as "They are going in the wrong direction" and turn them into positive statements, like, "We don't care where the pilots land, as long as it is on Earth!" Not only did this tool (which was placed in each passenger's drink, act as an anti-gadgetlag, it made the passengers remember a happy, ethereal experience, which made them want to book again and again with NirvanAir.
Etymology: gadget (a device that is very useful for a particular job) & Jet Lag(fatigue and sleep disturbance resulting from disruption of the body's normal circadian rhythm as a result of jet travel)
----------------------------
COMMENTS:
Egad! - silveryaspen, 2009-03-10: 14:57:00
----------------------------
Created by: TJayzz
Pronunciation: Mak-a-mor-foe-sis
Sentence: Budding inventor Ivor Patent-Pending, cleverly adapted his ceiling fan every winter by machamorphosis so that it blew out hot air, thus being able to dry his clothes when the weather was bad.
Etymology: Blend of Machine(an apparatus using mechanical power) and Metamorphosis(alter, to change completely)
----------------------------
COMMENTS:
RIGHT-O TJ!...and with a string attached, it makes an EXCELLENT cat toy! - metrohumanx, 2009-03-09: 02:20:00
Machamorphosis....like a luvely flutterby! - metrohumanx, 2009-03-09: 02:25:00
good one - galwaywegian, 2009-03-09: 14:27:00
----------------------------
Created by: artr
Pronunciation: ōvərtoōl
Sentence: Hal likes to overtool every thing he does. He shaves in the morning with a machete that he sharpens and hones for 20 minutes. He mows his half-acre lawn with a combine after mixing cocktails in a Hobart 20-quart commercial mixer. He doesn't see his numerous trips to the ER as an indication that he should change, just as a source of stories to share at the local hardware store.
Etymology: overkill (the amount by which destruction or the capacity for destruction exceeds what is necessary) + tool (a device or implement, esp. one held in the hand, used to carry out a particular function)
----------------------------
COMMENTS:
Really neat concept ! - RightOnTheWin, 2010-09-21: 09:33:00
----------------------------
Created by: rombus
Pronunciation: mik - ham - mer
Sentence: Donald decided to mchammer his dog house together with his mchammer. It was a new tool that he created using a baseball bat, a visegrip and a socket wrench....Instead of hitting the nail on the head, he destroyed the entire dog house with his "hammer time"... Oh well, Donald thought as he put down the bat...."can't touch this" as a hammer again....must take up baseball.
Etymology: hammer, McDonalds, M C Hammer....
----------------------------
COMMENTS:
Really hammered this one! - silveryaspen, 2009-03-09: 14:13:00
----------------------------