Verboticism: Loogiellution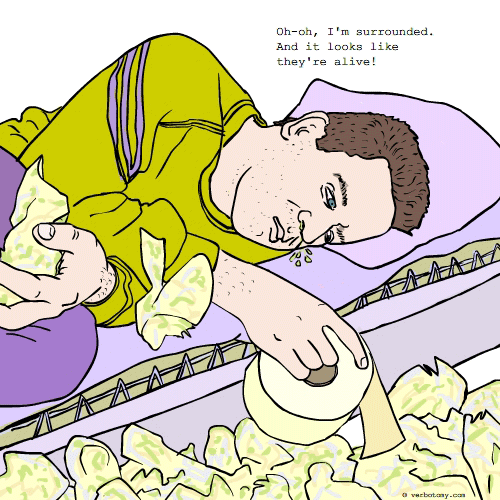 DEFINITION: n. A pile of used and discarded tissues; may constitute a bio-hazard. v. To drop a used tissue on to the floor beside your bed or chair, because you are so sick you can barely move.
Already Voted
Vote not counted. We have already counted two anonymous votes from your network. If you haven't voted yet, you can login and then we will count your vote.
---
Loogiellution
You still have one vote left...
Created by: twocent
Pronunciation: flem-bank-mint
Sentence: Judging from the phlegmbankment surrounding the couch, it was a safe bet that Nigel was out of commission for the day.
Etymology: Phlegmbankment -n. Compound of phlegm + embankment.
Created by: Nosila
Pronunciation: flem boy ants
Sentence: When Dougie was home sick, the zillions of tissues that he had sneezed, coughed and blown into were piled so high, his bed appeared to float on a sea of them.The fact that his jammies and bedding matched them, just demostrated to his servile mother his phlegmbuoyance.
Etymology: Phlegm (expectorated matter, saliva and other fluids secreted from facial openings) & Buoyance(ability to keep something afloat) & Flamboyance(extravagant elaborateness)
Created by: arrrteest
Pronunciation: moun-dus-myoo-coh-see
Sentence: Ellen couldn't get to Bob's bedside without kicking asside the moundusmucosi that had accumulated from mass of used tissues.
Etymology: moundus, mound + mucosi, mucus
Created by: OZZIEBOB
Pronunciation: TISH-i-dyoo
Sentence: You imprison me in the dark recesses of your bags and pockets until I'm ready to be used for your most basic needs. You wipe your filthy hands on me; you spit on me. You drown me in your fetid waste. You despise me, calling me a threat to your environment. You throw me away. But remember it was you who you made me what I am - tissidue - for there was a time when I was a tree.
Etymology: Blend of TISSUE & RESIDUE
----------------------------
COMMENTS:
Tree mend us. - purpleartichokes, 2008-03-10: 10:46:00
how sad - Jabberwocky, 2008-03-10: 16:58:00
Your sentence reminds me of "The Giving Tree" — albeit a more bitter version... - Tigger, 2008-03-10: 23:24:00
Poignant, yet elementree...where's my tissue? - Nosila, 2008-03-11: 22:36:00
----------------------------
Created by: OZZIEBOB
Pronunciation: flem-uh-GED-on
Sentence: So ill was Bob that he truly believed that he had died and been reincarnated as a nose. Despairingly he was a nose not of classic beauty such as a hepburn, but more in the mould of a durrante. And things didn't seem to be getting any better for him, for when the great Rhinobyl disaster struck, and not even a puff of air issued out of the quatrils of Nosetradamus, he started to believe the end was nigh. Fellow snoozles, konks, beaks and candlesticks gather around him, honkers heavenwards, looking for signuses, but the outlook remained grimaldi, things were, "C'est beaucoup." Indeed, he was sure, that a phlegmaggedon of tissumungous proportions was slowly enveloping him.
Etymology: PHlEGM: the thick mucus secreted in the respiratory passages and discharged through the mouth, esp. that occurring in the lungs and throat passages, as during a cold. 2. one of the four elemental bodily humors of medieval physiology, regarded as causing sluggishness or apathy. ARMAGEDDON: the last and completely destructive battle. Any great and crucial conflict.
----------------------------
COMMENTS:
Great Sentence. Luv Jimmy Durante! Great way to start the new year ... with a great eponym! - silveryaspen, 2009-01-02: 07:46:00
Sounds like Bob was quite phlegmatic. - Mustang, 2009-01-04: 06:09:00
Poor Bob, to be halluciphlegmatic and fighting the ultimate War of the Noses! - mweinmann, 2009-01-05: 16:33:00
----------------------------
Created by: Nosila
Pronunciation: flem boy ansee
Sentence: Even when deathly ill, Marcus exuded a certain phlegmbuoyancy. Although he felt he was on death's doorknob, he wore his silk pyjamas and monogrammed silk robe, along with his designer slippers. He used not paper hankies or toilet paper to remove his mucus, but a supply of monogrammed silk handkerchiefs, which his butler gathered up to send to the CDC in Atlanta. Marcus reclined on his chaiselongue, under a mink throw and suffered through this ague. With a full table of aspirin, cough syrups and decongestants, everything that modern medicine could afford was laid out at his bedside. His butler brought him hot toddies in gold or silver goblets and had steamy moisture piped into his sick room. He winced when his doctor had told him he had the Common Cold...how could that happen to one of such superior breeding? Beside his bed lay one of the classic books he currently read, called Great Expectorations, printed in its original Phlegmish language!
Etymology: Phlegm (nasal mucus) & Buoyancy (cheerfulness that bubbles to the surface;irrepressible liveliness and good spirit;the property of something weightless and insubstantial) Flamboyancy (richly and brilliantly colorful;elaborately or excessively ornamented)
----------------------------
COMMENTS:
Eleveating the common cold to the royal pain it truly is! The grandiose elevated to the grandinose! - silveryaspen, 2009-01-02: 07:43:00
----------------------------
Created by: Stevenson0
Pronunciation: tish/oze
Sentence: Winter! Oh damn winter!! Take me now with your freezing minus 27 celcius, sore throat, aching ears, massive sinus ache, chills!!! Warmth, where is the warmth?!!!! I give up!!!!! Heating pad, neck warmer, not even four blankets help!!!!!! Running nose, rolls of toilet paper resulting in a massive mountain of tissooze surrounding me, burying me, suffocating me, killing me!!!!!!! Take me now wretched winter!!!!!!!! I succumb to you bastard winter!!!!!!!!!
Etymology: tissue + ooze
----------------------------
COMMENTS:
You've obviously had the flu recently - great word - Jabberwocky, 2008-03-10: 13:29:00
----------------------------
Created by: kateinkorea
Pronunciation: KWAN tin fec TISH oo
Sentence: When I visited my brother he was laying on the couch surrounded by a quantinfectissue and I didn't want to stay long for fear of getting sick.
Etymology: quantity: an amount infectious: passed from one person to another and tissue:
Created by: earlnewton
Pronunciation: SNOCKS-ick
Sentence: Surrounded by three tissue boxes worth of his own fluids, Peter's room was becoming snoxic.
Etymology: derived from snot + toxic
Created by: artr
Pronunciation: snot-a-kliz-uhm
Sentence: Hector's bout with the flu and the resulting tissue pile left his bedroom looking like a total snotaclysm.
Etymology: snot (mucus) + cataclysm (disaster)