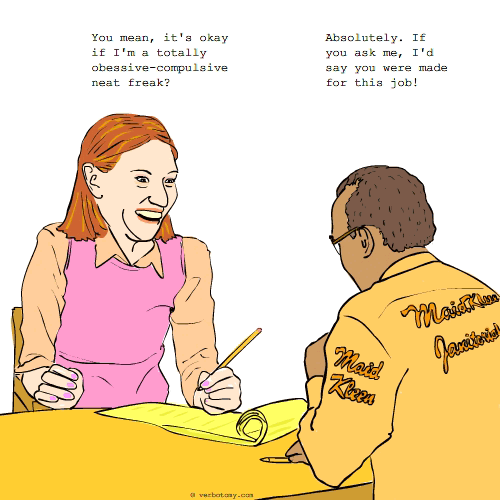 DEFINITION: v. To suddenly discover that your most troublesome personality defect, for which you have been taking medication and/or therapy, is actually your greatest asset. n. A perceived weakness which is actually a strength.
Voted For: Flawpotent
Successfully added your vote For "Flawpotent".
You still have one vote left...
Created by: jadenguy
Pronunciation: luk jaa
Sentence: His inability to talk made him a great grief counciler. His success rate was nearly 87%, with comment cards lauding his ability to listen.
Etymology: lockjaw + luck
Created by: artr
Pronunciation: babəlän
Sentence: Little Johnny Madden was a slow learner. He didn't speak in full sentences til long after his play pals but once he started there was no stopping him. He seemed to revel in the sound of his own voice. His mother's favorite word was "Hush!". Little did anybody realize that he could parlay this annoying trait into a career adding "color" to the commentary of football sportscasters. He would travel from city to city to do his job. Every city he visited would become the new city of Babblon.
Etymology: babble (talk rapidly and continuously in a foolish, excited, or incomprehensible way) + on - A play on Babylon
Created by: remistram
Pronunciation: bo-nuss-nerr-os-iss
Sentence: Viv discovered that her bonusneurosis actually enhanced her standing in the company....numbering all the photocopy paper saved the office money, which in turn led to her promotion.
Etymology: bonus (as in free gift, or reward) + neurosis (a relatively mild personality disorder typified by excessive anxiety or indecision and a degree of social or interpersonal maladjustment)
Created by: Osomatic
Pronunciation: ben + ih + fit
Sentence: My epilepsy gets me a lot of work in industrial blending applications, so it's turned out to be a benifit.
Etymology: bene + fit (only I spelled it with an "i" instead of the second e, to distinguish it from the original word).
Created by: fadedeidolon
Pronunciation:
Sentence:
Etymology: flair, failure
Created by: rikboyee
Pronunciation: han-dee-capp
Sentence:
Etymology: handy, handicap
----------------------------
COMMENTS:
Very apt and capped a good day's verboting. - scrabbelicious, 2009-07-31: 15:22:00
Nice Flo to it! - scrabbelicious, 2009-07-31: 15:24:00
----------------------------
Created by: hamburgerman
Pronunciation: flaw sum
Sentence: OMG! dude, thats totally flawsome!
Etymology: flaw + awesome = flawsome
----------------------------
COMMENTS:
no comment - hamburgerman, 2009-08-20: 21:34:00
----------------------------
Created by: SethelMerman
Pronunciation: uh-Kill-ease-Hayl
Sentence: Who knew that the fluctuting voice would be just what they were looking for in casting the commercial. Thank God for my Achilleshail.
Etymology: Achilles Heel-a (fatal) weakness in spite of overall strength + Hail-to acclaim
Created by: galwaywegian
Pronunciation: han dee kap
Sentence: at the Outside the Box employment agency they help change a handicap to a handycap, one person's OCD sufferer is another person's cleaner/office manager/proof reader.
Etymology: handicap, handy
----------------------------
COMMENTS:
love it - remistram, 2007-06-25: 14:37:00
Voted! - Clayton, 2007-06-25: 21:15:00
----------------------------
Created by: ziggy41
Pronunciation: Diss-ah-ben-ah-fet
Sentence: I was surprised to realize that my "anger problem" is a disabenefit that could make me tons of money. Dressing up as made-up people for "The Jerry Springer Show" is easy!
Etymology: Disability (defect) + benefit (an asset)