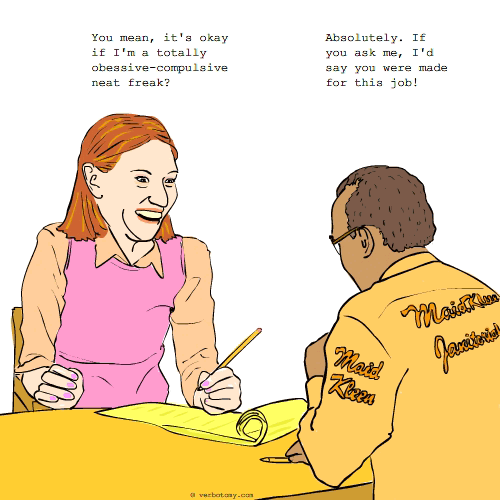 DEFINITION: v. To suddenly discover that your most troublesome personality defect, for which you have been taking medication and/or therapy, is actually your greatest asset. n. A perceived weakness which is actually a strength.
Already Voted
Vote not counted. We have already counted two anonymous votes from your network. If you haven't voted yet, you can login and then we will count your vote.
---
Impairmight
Thanks for voting! You have now used both of your votes today.
Created by: weareallbeautiful
Pronunciation: b-eh-n-kuh-m-puh-v-er-ee
Sentence: Julie made an astonishing bencompovery that her annoying compulsion of organizing everything had gotten her a high paying job as a secretary for the president of one of the most successful corporations in the country.
Etymology: benefit+compulsion+discovery
Created by: petaj
Pronunciation: flawnt-it
Sentence: Cherie really started marketing herself when she realised her flawntit gave her an oddvantage over the other candidates.
Etymology: flaw + If you've got it flaunt it.
Created by: fadedeidolon
Pronunciation:
Sentence:
Etymology: flair, failure
Created by: texmom
Pronunciation: tick ac cent you oh tom
Sentence: She found that the freak circus appreciated her shoulder twitch and the resulting ticaccentuatom delighted her.. with a new job.
Etymology: tic - nervous muscle movement accent - highlighted atom - sounds good
Created by: ohwtepph
Pronunciation: deh-fah-set
Sentence: I never knew she was up for the job until I realized that she had a defasset.
Etymology: defect + asset + deficit
Created by: rikboyee
Pronunciation: han-dee-capp
Sentence:
Etymology: handy, handicap
----------------------------
COMMENTS:
Very apt and capped a good day's verboting. - scrabbelicious, 2009-07-31: 15:22:00
Nice Flo to it! - scrabbelicious, 2009-07-31: 15:24:00
----------------------------
Created by: rikboyee
Pronunciation: flaw-sum
Sentence: when people mistook my nervous tic for well rehearsed break-dancing, it was flawesome
Etymology: flaw, awesome
----------------------------
COMMENTS:
Good one. - Clayton, 2007-06-25: 21:15:00
----------------------------
Created by: galwaywegian
Pronunciation: loo na tik awl the rite bok ses
Sentence: She managed to lunatickalltherightboxes despite the rather stained resumé
Etymology: lunatic tick all the right boxes
Created by: purpleartichokes
Pronunciation: em-foy-bull
Sentence: "Eureklutz!" Ted exclaimed, as he landed that nifty job as a baggage handler. He had become emfoible.
Etymology: employable, foible
Created by: Msumida
Pronunciation: Replace the w in worse with bl.
Sentence:
Etymology: Combination of "blessing" and "curse" from the the saying, "It's a blessing and a curse."