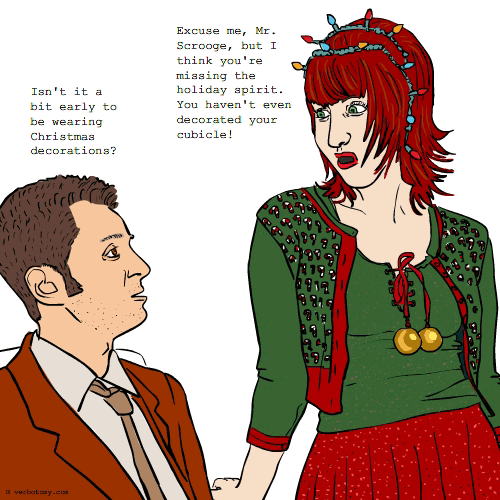 DEFINITION: n., A person so enamored with the holidays that they don't just deck their halls and home, but they also decorate their car, their cubicle, their pets, and themselves. v., To obsessively decorate according to seasonal holidays.
Already Voted
Vote not counted. We have already counted two anonymous votes from your network. If you haven't voted yet, you can login and then we will count your vote.
---
Jinglehells
You still have one vote left...
Created by: MichaelCampbellUK
Pronunciation: fes-kwe-nox-a-fre-nic
Sentence: Ursula's fesquinoxaphrenia drove her like some crazed clockwork squirrel to stockpile the seasons baubles.
Etymology: Fes- (from festive) -quinox (from equinox, a seasonal event) -aphrenia (hebaphrenia, mental illness characterised by extreme hoarding). See 'fesquinoxafrenic' N.
Created by: teriaki
Pronunciation: fe-STID-ee-uhs
Sentence: She went about the house hanging each ornament with festidious care.
Etymology: L. festus (festival) + L. taedium (wearisome or tedious state)
Created by: Mustang
Pronunciation: San + ta + closs + trik + PHOE + bya
Sentence: Mildred's Santaclaustricphobia had become so severe that her family, coworkers and neighbors had come to dread the Christmas season.
Etymology: Santa Claus + phobia
----------------------------
COMMENTS:
well done! - galwaywegian, 2007-12-03: 07:59:00
----------------------------
Created by: CEE1ESS
Pronunciation: elf-an-atic
Sentence: She was elfanatic about the holidays, decorating everything in sight.
Etymology: based on the words elf and fanatic
Created by: AliA415
Pronunciation:
Sentence:
Etymology:
Created by: libertybelle
Pronunciation: holl-lee-toe-sis
Sentence: Mitch didn't realize the level of Bonnie's hollytosis until he saw that the cats had been dyed red and green and that the refrigerator had been wrapped in tinsel.
Etymology: holly + halitosis... it's monday - my brain's not totally warmed up yet.
----------------------------
COMMENTS:
very funny - Jabberwocky, 2007-12-03: 13:03:00
Clever! - Tigger, 2007-12-03: 21:17:00
----------------------------
Created by: mweinmann
Pronunciation: or - nah - max - e - men - tal
Sentence: As I drove through the snowy, picturesque streets of my home town, coming back to spend the holidays with the family, I turned the corner and could see my childhood home. My mom had gone all ornamaximental again. Our home cast a halo of light which could be seen over the top of the hill. There must have been 20,000 lights everywhere, inluding trees, bushes, lawn decorations and even figurines on the roof. It was the same way when I was a kid. Our house glowed for Halloween, Thanksgiving, Easter, July 4th and sometimes even Valentine's Day.
Etymology: This word has several other words incorporated. Ornamental has maxi inside of it. Also, ornate and ornament are prefixes. In the middle are max, maximum. Also as a suffix, mental can be added to signify someone who is a bit "over the top". Ornate (elaborately ornamented, often to excess; flashy, flowery or showy) Ornament, Ornamental (a decoration, serving the purpose of decoration or beauty ) + Maximum (the largest possible quantity) + Mental (Mind, the collective aspects of intellect and consciousness, affected by a disorder of the mind)
----------------------------
COMMENTS:
Very nice etymology, especially the mentality of it all. - silveryaspen, 2008-12-09: 11:04:00
Maximental sentimental! Great word - Nosila, 2008-12-09: 23:15:00
----------------------------
Created by: Nosila
Pronunciation: worn a ment
Sentence: Mary-Chris Mass has for obvious reasons become obsessed with festooning herself, her car, her house and her work space with Christmas decorations. Her efforts to wornament herself, family and colleages has actually paid off. They find it easier to conform to her wishes than to resist. In fact they carry the theme year-round. The office is now painted red and green and holly, ivy, poinsettias and mistletoe grow in the office atrium. Because her office is a call centre conducting market research, the building is now being called the North Poll!
Etymology: Worn (past participle of wear;something adorning oneself) & Ornament (v. to make more attractive by adding ornament, colour, etc.)
Created by: dochanne
Pronunciation: Silly-brate
Sentence: Sally sparkled and tinkled as she walked, the bells on her shoes making them look elfinesque, while her large fat-santa ear-rings flashed incessantly beside her red-dyed hair. When the door opened her colleagues inevitably looked up, their gaze drawn by reflex and some would emit a groan equally reflexively. "Season's Greetings!" she would smile at everyone, glowing with holiday glee as she bounded about the office in a flurry of red, green and gold, flashing lights and ringing bells. Until she bumped into Adrian, greying cubicle curmudgeon: "Oh, stop-it, you silly girl!" he snapped, having heard enough bells for the day. "If you don't go away or get rid of that crap I'll forcibly de-festoon you, sillybrate!"
Etymology: Silly - the very [] overuse of tinsel, bells, lights, fat flashing light santas, present-shaped ear-rings and other festoonery foisted on us by the over-indulgent foistooners of the season. Celebrate - what is commonly supposed to happen on special or seasonal occasions, and usually involving a modicum of merriment, mead, melee and possibly mistle-toe..
Created by: nickmarziani
Pronunciation: tan-in-bum
Sentence: Jesus Christ on a cross, I can't believe how hard Ross is tannenbumming it today. Seriously--holly print leotards?
Etymology: O Tannenbaum, o Tannenbaum, wie treu sind deine Blätter! (+ bum)