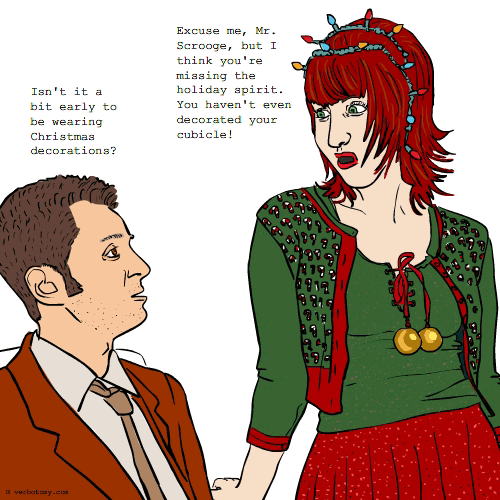 DEFINITION: n., A person so enamored with the holidays that they don't just deck their halls and home, but they also decorate their car, their cubicle, their pets, and themselves. v., To obsessively decorate according to seasonal holidays.
Already Voted
Vote not counted. We have already counted two anonymous votes from your network. If you haven't voted yet, you can login and then we will count your vote.
---
Adornorate
You still have one vote left...
Created by: OZZIEBOB
Pronunciation: JOO-buh-LAK-ee
Sentence: For Bob, a jubilackey, and, especially, a yulethrall, festinfatuation, with the feriations of the whole world, continued year-long with 365 red-letter days.
Etymology: Blend of JUBILEE: A season of general celebration, holiday and rejoicing & LACKEY: Slave(slang); disciple, follower
----------------------------
COMMENTS:
Good one Bob! - emdeejay, 2008-12-09: 22:22:00
----------------------------
Created by: mblewis41
Pronunciation:
Sentence: Jack has spent so much time and money on Xmas decorations, I think he's suffering from xmasdecafobia.
Etymology:
Created by: williek1
Pronunciation:
Sentence:
Etymology:
Created by: lelia
Pronunciation: holi-fan-o-rator
Sentence: She is such a holifanorator that she has lost count of all of her decorations!
Etymology:
Created by: schoolmarm
Pronunciation: dec/or/A/mus
Sentence: His past follies could have been forgiven, but his coworkers quailed when the resident decoramus showed up on St. Patrick's Day wearing nothing but a four-leaf clover.
Etymology:
Created by: pacha
Pronunciation:
Sentence:
Etymology:
----------------------------
COMMENTS:
Good word! Had a friend for whom Christmas came once a year- but he seemed to celebrated it during 365 days. He had a year -long yearning, I guess, for yuletide! - OZZIEBOB, 2007-12-04: 16:24:00
----------------------------
Created by: Mustang
Pronunciation: San + ta + closs + trik + PHOE + bya
Sentence: Mildred's Santaclaustricphobia had become so severe that her family, coworkers and neighbors had come to dread the Christmas season.
Etymology: Santa Claus + phobia
----------------------------
COMMENTS:
well done! - galwaywegian, 2007-12-03: 07:59:00
----------------------------
Created by: dapoliti9292
Pronunciation:
Sentence:
Etymology:
Created by: Jabberwocky
Pronunciation: reeth/flex
Sentence: Once the first snowflake has fallen it is an automatic wreathflex to bedeck and festoon everything within eyesight with garlands and bows and silver bells...ahhh gives me goosebumps. 'deck the halls with boughs of holly, fa la la la la la la la la'
Etymology: wreath + reflex
----------------------------
COMMENTS:
Clever create and Christmas carolling for our delight - silveryaspen, 2008-12-09: 11:08:00
Incredible. - nickmarziani, 2008-12-09: 11:52:00
BRILLIANT!! EASILY ONE OF THE BEST WORDS THIS MONTH!!! - Stevenson0, 2008-12-09: 17:38:00
We are wreathed in smiles... - Nosila, 2008-12-09: 23:19:00
----------------------------
Created by: Nosila
Pronunciation: yool o jiyze
Sentence: Holly Berry and Carol Sing took the Christmas Season very seriously at work. Just as soon as the Halloween decorations had been removed, they decked their cubicles and all other areas of the office with Christmas lights, mistletoe, garlands, Nativity scenes and various decorations. Every year they would buy more to add to their collections. They also decked themselves in Christmas jewellery, attire and headgear. Visitors were agog at their efforts. Little or no real work was done during this time, although the two elves kept themselves working at a fever pitch to achieve the feeling of Christmas. One year they overdid it and expired. Holly Berry was buried and Carol Sing sung her last song. Their boss, Ebenezer McManager did break down and yuleogize them for their spirit and enthusiasm at all things Christmas. People finally appreciated what those girls had done each year for them. In their honor thereafter, he ordered the decorations to stay up year-round so that their spirits would remind the employees of that Christmas feeling.
Etymology: Yule (Christmas Season, Dec.24-Jan.06;also pagan Winter Season Holidays)& Eulogize (praise formally and eloquently)