Verboticism: Obsessibrate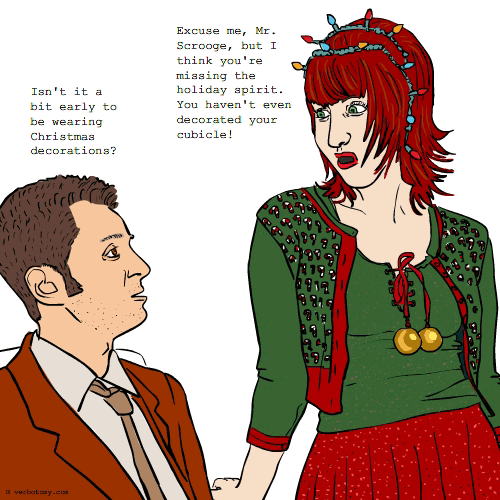 DEFINITION: n., A person so enamored with the holidays that they don't just deck their halls and home, but they also decorate their car, their cubicle, their pets, and themselves. v., To obsessively decorate according to seasonal holidays.
Already Voted
Vote not counted. We have already counted two anonymous votes from your network. If you haven't voted yet, you can login and then we will count your vote.
---
Obsessibrate
You still have one vote left...
Created by: AliA415
Pronunciation:
Sentence:
Etymology:
Created by: joshkresse
Pronunciation:
Sentence: Samuel is a goofnut.
Etymology: Originated in my mind
Created by: xirtam
Pronunciation: awr-nuh-men-no-mey-nee-uh
Sentence: My sister is suffering from ornamenomania, she redecorates every room for each holiday.
Etymology: ornament - to furnish with ornaments. + Monomania - an inordinate or obsessive zeal for or interest in a single thing, idea, subject, or the like.
Created by: mrskellyscl
Pronunciation: deck-sess
Sentence: Norma was anything but normal over the holidays. To say that she got into the holiday spirit was an understatement to say the least. In fact, she would decorate to decksess. Her house was so brightly lit with twinkie lights that it could be seen from the space shuttle, and her yard was bedecked and littered with moving reindeer, angels, blowup santas, Peanuts characters and huge, giant snow-globes containing Eeyore and Winny-the-Pooh. In her house she had a large Menorah next to her silver Christmas Tree and her Kwanzaa candles. She would come to work wearing reindeer antlers and a large string of twinkie lights around her neck. We found it amusing, then, when we asked her about her religious observance. "I don't believe in the religious stuff," she said, "I just like to decorate."
Etymology: deck: to decorate (as in "Deck the Halls") + excess: exceeding what is normal or sufficient
----------------------------
COMMENTS:
I think I\'ve met Norma. - artr, 2009-12-14: 12:51:00
----------------------------
Created by: snekorb
Pronunciation:
Sentence:
Etymology:
Created by: biffbig1
Pronunciation: kris+mess
Sentence: Damn, she was a Krismess!
Etymology: not wanting to say Christ + mess
Created by: Stevenson0
Pronunciation: fest/ces/sive
Sentence: She is completely over the top and festcessive about the Christmas season.
Etymology: FESTCESSIVE - from - festive + obsessive + excessive
Created by: Mustang
Pronunciation: San + ta + closs + trik + PHOE + bya
Sentence: Mildred's Santaclaustricphobia had become so severe that her family, coworkers and neighbors had come to dread the Christmas season.
Etymology: Santa Claus + phobia
----------------------------
COMMENTS:
well done! - galwaywegian, 2007-12-03: 07:59:00
----------------------------
Created by: mblewis41
Pronunciation:
Sentence: Jack has spent so much time and money on Xmas decorations, I think he's suffering from xmasdecafobia.
Etymology:
Created by: CEE1ESS
Pronunciation: elf-an-atic
Sentence: She was elfanatic about the holidays, decorating everything in sight.
Etymology: based on the words elf and fanatic