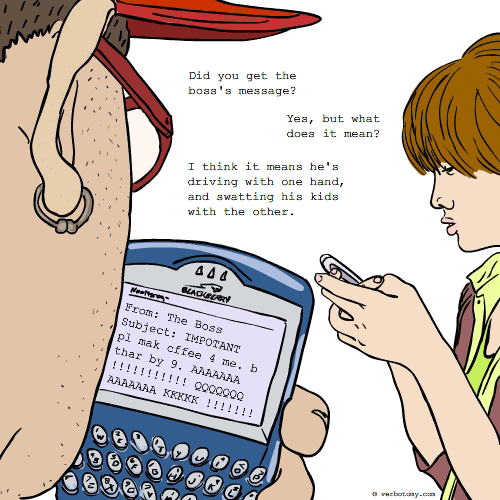 DEFINITION: v., To grasp the meaning of muddled texts like blog posts, emails and text messages where standard grammatical or spelling conventions have been ignored. n., The ability to read and understand confused or poorly written messages.
Voted For: Precypher
Successfully added your vote For "Precypher".
You still have one vote left...
Created by: artr
Pronunciation: sīfərfaðəm
Sentence: Harry spent his career breaking coded messages in his job at the NSA. Despite this he has trouble trying to cypherfathom emails and texts from his kids.
Etymology: cypher (a secret or disguised way of writing) + fathom (understand)
Created by: nerdkiller
Pronunciation: Lawl-cat-ass-tro-fee
Sentence: AYBABTU was a bigger lolcatastrophy than YTMND. A shame since it was, IMHO, the best meme in the history of ever.
Etymology: lolcat: refers to the web meme of mid 2007 catastrophy: a disaster
----------------------------
COMMENTS:
oops I jumped the gun. This has nothing to do with the challenge. I should read directions. - nerdkiller, 2007-11-15: 18:37:00
----------------------------
Created by: Mustang
Pronunciation: gob-uhl-deh-kook
Sentence: Fenster is an absolute gobbledekook who can instantly decipher the garbled lingo used by those who textmessage and post on blogs and forums.
Etymology: Blend of 'gobbledegook' (language characterized by circumlocution and jargon, usually hard to understand) and 'kook' (an eccentric, strange, or foolish person)
----------------------------
COMMENTS:
Love that jargon, Mustang! http://www.pacifier.com/~dkossy/kooksmus.html - metrohumanx, 2008-10-14: 02:33:00
----------------------------
Created by: Stevenson0
Pronunciation: tex/hume
Sentence: His job was to texhume cryptic messages that had been buried in emails.
Etymology: TEXHUME - verb from TEXT (a unit of connected writing) + EXHUME (to revive, or restore; bring to light)
----------------------------
COMMENTS:
Good word - Nosila, 2008-10-14: 20:14:00
----------------------------
Created by: Tigger
Pronunciation: sĭn-těks-tə-fī'
Sentence: After only two weeks of dating, Melissa was able to syntextify Jared's messages by supplementalizing them with proper grammar and spelling. She supposed it was worth the effort -- all the other girls thought Jared was cute, and he certainly was popular.
Etymology: syntax (Greek, syntaxis "a putting together or in order") + text (Late Latin, textus "written account") + [identi]fy (Medieval Latin, identificāre "to make to resemble")
Created by: looseball
Pronunciation:
Sentence:
Etymology:
Created by: thegoatisbad
Pronunciation: di-a-leh-xt
Sentence: "OMG" never flashed through Kimberly's mind the way it flashed through the fingers of her niece, Destiny on the popular social networking site, facespace. Having joined in order to seal her place as the cool aunt, she had been frustrated by her inability to understand the dialext. LOL did not mean "lots of love" nor did MILTF mean "My independent life that's full" and this lead to many misunderstandings.
Etymology: dialect (language specific to a group or region) + text (hint: you're reading it)
----------------------------
COMMENTS:
vg - Nosila, 2010-03-11: 22:49:00
----------------------------
Created by: solocard
Pronunciation: bayb-lol-fish-cayt
Sentence: Even though Jimmy was adamant that his texts were easily understood, it took a while before his parents were able to babelolfishcate his messages.
Etymology: From the term "Babel Fish", mixed with internet speak. Other usages include Babelwtfish.
----------------------------
COMMENTS:
Got give a vote for a HGTTG reference - petaj, 2007-11-16: 06:51:00
----------------------------
Created by: zxvasdf
Pronunciation: Qwert lyze
Sentence: Because in this day and age people are wont to multitask, as showcased in the common combination of driving and texting, more and more people are becoming skilled in qwertlysis. The same mental processes are also applied to old timers trying to qwertlyze the newfangled 'net jargon floating about on the web.
Etymology: Qwerty (traditional configuration of the keyboard designed in the days of typewriters to spread apart the commonly used letters, thus preventing jamming. This configuration is not necessary in the digital age) & analyze (to examine methodically by separating into parts and studying their interrelations)
----------------------------
COMMENTS:
interesting etymology - Jabberwocky, 2008-10-14: 13:20:00
----------------------------
Created by: TJayzz
Pronunciation: Inter-pret-ex-t
Sentence: Jane's mum just couldn't get to grips with the predictive text on her cellphone, luckily Jane was an expert in interpretext, so when her mum's muddled messages came through she understood exactly what she was trying to say.
Etymology: Interpret (Understand the meaning of, translate) + Text (Written or printed words, message left on cellphone) ORIGIN Latin textus from texere 'weave' = Interpretext)
----------------------------
COMMENTS:
great combo - Jabberwocky, 2008-10-14: 13:21:00
Very clever. - Mustang, 2008-10-14: 17:22:00
Intuitive and eminently pronounceable word! - metrohumanx, 2008-10-17: 07:48:00
----------------------------