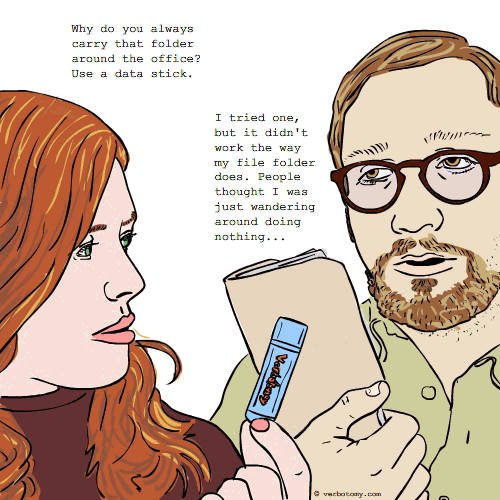 DEFINITION: n. A prop (e.g. papers, files or any non-functional equipment) used to create the illusion of busyness. v. To use office supplies to create the illusion that you are working.
Already Voted
Vote not counted. We have already counted two anonymous votes from your network. If you haven't voted yet, you can login and then we will count your vote.
---
Shirkprop
You still have one vote left...
Created by: Jabberwocky
Pronunciation: mask/ur/aid
Sentence: No one knew which department he worked in but with his maskqueraid of blackbery and wireless headset he easily passed his day wandering and betting on horses.
Etymology: masquerade + mask + aid
----------------------------
COMMENTS:
great word and welcome back! - Nosila, 2008-08-06: 21:53:00
----------------------------
Created by: artr
Pronunciation: pôrtˈfōnēˌō
Sentence: Gerry has all the correct business props, the pinstripe suit, the proper tie, the Blackberry. He is never seen without his portfolio. The truth; the suit is a cheap knock-off; the tie, a clip-on; Blackberry, a much too expensive cell phone and the portfolio, a portfonio that holds nothing more than his lunch.
Etymology: portfolio (a large, thin, flat case for loose sheets of paper such as drawings or maps) + phony (not genuine; fraudulent)
Created by: Stevenson0
Pronunciation: fan/tuh/files
Sentence: John had six different coloured sets of phantofiles he alternated at various times of the day to keep 'The Man' off his case and to demonstrate his industriousness and multitasking abilities. "Damn, he's good!" thought his boss. "He's completed three different projects today and it's only noon." John's phantofiles put him in line for a raise.
Etymology: phantom + files
----------------------------
COMMENTS:
hmm - good ploy - Jabberwocky, 2007-06-13: 10:53:00
----------------------------
Created by: sanssouci
Pronunciation: pen doop
Sentence: "I think I am going to pendupe for a while, I can't be botherd to do anymore work today but don't want Mr Stone to think I'm not pulling my weight in the office."
Etymology: pen - any of various instruments for writing or drawing with ink or a similar substance. A pen is a writing implement," c.1300, from O.Fr. penne "quill pen, feather," dupe - to make a dupe of; deceive; delude; trick. Dupe orriginates from 1680s, from Fr. dupe "deceived person," from M.Fr. duppe (early 15c.), thieves' jargon, probably from phrase de huppe "of the hoopoe," an extravagantly crested and reputedly stupid bird.
Created by: CharlieB
Pronunciation: ex-sell-usion
Sentence: You might think Bob is working hard on his spreadsheets. But they're not real. It's an excellusion.
Etymology: Excel (data spread sheets) + illusion (a false impression of reality)
Created by: LunaC
Pronunciation: sham-o-flaw-ge
Sentence: The new employee furiously types an email to his friend as shamoflauge in case his boss walks by.
Etymology: sham + camoflauge
Created by: protothor
Pronunciation: fillusion
Sentence: This fillusion is working very well; no one even expects I'm not doing anything.
Etymology: From 'file' and 'illusion', anything that gives an observer the idea that you're preoccupied.
Created by: kendriveset
Pronunciation: bo-ga-strive
Sentence: Jim took more effort to bogustrive around the office than it would\'ve taken to actually do some work.
Etymology: bogus + strive
----------------------------
COMMENTS:
good one - Nosila, 2010-01-07: 18:50:00
thanks so much - kendriveset, 2010-01-08: 15:48:00
----------------------------
Created by: remistram
Pronunciation: ill-uge-ee-busy-un
Sentence: Stan was an expert at utilizing effective illusibusions - so much so that he was promoted to senior clerk.
Etymology: illusion + busy
Created by: rjk31
Pronunciation:
Sentence:
Etymology: