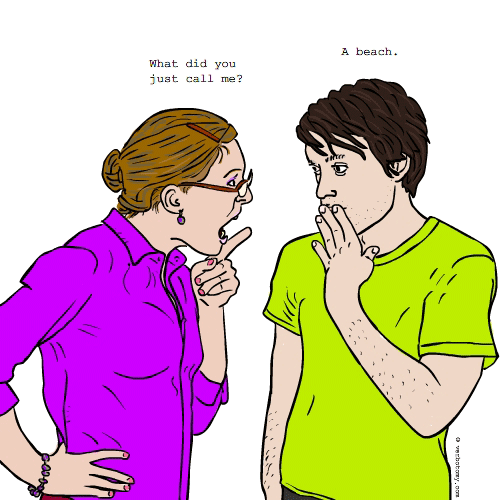 DEFINITION: v. To use alternative "code words" instead of proper cuss words, in an effort to satisfy people offended by such vulgarisms. n. A word used as a replacement for an obscene or profane expletive.
Allewd
Top verboticism of the day created by Mustang
Pronunciation: al - LOOD
Sentence: Cyrus had a coding system wherein he would use substitute words to allewd to words of graphic or vulgar nature.
Etymology: Play on the words allude and lewd... to refer to indirectly with couched obscenity.
Created by: Mustang.
Comments:
clever - Jabberwocky, 2008-05-08: 14:21:00
Clever and interesting blend - OZZIEBOB, 2008-05-08: 19:38:00
Good one...he would allewd alloud allot! - Nosila, 2008-05-08: 23:15:00
More Top Verboticisms:
(Invented words created by the Verbotomy Writers)
Codeverse: /code-vurs/ Around the office, us lackies have to codeverse so we don't offend the boss, or her prim and proper manager with our foul language. When angry at a co-worker, we often shout at them "Go f'coffee", or "He eats hit", but so far our codeversations haven't raised the ire of the language police. Etymology: code + converse (To engage in spoken exchange) Created by: Stevenson0.
Discussphemism: /dis-kuss-fem-izm/ Tony was sitting in a chair in the principal's office again. "Tony, can you explain to me what you meant by 'dime beach?'" "Yeah, I went to a beach that charged a dime to go to it! I was just remembering it and I said it outloud. To nobody really, but Mrs. Fluster just happened to be there." The principal looked at him and shook his head. "Now Tony, yesterday you were in here for calling a classmate a 'shucking fithead' and tried to tell me that a fithead is what they call a healthy person who processes oysters. You're not fooling anyone, buddy. You've got to stop this discussphemism or you'll be finding yourself explaining this to your parents while you are on suspension! Etymology: dis, disrespect + cuss, curse + phemism, from euphemism Created by: arrrteest.
Subterfeud: /sub-ter-fyood/ Marvin mumbled under his breath, "You rockem sockem, bean pole ridin, frickin, dung eating, rear end of a moose's petutie." "What?" responded his partner, "You can certainly come up with better subterfeud than that, can't you?" "Uh, what a BEACH!" Etymology: subterfuge, Late Latin subterfugium, from Latin subterfugere to escape, evade, from subter- secretly (from subter underneath; + fugere to flee + feud, a mutual enmity or quarrel that is often prolonged or inveterate Created by: pieceof314.
More...
To see more verboticisms for this definition go to: What did you just call me?
More Winning Words:
More Verboticisms! See the winning words for: Don't worry, it's snot on your files.