Verboticism: Disworkillusionment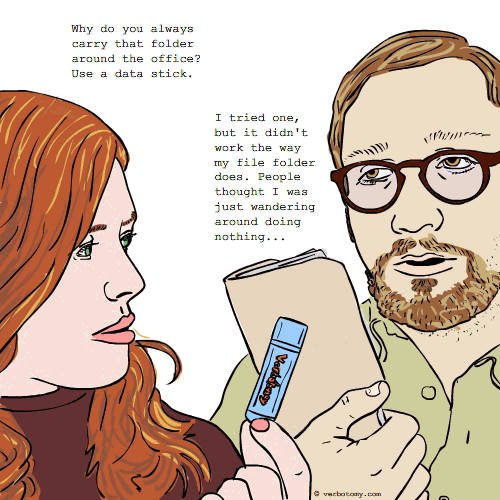 DEFINITION: n. A prop (e.g. papers, files or any non-functional equipment) used to create the illusion of busyness. v. To use office supplies to create the illusion that you are working.
Already Voted
Vote not counted. We have already counted two anonymous votes from your network. If you haven't voted yet, you can login and then we will count your vote.
---
Disworkillusionment
You still have one vote left...
Created by: Jabberwocky
Pronunciation: mask/ur/ade
Sentence: No one knew which department he worked in but with his maskqueraid of blackbery and wireless headset he easily passed his day wandering and betting on horses
Etymology: masquerade + mask + aid
Created by: readerwriter
Pronunciation: mal-o-prop
Sentence: Eric is so retro, Petra thought. Everytime she saw him cross the office floor on his way from the men's room to his desk, she had to laugh. Oh yeah, he just had to carry those maloprops to show everyone he knew what it was like in the 20th century. It was ludicrous. And, then if you said something, he had such excuses...like he didn't understand there were better ways of doing things.
Etymology: From mal, Latin/Romance languages, for bad or sick + prop for a property used for show. Also a play on the word malapropism, the ludicrous misuse of a word. In this case, the ludicrous misuse of a prop.
Created by: LunaC
Pronunciation: sham-o-flaw-ge
Sentence: The new employee furiously types an email to his friend as shamoflauge in case his boss walks by.
Etymology: sham + camoflauge
Created by: Stevenson0
Pronunciation: fan/tuh/files
Sentence: John had six different coloured sets of phantofiles he alternated at various times of the day to keep 'The Man' off his case and to demonstrate his industriousness and multitasking abilities. "Damn, he's good!" thought his boss. "He's completed three different projects today and it's only noon." John's phantofiles put him in line for a raise.
Etymology: phantom + files
----------------------------
COMMENTS:
hmm - good ploy - Jabberwocky, 2007-06-13: 10:53:00
----------------------------
Created by: ryanpetie
Pronunciation: foh-sim-ill-lay
Sentence: Darren gathered his fauxsimiles and strode around the office like a man possessed. 'A few more laps,' he thought, 'and I could be managing partner.'
Etymology: faux/facsimile
Created by: galwaywegian
Pronunciation: dosss err eee ay
Sentence: he carried his dosserier with him everywhere, adding different coloured stickies each month or so to keep it looking fresh. He called it his licence to kill....time.
Etymology: dossier, dosser
----------------------------
COMMENTS:
Hopefully the use of his dosserier won't come back to kick him in the dosserriere. - Clayton, 2007-06-13: 07:48:00
Maybe he carried it in a fanny pack - Jabberwocky, 2007-06-13: 09:26:00
How cheeky! - purpleartichokes, 2007-06-13: 10:36:00
i hate to butt in, but is there no rear end to these pun threads?! - jadenguy, 2007-06-13: 11:41:00
ooh that reminds me - it's lunchtime and now I'm in the moods for buns - Jabberwocky, 2007-06-13: 12:10:00
oops I meant mood - Jabberwocky, 2007-06-13: 12:11:00
I'm thinking it would be out-of-line to make a comment about sticky buns, but the air conditioner isn't working in my office today. - purpleartichokes, 2007-06-13: 12:36:00
Such a tool would be perfect for hiding the fact that you're just bumming around instead of working your @$$ off. - ErWenn, 2007-06-13: 14:05:00
Some might say you should just turn the other cheek, jadenguy, but I'm behind you 100% if you want to get to the bottom of this problem. - ErWenn, 2007-06-13: 14:10:00
Rear end to the pun threads? Tush, tush. I've got a haunch we'll be back end the saddle tomorrow. Now, let me hit the can and we can all go grab a Heinie. Fanny that I should put it that way... I've been glute to my seat the hole day. Sorry, that last one was for posteriority. - Clayton, 2007-06-13: 14:34:00
OMG Clayton and ErWenn! Too fanny! - purpleartichokes, 2007-06-13: 14:45:00
I think we should put an ASSterisk beside this definition - Jabberwocky, 2007-06-13: 14:47:00
i'm sorry if I came off a little anal before, as i didn't mean to be so stern. but i just find puns comical garbage that we'll always keep with us, but like junk in the trunk of your car that you forget about for as long as possible, bodonkadonk on wood. - jadenguy, 2007-06-13: 16:59:00
LMAO!! - purpleartichokes, 2007-06-13: 17:46:00
No butts about it, my friend laughed so hard it rectum! - petaj, 2007-06-14: 04:29:00
----------------------------
Created by: artr
Pronunciation: pôrtˈfōnēˌō
Sentence: Gerry has all the correct business props, the pinstripe suit, the proper tie, the Blackberry. He is never seen without his portfolio. The truth; the suit is a cheap knock-off; the tie, a clip-on; Blackberry, a much too expensive cell phone and the portfolio, a portfonio that holds nothing more than his lunch.
Etymology: portfolio (a large, thin, flat case for loose sheets of paper such as drawings or maps) + phony (not genuine; fraudulent)
Created by: weareallbeautiful
Pronunciation: ah-n-tee-w-urk-ay-d
Sentence: Bill always carried his antiwork aid in order to avoid having to actually work at the office.
Etymology: anti+work+aid
Created by: metrohumanx
Pronunciation: SIM-uhl-AY-bore-ig
Sentence: The Bearded One entered with a brushed-aluminum clipboard under his arm, knowing it would cause a stir amongst the real workers. Every week he carried a new SIMULABORIG which gave the impression of semi-competence and enthusiasm which fooled no one. Last time it was a P.D.A. which made his productivity plummet faster than his dignity. His vain attempts to impress the boss ranged from a simple legal pad to a glowing little spaceship planted in his ear. Last year he attemped to SIMULABORIG a staff meeting but the only wireless hotspot was behind his sweaty forehead. The office joke was that he had a whole toybox full of SIMULABORIGS to shamelessly display at every opportunity. His manifolderol seemed to have no end. He would always carry some ubiquitool, unencumbered by any knowledge of its function. Particularly fond of pseudotechnocrap, he subscribed to every high-end gizmoid catalog available. Despite the appearance of The Bearded One's weekly McGuffen, his job performance brought new meaning to the word "adequate".
Etymology: SIMUlate+lABOr+RIG=SIMULABORIG_____ simulate: to give or assume the appearance or effect of... often with the intent to deceive--Latin "simulatus", past participle of "simulare"... to copy, represent, feign, from similis "like"_____ labor: expenditure of physical or mental effort especially when difficult or compulsory-Middle English, from Anglo-French labur, from Latin labor; perhaps akin to Latin labare to totter, labi to slip_____rig: to make or construct hastily or in a makeshift manner-Me riggen,prob of Scand.orig____variations: simulaborite, simulaborana, simulaborat, simulaborology etc.
----------------------------
COMMENTS:
http://isitchristmas.com/ - metrohumanx, 2008-08-06: 08:41:00
My name is MetrohumanX and I improve this message. - metrohumanx, 2008-08-06: 16:26:00
----------------------------
Created by: Mrgoodtimes
Pronunciation: prahp- cue - pie
Sentence: Looking over his desk, John wondered which of his propcupies to bring with him on his daily walk to the vending machine. He knew he had to walk with pace and urgency to develop the right volume of sweat on his brow, but also the right iPad, laptop, red binder, 90's beeper, bluetooth, box labeled "Fragile" combo was key to success.
Etymology: Prop - occupy