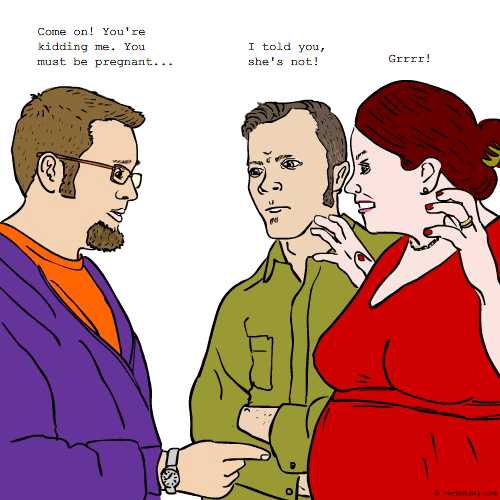 DEFINITION: v., To enthusiastically congratulate a woman on her pending motherhood, only to be told that you are mistaken. n., The dashed expectations and pregnant silence that follows mistaken congratulations.
Voted For: Pregnut
Successfully added your vote For "Pregnut".
You still have one vote left...
Created by: Niktionary
Pronunciation: em-bare-a-sad-soom
Sentence: "Dude, where did you get that shiner?" "I was at Taco Bell and the woman before me ordered two dinners and....." "Man! I told you you were gonna decked if you kept embarazadsuming." "I know, I know."
Etymology: embarazada- Spanish word for pregnant+ embarresed+ assume
Created by: day4ghee
Pronunciation:
Sentence: BEN HAD REALIZED THAT HE HAD BEEN MOTHERHOODWINKED WHEN BECKY KNEED HIM IN HIS BABY-MAKER.
Etymology:
----------------------------
COMMENTS:
wonderful - Jabberwocky, 2008-11-04: 13:02:00
----------------------------
Created by: artr
Pronunciation: pregər
Sentence: The newest memo from the head office said that cashiers should find some way to compliment each customer, whether that be their clothing, their hair or jewelry. Bill was anxious to be the first to get on the company bandwagon but only succeeded in putting his sizable foot in his mouth. In congratulating the next person in line on an upcoming maternity, he offered up the ultimate pregerr. The man he was talking to was not even slightly amused.
Etymology: pregnant (having a child or young developing in the uterus) + err (be mistaken or incorrect; make a mistake)
Created by: hendrixius
Pronunciation: /prek-u-late/
Sentence: Darren was sweating bullets after he incorrectly preculated that the young woman on the train was great with child.
Etymology: pregnant + speculate
Created by: Mustang
Pronunciation: fawls-ex-peck-TAY-shun
Sentence: Bradley made a huge faux pas with his falsexpectation comment to his boss's wife, Bernadette, about her 'pregnancy' when in fact she had gained some unwanted pounds and inches since the last time she had been seen by the office staff.
Etymology: Blend of false and expectation, with 'expectation' alluding to the condition of pregnancy.
Created by: KristinA
Pronunciation: prez-ig-nay-shun
Sentence: After Bob's misguided attempt to congratulate his boss' wife on her 'bun in the oven,' Bob quickly recovered from presignation by noting her how her healthy, rosy glow made him believe otherwise.
Etymology: preggo + resignation (for the acceptance of what can not be changed and to leave a job)
----------------------------
COMMENTS:
Good word although the resignation part is what Bob should hand in after he pulls his foot out of his mouth. - Redrover, 2007-12-13: 08:57:00
----------------------------
Created by: galwaywegian
Pronunciation: noht iv it eeeeeeee
Sentence: The news of her notivity was greeted with surprise and many tears. The tears were due to the escape of all the wind which had caused the rumour in the first place
Etymology: nativity eh... not?
----------------------------
COMMENTS:
maternally yours... - Nosila, 2010-04-01: 16:33:00
----------------------------
Created by: kingdio
Pronunciation:
Sentence: Mark's falsefestiprego led him to serious hurt when the non-pregnant mammoth of a woman sat on him.
Etymology:
Created by: remistram
Pronunciation: preg-zoom
Sentence: They pregsumed to Gladys at the Christmas lunch since she appeared to be "eating for two".
Etymology: pregnant + presume
Created by: Nosila
Pronunciation: ob stet rik all
Sentence: Wearing a flowing Kaftan coupled with her recent surgery, Jim's beer-addled brain thought his boss Fred's wife Kathy looked very pregnant. When he commented on their new addition, by saying all deliveries were to go to the rear of the building, he realized that it was an obstetrickall illusion. After she slapped him, at the Labor Day barbeque, he realized he was a victim of suggestation. Soon-to-be unemployed dunce that he was, he further joked in his Miss Prissy accent, "I don't know nothin' about babyin', Miss Scarlett!" This started a fight in which he became embryoled in a breech of the law. His confinement in the county jail should end soon, in about 9 months.
Etymology: obstetrics (dealing with childbirth and motherhood) & trick (deceive somebody ) & all (everyone)
----------------------------
COMMENTS:
Another classic! - metrohumanx, 2008-11-04: 09:03:00
very funny - Jabberwocky, 2008-11-04: 13:03:00
Terrific - OZZIEBOB, 2008-11-06: 17:28:00
----------------------------