Vote for the best verboticism.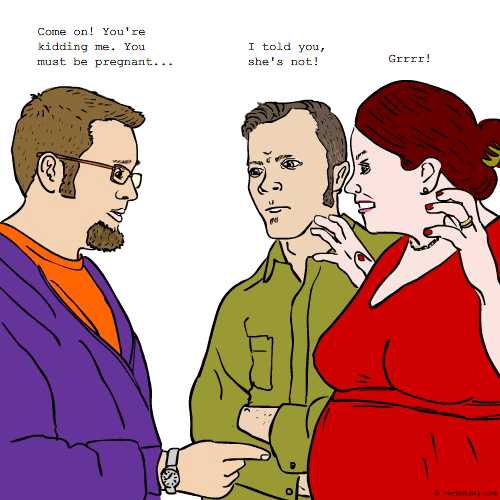 DEFINITION: v., To enthusiastically congratulate a woman on her pending motherhood, only to be told that you are mistaken. n., The dashed expectations and pregnant silence that follows mistaken congratulations.
Verboticisms
Click on each verboticism to read the sentences created by the Verbotomy writers, and to see your voting options...
You have two votes. Click on the words to read the details, then vote your favorite.
Created by: Niktionary
Pronunciation: em-bare-a-sad-soom
Sentence: "Dude, where did you get that shiner?" "I was at Taco Bell and the woman before me ordered two dinners and....." "Man! I told you you were gonna decked if you kept embarazadsuming." "I know, I know."
Etymology: embarazada- Spanish word for pregnant+ embarresed+ assume
Created by: purpleartichokes
Pronunciation: kun-fa-chu-late
Sentence: Not knowing that she was in her third trimester of eating lunch at Burger King, Bob confatulated Sue on what appeared to be evidence of her pending motherhood.
Etymology: congratulate, fat
----------------------------
COMMENTS:
This one is spot on! Hard to top. - Redrover, 2007-12-13: 08:54:00
Good word! - OZZIEBOB, 2007-12-13: 16:12:00
----------------------------
Created by: Redrover
Pronunciation: fo-ges-tay-shun
Sentence: Bob made a grevious error when he commented on the fauxgestation of his boss's wife.
Etymology: faux = fake; gestation = the carrying of an embryo or fetus inside a female viviparous animal (Wikipedia)
Created by: KristinA
Pronunciation: prez-ig-nay-shun
Sentence: After Bob's misguided attempt to congratulate his boss' wife on her 'bun in the oven,' Bob quickly recovered from presignation by noting her how her healthy, rosy glow made him believe otherwise.
Etymology: preggo + resignation (for the acceptance of what can not be changed and to leave a job)
----------------------------
COMMENTS:
Good word although the resignation part is what Bob should hand in after he pulls his foot out of his mouth. - Redrover, 2007-12-13: 08:57:00
----------------------------
Created by: thegoatisbad
Pronunciation: mis′d·con·cep′·tion
Sentence: Although Kimberly would never admit it, she desperately wanted to have a child; Loretta did not. But Loretta looked pregnant, and was often asked by strangers "when is your boy or girl due?" This didn't bother Loretta, who would park in expectant mother spaces and convince offices where she occasionally temped to host baby showers. "What are you going to do with all these baby clothes?" asked Kimberly "I don't know," responded Loretta "dress my dolls and plants with them. Come meet Mr. Fern and his kids." Loretta's flippant attitude annoyed Kimberly, who realized that they were both the victims of missedconception.
Etymology: missed (feel absence of) + conception (making a baby) Play on Misconception (a false impression or belief)
Created by: megaperl
Pronunciation: emb-r-ask
Sentence: - You're pregnant, don't you? - Don't embarrask me with stupid questions, Bob!
Etymology: Embarrasing+Asking
----------------------------
COMMENTS:
could apply to more one embarrassing question faux pas ... but I really liked it - silveryaspen, 2007-12-13: 14:23:00
----------------------------
Created by: bzav1
Pronunciation: preg - not
Sentence: That glow about Edna must have been caused by her quick trip up the stairs. I humbly withdrew my congratulations to herself and her mom upon discovering that she was pregnot.
Etymology: pregnant + not
----------------------------
COMMENTS:
Good one. Like your sentece also. - Stevenson0, 2007-12-13: 10:12:00
****sentence**** - Stevenson0, 2007-12-13: 10:12:00
----------------------------
Created by: mweinmann
Pronunciation: Falls + Gess + Tay + Shun
Sentence: I hadn't seen Cheryl in a few years. It was a magical evening, our sorority sister reunion couldn't be more special. We had great food, wonderful weather poolside, listening to one of our favorite college bands. I was so eager to talk to Cheryl, relive old times and catch up on news. "Pink or blue, when is it due?", I gaily sung, as I approached my obviously pregnant friend. She wheeled around, glaring at me and retorted "Wow, I must have gained more than I realized." "I have been unable to have children, Lindsey". I was totally mortified by my falsguestation.
Etymology: The word "false" (meaning wrong, not true) starts off this word, joined by most of the word "guess" (to expect, believe or suppose)and finally, the word "gestation" is added (the period of time a baby is carried in the womb, pregnancy)
----------------------------
COMMENTS:
Great word. The story smacks of reality. - metrohumanx, 2008-11-04: 09:07:00
----------------------------
Created by: OZZIEBOB
Pronunciation: muh m - ma-RONG
Sentence: Bob's chances for a Christmas bonus looked rather bleak after his momologue, congratulating his boss's wife on her impending motherhood, turned to profound embarassment; when she, without a pregnant pause, told him that he was mummawrong; and that, furthermore, both she and her husband were dinks- and intended to stay that way!
Etymology: Conflation of MUMMA, (mamma or momma), an informal word for mother & WRONG: not correct, in error. MOMOLOGUE (based on monologue) length speech about mothers and mothers-to- be.
----------------------------
COMMENTS:
Great etymology. Mumma could also stem from mummy ... so this could have a really different daffynition like: being cursed for digging up the wrong mummy ... as in ... Digging up King Tut with it's curse was a real mummawrong. - silveryaspen, 2007-12-13: 15:21:00
Luv the daffynitions - keep them coming! - OZZIEBOB, 2007-12-13: 16:02:00
----------------------------
Created by: MrDave2176
Pronunciation: fee-tal-ERR-or
Sentence: Mark knew he had made a fetalerror at the party when he congratulated Karen on her pregnancy. Karen coldly informed him that the celebration was for having lost five pounds that month with her Weight Watcher's group.
Etymology: Fatal error + Fetal