Vote for the best verboticism.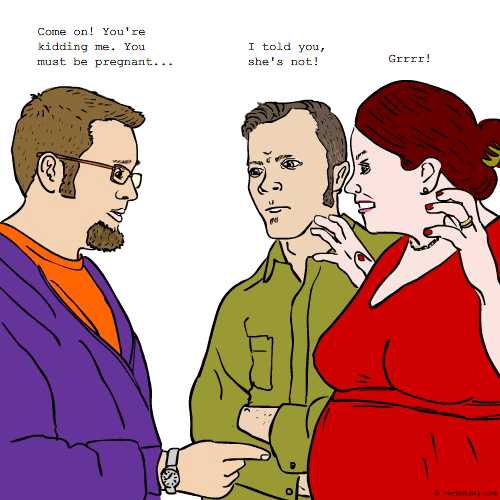 DEFINITION: v., To enthusiastically congratulate a woman on her pending motherhood, only to be told that you are mistaken. n., The dashed expectations and pregnant silence that follows mistaken congratulations.
Verboticisms
Click on each verboticism to read the sentences created by the Verbotomy writers, and to see your voting options...
You have two votes. Click on the words to read the details, then vote your favorite.
Created by: megaperl
Pronunciation: emb-r-ask
Sentence: - You're pregnant, don't you? - Don't embarrask me with stupid questions, Bob!
Etymology: Embarrasing+Asking
----------------------------
COMMENTS:
could apply to more one embarrassing question faux pas ... but I really liked it - silveryaspen, 2007-12-13: 14:23:00
----------------------------
Created by: galwaywegian
Pronunciation: fat err ring
Sentence: if he had fathere half as many children as he had faterred, he could have had his own republiv
Etymology: fat erring, fathering
Created by: psychicbard
Pronunciation: kor*pa*chew*late
Sentence: Ryan unbeknowingly corpatulated the woman on her pregnancy-shaped beer-belly.
Etymology: Latin "corpus"-body "gratulari"-to wish joy corpulent+congratulate
Created by: idavecook
Pronunciation: Fee-TUS-IN-MOW-TH
Sentence: Wow Gabby, you're baby's gonna be a soccer player!" Way to go JIm, nice fetusnmouth, you tard.
Etymology: Foot in Mouth and The little critter that isn't
Created by: artr
Pronunciation: preg nät
Sentence: Tom was watching his pending promotion sliding away. He tied himself up in a big pregknot by suggesting that the boss's wife was expecting. He incurred the wrath of the obeast when he offered that she must be carrying twins.
Etymology: pregnant (having a child or young developing in the womb) + knot (a complex and intractable problem)
----------------------------
COMMENTS:
+ not as she's not pregnant - another great word artr - Jabberwocky, 2008-11-04: 13:04:00
Very good - OZZIEBOB, 2008-11-06: 17:27:00
----------------------------
Created by: OZZIEBOB
Pronunciation: muh m - ma-RONG
Sentence: Bob's chances for a Christmas bonus looked rather bleak after his momologue, congratulating his boss's wife on her impending motherhood, turned to profound embarassment; when she, without a pregnant pause, told him that he was mummawrong; and that, furthermore, both she and her husband were dinks- and intended to stay that way!
Etymology: Conflation of MUMMA, (mamma or momma), an informal word for mother & WRONG: not correct, in error. MOMOLOGUE (based on monologue) length speech about mothers and mothers-to- be.
----------------------------
COMMENTS:
Great etymology. Mumma could also stem from mummy ... so this could have a really different daffynition like: being cursed for digging up the wrong mummy ... as in ... Digging up King Tut with it's curse was a real mummawrong. - silveryaspen, 2007-12-13: 15:21:00
Luv the daffynitions - keep them coming! - OZZIEBOB, 2007-12-13: 16:02:00
----------------------------
Created by: remistram
Pronunciation: preg-zoom
Sentence: They pregsumed to Gladys at the Christmas lunch since she appeared to be "eating for two".
Etymology: pregnant + presume
Created by: thegoatisbad
Pronunciation: mis′d·con·cep′·tion
Sentence: Although Kimberly would never admit it, she desperately wanted to have a child; Loretta did not. But Loretta looked pregnant, and was often asked by strangers "when is your boy or girl due?" This didn't bother Loretta, who would park in expectant mother spaces and convince offices where she occasionally temped to host baby showers. "What are you going to do with all these baby clothes?" asked Kimberly "I don't know," responded Loretta "dress my dolls and plants with them. Come meet Mr. Fern and his kids." Loretta's flippant attitude annoyed Kimberly, who realized that they were both the victims of missedconception.
Etymology: missed (feel absence of) + conception (making a baby) Play on Misconception (a false impression or belief)
Created by: KristinA
Pronunciation: prez-ig-nay-shun
Sentence: After Bob's misguided attempt to congratulate his boss' wife on her 'bun in the oven,' Bob quickly recovered from presignation by noting her how her healthy, rosy glow made him believe otherwise.
Etymology: preggo + resignation (for the acceptance of what can not be changed and to leave a job)
----------------------------
COMMENTS:
Good word although the resignation part is what Bob should hand in after he pulls his foot out of his mouth. - Redrover, 2007-12-13: 08:57:00
----------------------------
Created by: MrDave2176
Pronunciation: fee-tal-ERR-or
Sentence: Mark knew he had made a fetalerror at the party when he congratulated Karen on her pregnancy. Karen coldly informed him that the celebration was for having lost five pounds that month with her Weight Watcher's group.
Etymology: Fatal error + Fetal