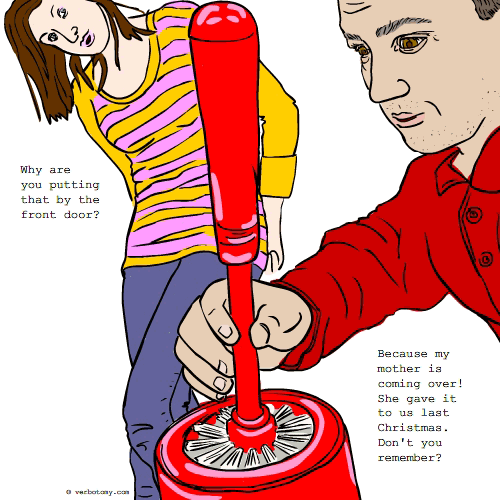 DEFINITION: n., An ugly decorative item or article of clothing received from friends or relatives, which is kept stored away but ready to be pulled out at a moment's notice in anticipation of a return visit. v., To temporarily place an old, and perhaps unattractive gift in a place of honor.
Already Voted
Vote not counted. We have already counted two anonymous votes from your network. If you haven't voted yet, you can login and then we will count your vote.
---
Kitschsake
You still have one vote left...
Created by: grauntlet
Pronunciation: zam bIft
Sentence: His wife was beginning to serve tea to her mother when Duncan said: "where did you get this god-awful tea set? why dont you get the nice one?". His wife didn't have the time to warn him about the zombift.
Etymology: zombie + gift
Created by: bzav1
Pronunciation: kin - shee
Sentence: We had to put out several of the kinschy gifts my family had given to us over the years before they arrived over the holidays.
Etymology: kin + Kitschy
Created by: hendrixius
Pronunciation: /in-tur-ruh-man-tull-pees/
Sentence: John reluctantly displayed the interimantlepiece over the couch in the family room, despite the fact that a singing bass did not exactly match the room's decor.
Etymology: "interim" and "mantle-piece"
Created by: Maxine
Pronunciation: 'byu ti fayk
Sentence: "Uncle Simone is coming over, Samantha. Time to beautifake yourself."..."No way, Dad. That plaid sweater is such an ugly beautifakation."
Etymology: beautify + fake
Created by: artr
Pronunciation: rəglē
Sentence: It was a wedding gift from Aunt Martha. It's hideous. Nonetheless with her impending visit, the handmade rugly thing is front and center in the foyer. As long as it is on the floor, the dogs insist on entering and exiting the back door.
Etymology: rug (a floor covering of shaggy or woven material, typically not extending over the entire floor) + ugly (unpleasant or repulsive, esp. in appearance)
Created by: Niktionary
Pronunciation: disstplay
Sentence: "I hate this sweater! But my grandma gave it to me, and I'm having dinner with her. I have to dissedplay it. I hope we go someplace dark!"
Etymology: Slang term diss and display
Created by: abrakadeborah
Pronunciation: Fug-lee-thing
Sentence: Such a fugglything you got for Christmas...Be more specific of what you put on your wish list.
Etymology: Fuggly; Effing UGLY! :) Thing; An object that cannot be named specifically.
----------------------------
COMMENTS:
Welcome back...tried voting for you, but there was no "Vote for" prompt??? - Nosila, 2009-12-18: 01:20:00
----------------------------
Created by: tonii
Pronunciation: /ug-ift-o-rate/
Sentence: If you don't ugiftorate that nasty green vase onto the coffee table, your sister-in-law will never speak to you again!
Etymology: ugly + gift+ decorate
Created by: Nosila
Pronunciation: tres shured pest
Sentence: It all started when Fred's father was in prison and made everyone items in the woodshop for Christmas. Most of the family got normal, carved items, like ducks or horses or dogs. But lucky Fred was given a large whittled evil-looking rat. It's beady eyes followed you around the room and the little kids were scared of it. When his Dad was paroled, he came each major holiday to visit with Fred and his family, and they would have to dig out "You dirty rat" as it became known to proudly display on the mantle. Fred's wife was afraid to dust it and it became a treasuredpest, much to the smug laughter of other family members. They all knew Fred got the treasuredpest because he had been the one to phone Crimestoppers and turn in the old man for passing counterfeit money in the first place. So much for anonymity!
Etymology: Treasured (something valued or feeling fondness for) & Pest (something persistently annoying) & Play on term Treasure Chest (a chest filled with valuables)
Created by: artr
Pronunciation: drekərāshən
Sentence: John and Mary loved their friend Holly. The problem is that Holly loves "outsider" art. Terms like found objects made John and Mary cringe. Several years ago Holly had given them a string of garland made of old soup cans, painted egg cartons, and even beads made from dried bear scat. Because Holly was such a regular visitor, there was no way they could get away with NOT putting up this drekoration. As they wrapped the garland around the banister John would quietly sing to himself, "Deck the halls with bowels from Holly".
Etymology: drek (rubbish; trash) + Decoration (the process or art of decorating or adorning something)
----------------------------
COMMENTS:
That stinks! :-) - wayoffcenter, 2008-12-16: 04:45:00
Retroshabby.....the new chic. - Mustang, 2008-12-16: 20:59:00
Fabulous. - dochanne, 2008-12-16: 22:59:00
Fabulous. - dochanne, 2008-12-17: 01:34:00
Terrific - always wanted to use dreck in a verbotomy. - OZZIEBOB, 2008-12-17: 04:09:00
----------------------------